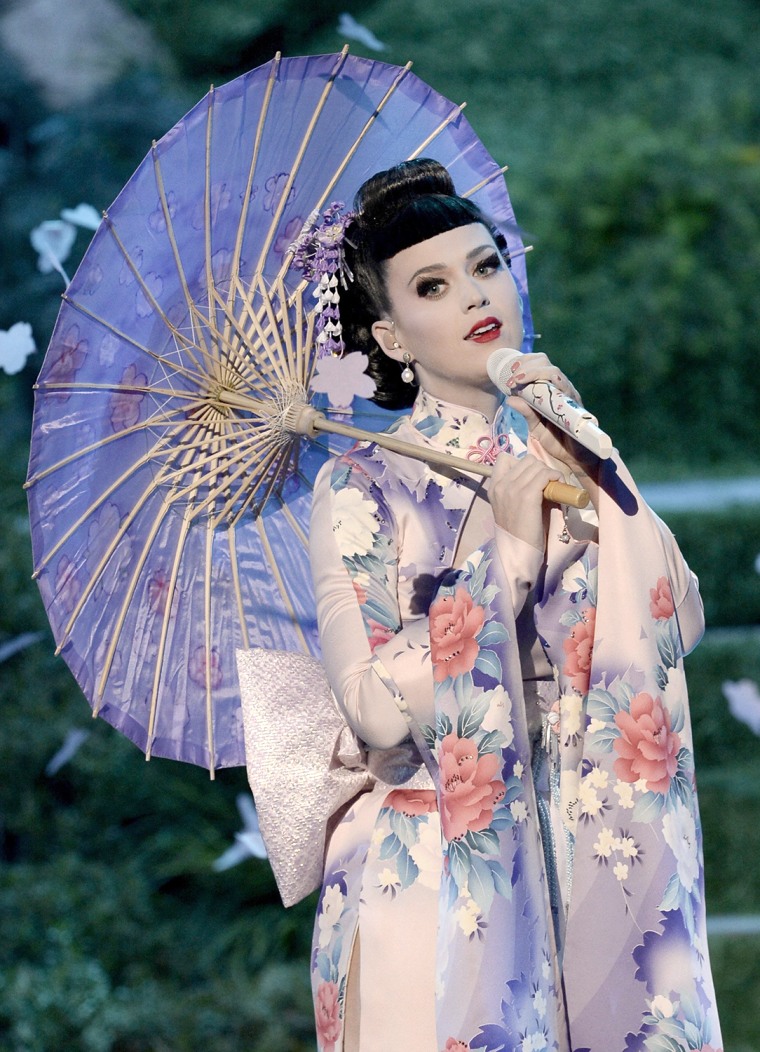 While it's not the first time Katy Perry has donned a kimono in public, many viewers felt the pop star's geisha-inspired performance of "Unconditionally" at the American Music Awards Sunday night was culturally insensitive.
Against a lavish backdrop of floating lotus blossoms and a Shinto shrine, Perry, 29, performed the ceremony's opening act in powdery white makeup and a cleavage-baring kimono. Fan-wielding dancers fluttered across the stage, as some glided through the air with colorful umbrellas. 
The number triggered a flurry of tweets from viewers, many of whom accused Perry of appropriating Japanese culture and perpetuating harmful stereotypes of Asian women. 

Critics from a variety of media outlets echoed the initial backlash, also pointing out the uncomfortable connection between Perry's song, "Unconditionally," and Western perceptions of Asian women.
"The thing is, while a bucket of toner can strip the geisha makeup off of Perry's face, nothing can remove the demeaning and harmful iconography of the lotus blossom from the West's perception of Asian women — a stereotype that presents them as servile, passive, and as Perry would have it, 'unconditional' worshippers of their men, willing to pay any price and weather any kind of abuse in order to keep him happy," columnist Jeff Yang wrote in the Wall Street Journal.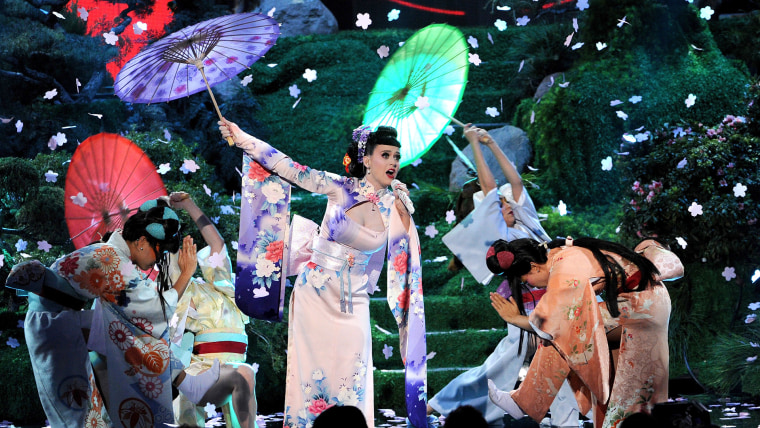 But some viewers defended the singer, calling her performance a tribute to Japanese culture rather than an example of racism.
Perry has never shied away from incorporating Japanese influences into her flamboyant wardrobe: She's appeared on the red carpet in a kimono-inspired dress and onstage at the MTV Video Music Awards in Japan wearing a sushi-adorned leotard and matching silk robe.
Although, even before the singer's AMAs performance, geisha-influenced attire has been the subject of controversy. In Sept. 2012, a "sexy little geisha" outfit was pulled from the Victoria's Secret website after critics challenged that the mesh bodysuit perpetuated the sexualization of Asians. The lingerie company also found itself in hot water last Nov., when a model walked the runway during the Victoria's Secret Fashion Show in a Native American-inspired feather headdress and buckskin bikini.
What do you think of Katy Perry's AMAs performance? Weigh in.