After such a long, cold snowy winter, it's no wonder that March brings with it the urge to clear out the clutter, dust away the dirt and open up our windows to let the warmer weather in. But spring cleaning isn't just for kitchens, carpets and patios—your closet could use a good weeding out, too.
And all those designer items you thought you'd love, but never wear (darn those last 10 pounds!)? This may be the season to send them on their way, and make a little money in the process.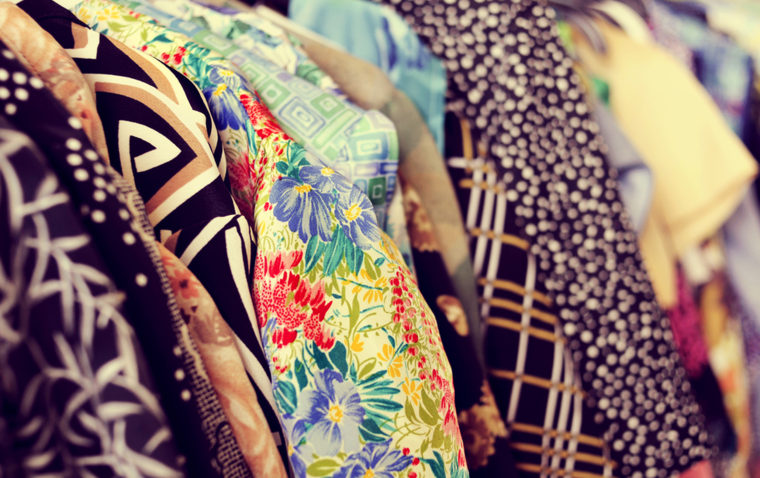 "With warmer temperatures on the horizon, buyers are excited to swap their winter coats and gloves for lighter, brighter spring and summer items, which means it's the best time to consign styles like sandals, bright handbags and dresses from last season," says Rati Sahi Levesque, chief merchant at The RealReal (therealreal.com). "At TheRealReal, we use the rule of thumb of editing your closet each quarter. Or, if you haven't worn something in a year, that's a good indicator that it's a good time to consign it. The sooner you consign from when you purchased the item, the better the resale value will be."
With a new crop of online luxury consignment shops making it easier than ever to sell your goods, you just might make enough room (and cash) to find something new (that fits!). We asked the pros for their tips on recouping the most money, based on the piece. Who knew spring cleaning could be so much fun?
Clothing
It's all in the details when consigning clothing, says Sari Bibliowicz, founder of Bib + Tuck (bibandtuck.com), a curated online community of shoppable personal closets. "Make sure to disclose as much information as possible," she says, considering things such as whether it fits true to size, material, measurements and flaws such as rips or stains. "While your item doesn't have to be in crisp condition, you have to make sure to disclose any imperfections in the listing."
If there is room for improvement, it doesn't hurt to address some quick fixes, TheRealReal's Levesque says.
"A missing button or broken zipper is easy to fix on your own or at a dry cleaner and could make the difference between an item being accepted and sold quickly or rejected by resellers," she says.
As far as providing images goes, Bibliowicz says to be sure you've uploaded clear, crisp and attractive photos of the item you're selling.
"Also try to show all angles, as well as close-up shots, so buyers can really get a sense of how the items looks in person," she recommends.
Finally, Bibliowicz says, price your items to sell. "And keep in mind that if you paid full price, the item most likely went on sale, and the secondary market value will usually be at least 60 percent off the retail price, depending, of course, on seasonality, condition, etc."
Watches
When you bought it, you may have considered that watch an investment piece, but Hamilton Powell, founder and CEO of Crown & Caliber (crownandcaliber.com), an online reseller of luxury watches, says it's better to think of watches as depreciating assets. "Just like a new car driven off of the lot, new watches immediately lose value once you walk out of the store with it on your wrist," he says. "That being said, certain brands will maintain their value better than others. Rolex, Patek Philippe and Jaeger LeCoultre are strong brands with greater after-market demand." With a consignment service like Crown & Caliber, you can sell your watch as-is — their in-house watchmakers will clean and service it before it's listed for sale.
Not sure if you're ready to part with your watch? Powell says the first thing to ask yourself is whether you're wearing it. "You'd be shocked by how many folks let some really exquisite timepieces sit tucked away for years in a dresser drawer," he says. "You can tell the time with an iPhone; a watch is meant to be enjoyed."
The next question is, are you ready to trade up to a different model? "Stainless steel watches are great entry level pieces, but after a few years you may be itching for something in rose gold," Powell says. "Consigning your current watch and using the proceeds towards a higher end piece is a hack that a lot of watch enthusiasts employ. Buying pre-owned is a great way to trade-up without paying up."
Handbags
When buying new designer handbags, Levesque says it's important to ask the store associate for care information up front, as recommendations may vary based on a bag's construction and materials.
"Some brands offer in-house refurbishment and repairs and others sell cleaning products to keep your items in amazing condition," she says. "Hermès, for example, recommends annual intake for cleaning and refurbishment, and they will actually send your bag to Paris where their expert craftsmen will make it look as good as new."
Levesque also says to be sure to check the resale value of the item before buying at retail for a better understanding of what you could sell it for down the line. "You'd be surprised to learn which brands hold their resale value and which don't," she says. "Handbags, fine jewelry and watches, for example, retain a high percentage of their retail value when resold, so you may want to start there."
Bibliowicz says items that are size agnostic, like handbags, sell best, but saving original packaging, dust bag and authenticity cards, will help provide the best bang for your buck. "Trust goes a long way," she says.
Shoes
If you walked many miles in those Manolos — and it shows — don't expect a big return at the consignment boutique.
"The nature of the wear and tear on shoes means they're not likely to recoup as much unless you've been incredibly careful or barely worn them," Bibliowicz says.
And Levesque agrees.
"Items should be in very good to pristine condition," she says. "This means clean and free of damage and excessive wear. Protect your shoes by adding sole reinforcements."
Finally, no matter the items you're looking to unload, remember loyalty counts.
"Choose a platform and stick with it," Bibliowicz says, "as most secondary marketplaces are powered by user ratings and if you build a good reputation, you'll derive a premium from it."