By Chelsa Skees
I love new trends, but I can't always afford to run out and buy all the latest and greatest fashion fads. Fortunately, some trendy items can be easily created at home.
So, just as my parents taught me to do as a child, I compromise. Of course, I would love the designer-brand product; however, I will always settle for a one-of-a-kind item instead.
This project came to me recently after I admired some neon and color-blocked items, like this clutch and wallet by Clare Vivier and these clutches by Fleabags. I realized that I didn't really a new wallet or clutch, so I instead made easy and inexpensive knockoffs that I could enjoy for the summer. Here is my tutorial on how I made my own versions of both. 
Materials:
Canvas wallet*
Canvas purse/clutch* 
Fabric paint (I used Tulip Soft Paint in Fiesta Neon color for the wallet and Jacquard Textile paint in Fluorescent Red  for the bag)
Paintbrush and/or sponge  
Masking tape 
* I purchased my canvas wallet and bag from a local craft store; you can find the items at places like Hobby Lobby or Michaels. 
First decide where you want to paint, and block off that area with masking tape. Be extra careful with this part; the tape needs to be secured to the canvas in order to ensure a perfect straight line.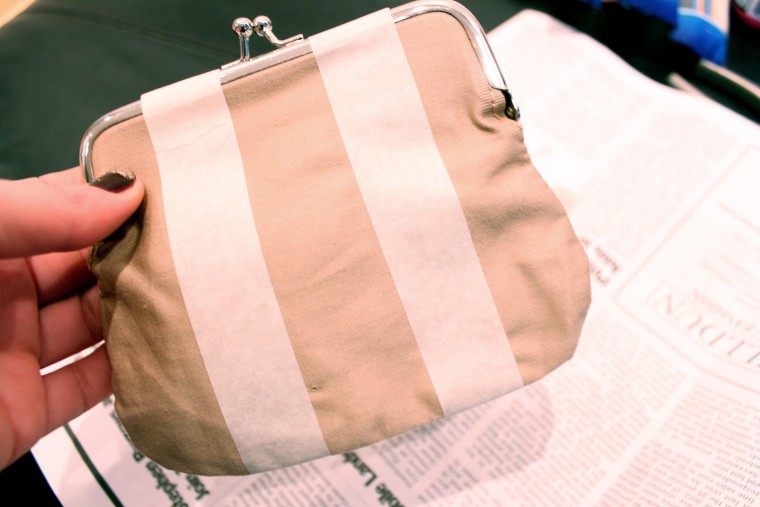 Once you have your tape in place, lay down old newspaper, grab your tool of choice, and paint the blocked-off area. It's always a good idea to do two coats of paint to provide an even color throughout the area.
Let dry completely before trying to remove the tape. Once it's dry, remove the tape slowly to make sure to get all of it, as some may be slightly stuck to the canvas due to the paint.
That's it! You can now proudly display one of the hottest trends of this summer.
Chelsa Skees is currently working as a freelance fashion stylist and writer. Her favorite color is gray, and she can beat just about anyone in a bubble-blowing contest. 
More: DIY: Summer sugar scrub
DIY: Color-blocked summer moccasins
Snag the fairest affordable style from both Snow White films