Many nutrition experts recommend swapping out your afternoon java or diet soda for a cup of antioxidant-rich tea. But they're not the only ones touting the drink's benefits. Turns out, adding a little tea to your beauty routine can give your skin and hair a boost, too. (And if you choose to add a scone or two to the mix, well, we certainly won't judge.)
Here are nine simple ways to add the drink to your beauty routine:
1. Facial spritzer
No need to shell out for expensive water mists when you need a skin refresher. Just steep green tea leaves in room-temperature water for a couple hours, strain, grab a spray bottle and fill it up with your concoction. Spritz away whenever you need a little antioxidant-infused pick-me-up.
RELATED: Tea is not just for sipping! 54 ways to use this amazing ingredient
2. Tooth treatment
A 2009 study conducted at Kyushu University in Japan and published in the Journal of Periodontology found that people who sip green tea regularly have healthier gums and teeth than those who don't. In addition to drinking down a daily cup, mix tea leaves and baking soda into a paste when you're running low on Crest, and brush away. Or, brew a tea bag in 1 cup of water, let it cool and swish it around as a DIY mouthwash.
3. Eye de-puffer
For days when exhaustion is written all over your face, ease under-eye puffiness by placing tea bags — which have been soaked in cold water — over your eye area for about 15 to 20 minutes; the chill will soothe eyes while the caffeine, which is often featured in de-puffing beauty products, may ease swelling. Use the time for a quick catnap while you're at it.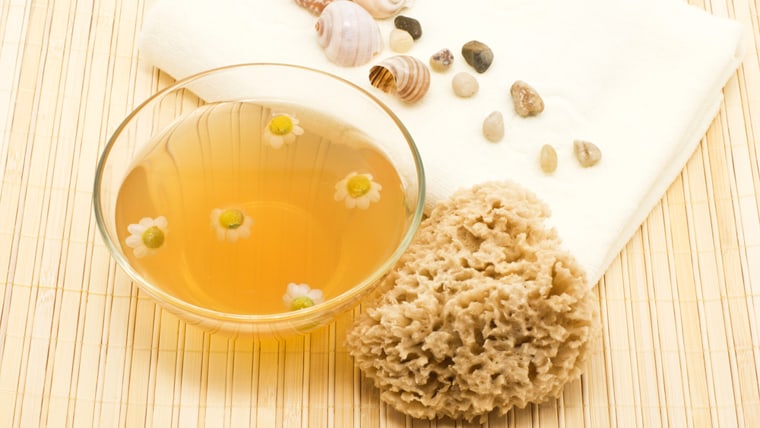 4. Facial mask
Next time you whip up your favorite DIY mask, try adding in a little white or green tea powder (you'll find it at health food stores, or look for matcha green tea powder at Asian markets). In a 2011 British study published in the Journal of Inflammation, both varieties were shown to help prevent the breakdown of collagen and elastin in skin cells. You can also just mix a bit of powder with water to create a paste. It will exfoliate, smooth and "wake up" your skin.
RELATED: Make your own all-natural shampoo (for under a buck!) and more DIYs
5. Hair shine enhancer
The pigments in black tea can play up natural brunette highlights, which will make hair appear shinier, while chamomile tea will brighten subtle highlights for blondes. Rinse your locks with the appropriate cooled brewed tea, wrap it up in a towel and let it soak in for 20 to 30 minutes before rinsing again and styling as usual.
6. Facial toner
For a simple toner, just wipe a brewed (and cooled) tea bag over your face and blot. Or, mix brewed tea with a little lemon and honey and spritz on or apply with a cotton ball. It should keep in the fridge for the next week.
RELATED: 6 reasons why you should add facial toner to your beauty routine
7. Nail mender
A chip doesn't have to mean disaster. Cut out a small piece of your paper tea bag and, using nail glue, adhere it to the broken area. You can also start with a basecoat, and stick the tea bag on top, adding another coat on top. Trim the tea bag, file, paint and — voila! — #manimonday away on Instagram.
8. Exfoliating body scrub
Brew a green tea bag in 1/2 a cup of water and allow it to cool. Then mix 1 part tea with 3 parts sugar (you can add honey, lemon, yogurt or other favorite ingredients if you please), and rub on your body in the shower as an exfoliator.
RELATED: Argan, coconut and almond, oh my! A beginner's guide to beauty oils
9. Facial cleanser
Add a couple tablespoons of loose green tea to your regular creamy cleanser, stir it up and slather it on. Let it sit for five minutes to soften dead skin cells and then gently rub and rinse to buff them away.
Lesley Kennedy writes for ShopAtHome.com. Follow ShopAtHome on Instagram @shopathome and Lesley on Google+.
This article was originally published on Apr. 2, 2014 on TODAY.com.