/ Source: The Associated Press
Bill Clinton made a long-anticipated appearance in the upstate New York village where his daughter is getting married, drawing crowds of onlookers Friday afternoon as preparations continued largely out of sight for the grand and secretive occasion.
In the evening, hundreds of people gathered outside the hotel where many of the guests are staying to catch a glimpse of the former president with his wife, Secretary of State Hillary Rodham Clinton.
Shortly before 11 p.m. local time, the Clintons exited a van arm-in-arm outside the Beekman Arms Hotel. The former first lady, in a long, green dress, waved to the cheering crowd waiting behind metal barricades outside and quickly went into the hotel. They left about a half-hour later.
Earlier in the day, Bill Clinton, looking fit and relaxed in blue jeans and a black knit shirt, walked with security a few blocks north from the picturesque village's main intersection to the restaurant Gigi Trattoria.
To questions blurted from the huge crowd he attracted, Clinton rattled off easy answers.
How are you?
"We're all fine."
"We love it here," he said. "Chelsea loves the area as well."
How's she doing?
"She's doing well."
Chelsea Clinton is expected to marry her longtime boyfriend, investment banker Marc Mezvinsky, at a ceremony Saturday evening attended by 400 to 500 people at the grand Astor Courts, an estate on the scenic east bank of the Hudson River. Rumors had abounded for weeks leading up to Friday, including one that Rhinebeck was an elaborate decoy planned by the media-shy Chelsea and that the wedding would be elsewhere.
The appearance of the former president put all the conspiracy talk to rest.
And what does he think of his soon-to-be son-in-law?
"I like him very much," the popular Democrat said, picking up more people with each passing step. "I really do. I admire him. Hillary feels the same way."
The sight of an ex-president captivated many in the crowd. For the record, Dutchess County, which contains Rhinebeck, voted for Clinton and Al Gore in 1996.
"We thought it was great that he walked down here," said Carol Chestney, of Rhinebeck. "He could have parked right outside. He looks great."
Marybeth Cale, also of Rhinebeck, said: "It's amazing, all this excitement. We're thrilled that he's here."
After lunch, Clinton slowly wound his way out of a restaurant, taking time to shake hands with the kitchen staff and customers, who took pictures of him with their cell phones. The restaurant's owner said it would be impolite to reveal what he had for lunch.
He emerged to an enthusiastic crowd of hundreds of people who shouted, "We love you!" and "Congratulations!" He took a moment to comfort a little girl who got jostled by the huge crowd but broke into a huge grin after the former president asked her name and whether she was all right.
There are still mysteries.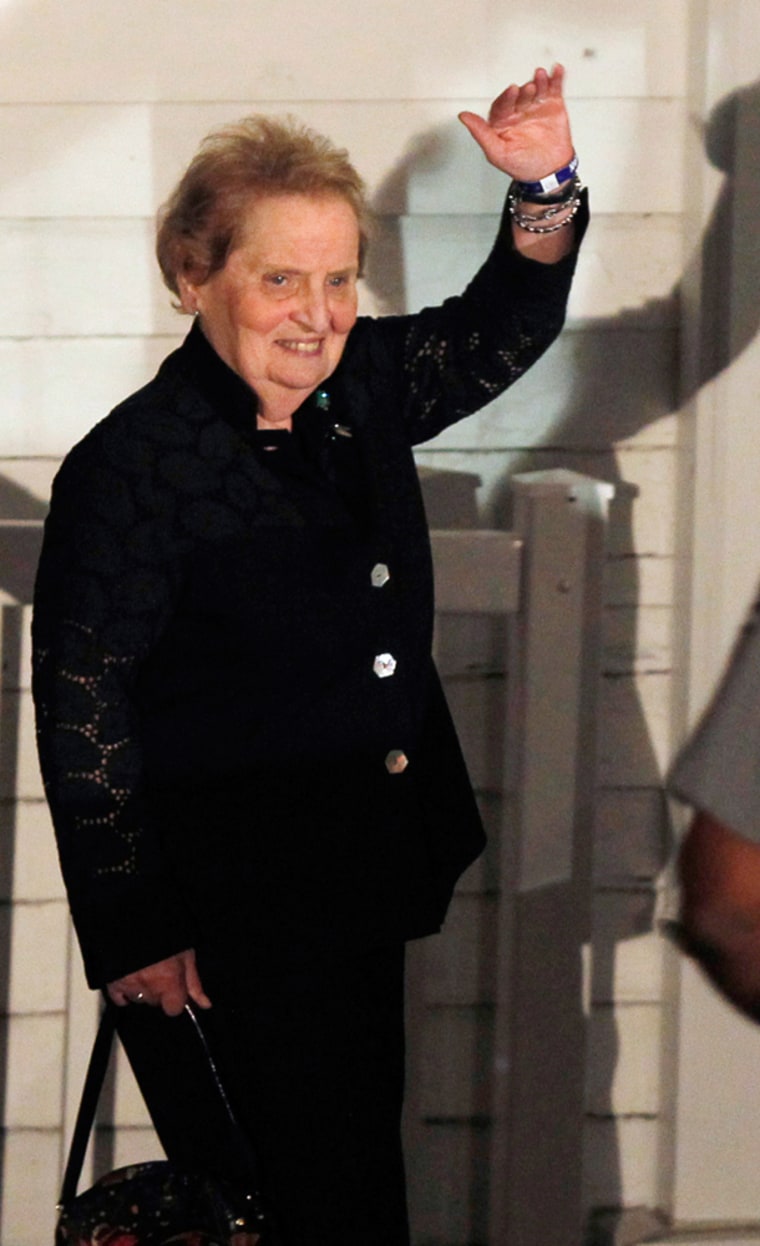 The VIP guest list is said to include such A-listers as Oprah Winfrey, Steven Spielberg and some of the Clintons' powerful political allies, and the village was filling up with the curious hoping to catch a glimpse of an honored guest. Madeleine Albright, who was secretary of state during President Clinton's second term, was seen at the Beekman Arms Hotel.
"Maybe I'll see someone, maybe I won't," said Rhinebeck resident Linda Gray, as she sat on a sidewalk bench and watched the hubbub. "I think the fun of the whole thing outweighs the traffic problems."
Meanwhile, a longtime Clinton family friend adamantly denied that the cost of the wedding would be more than $1 million. The friend, who spoke on condition of anonymity in keeping with the family's desire for privacy, said the cost of the wedding will not exceed six figures. Wedding experts told The Associated Press the wedding could cost $2 million to $3 million, while some media reports put the cost as high as $5 million.
State troopers directed the growing number of cars driving through the village and security guards were posted outside a private estate, just south of town, that is reportedly the site of the rehearsal dinner Friday night. Around 7 p.m., a stream of vehicles, including a shuttle full of young women, pulled past the security checkpoint into the estate. Sport utility vehicles with dark glass silently guarded long driveways to other secluded estates along the winding rural roads outside the village.
Andrea Alvin, who lives on the same road as Astor Courts, told The Associated Press that state police notified her three or four days ago that the road would be closed from 4 p.m. to 8 p.m. Saturday and gave her a sticker so she could get in and out. She came home Thursday to find a bottle of wine from the nearby Clinton Vineyards, courtesy of the wedding planner. It came with a note apologizing for any inconvenience and included a phone number to call if there were any problems.
"I think it's great. It's a happy occasion," she said. "It's good publicity for the town. It's just a weekend. What's losing a weekend in the summer?"
Chelsea and Mezvinsky were friends as teenagers in Washington, and both attended Stanford University. They now live in New York, where Mezvinsky works at G3 Capital, a Manhattan hedge fund. Mezvinsky worked previously at Goldman Sachs as an investment banker.
Clinton completed her master's degree in public health this spring at the Mailman School of Public Health at Columbia University.
Mezvinsky is a son of former U.S. Reps. Marjorie Margolies-Mezvinsky of Pennsylvania and Ed Mezvinsky of Iowa, longtime friends of the Clintons. His parents are divorced.
Ed Mezvinsky was released from federal prison last year after serving a nearly five-year sentence for wire and bank fraud. Margolies-Mezvinsky served just one term in Congress before losing her seat in 1994 after voting in favor of President Clinton's 1993 budget, which was controversial at the time.