Like his onscreen character Ken, Ryan Gosling is a loyal supporter of his lady.
At the Los Angeles premiere of "Barbie" on Sunday, Gosling sported a sweet and significant accessory: a necklace bearing Eva Mendes' initial.
The bright pink "E" charm was written in the same iconic, curvy script as the "Barbie" movie title.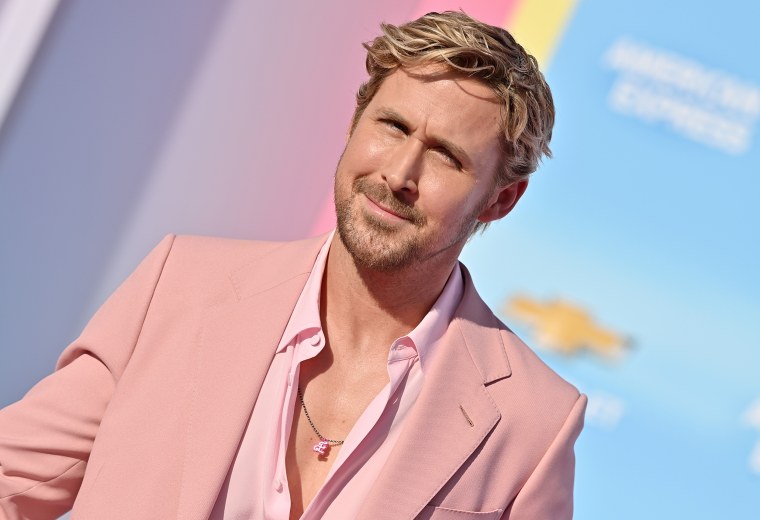 Gosling and Mendes have been together since 2011, when they met starring opposite each other in the 2012 film "The Place Beyond the Pines." The couple share two daughters, Amada, 7, and Esmeralda, 8.
Mendes has been equally supportive of her husband's role. On July 5, she gushed about Gosling in an Instagram post that quoted "Barbie" director Greta Gerwig's compliments to the actor, alongside a video of Gosling playing Ken.
"It's some combination of Marlon Brando meets Gene Wilder meets John Barrymore meets John Travolta," Gerwig said of Gosling's performance in an interview with Rolling Stone.
Mendes seconded Gerwig's praise.
"One of my favorite things the insanely talented & beautiful GRETA GERWIG says in @rollingstone about Mi Hombre, Mi Vida, Mi Amor …RG," she said with a red heart emoji.
Earlier in May, Mendes posted a photo of herself wearing a T-shirt featuring Gosling as Ken. The front of the shirt read "Barbie 2023: Ryan Gosling as Ken," paired with an image of Gosling in Ken costume.
"Got that real big Kenergy. Coz girls is players too," she captioned the post.
Gosling, who does not have an Instagram, is notoriously tight-lipped about his family life, so his sweet red carpet nod to Mendes was especially meaningful.
"I know that I'm with the person I'm supposed to be with," Gosling said in a 2015 interview. His only criteria for his dream woman is "that she's Eva Mendes. There's nothing else I'm looking for."
CORRECTION (July 10, 11:15 a.m.): An earlier version of this article called Eva Mendes Ryan Gosling's wife. They are not married. The article has been updated.