At 81, Carmen Dell'Orefice hasn't retired her heels: the stylish senior citizen — three to four times older than today's models — walked the Norisol Ferrari Spring / Summer 2013 show during New York Fashion Week on Monday.
"I don't know if it's good or silly," she told TODAY's Jenna Bush Hager of her current modeling career. "It's what I enjoy doing, and I'm able to do it." 
With her signature silver mane, sultry dark eyes and youthful elegance, the octogenarian model recently appeared along other mature models — including Beverly Johnson, Carol Alt, Isabella Rossellini and Jerry Hall — in the HBO film, "About Face: The Supermodels, Then and Now."
In an industry which prizes youth, Dell'Orefice says she's proof of the nation's general acceptance of a graying population.
"I think America may be growing up and accepting the fact that the bulk of life exists beyond 50. Because demographically ... the vast population is over 50," she said. "This is not to negate the young people coming up. But what kind of an example are we giving young people?"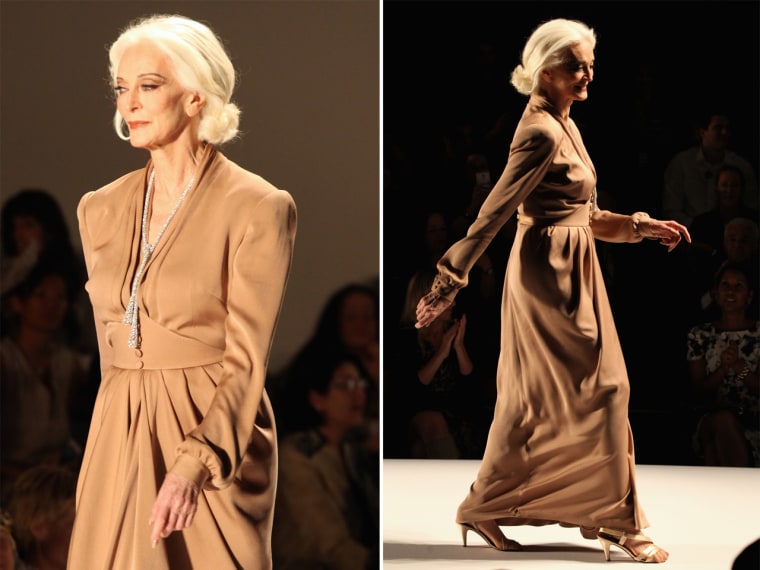 Corinne Nicolas, president of Trump Model Management, which represents Dell'Orefice, said the octogenarian's glamour and presence has helped redefine what society defines as beautiful.
"She's an independent woman, and she has been able to transcend time," Nicolas told TODAY. "I see our young models who will look at her and be mesmerized by her. She's an idol. She's a role model for a lot of these girls. It teaches them, 'I could be that as well. My career could go on for as many years as that.'"
Dell'Orefice got her start at age 13 after being approached on a cross-town bus by the wife of photographer Herman Landschoff. She made the cover of Vogue just two years later at age 15. At the time, the high-profile cover meant being able to help her single-parent mother pay the bills rather than getting a start in a jet-setting fashion career.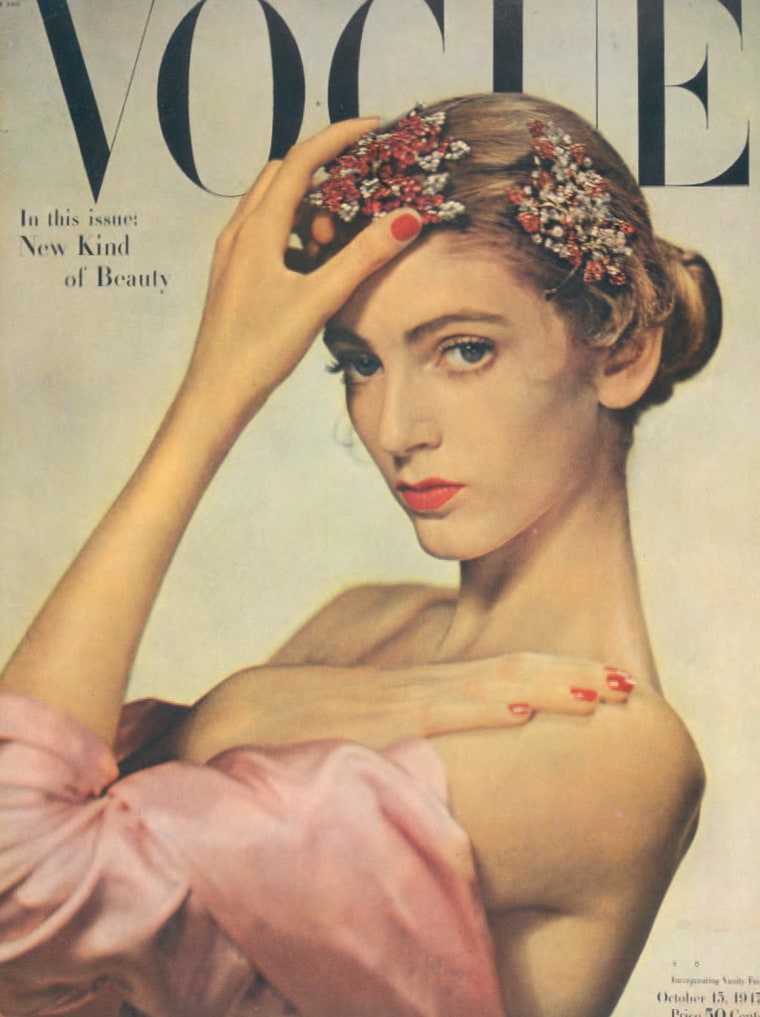 "For me, it meant they kept on using me as a model. And it meant $7.50 an hour and $60 a day," she said. "...And my rent was $30 a month, so in one day I made two month's rent. That's what it meant."
Today, Dell'Orefice says she still models for the money — she lost a considerable amount of her savings to Wall Street Ponzi scheme artist Bernie Madoff. But she also does it to keep herself youthful.
"It keeps me in touch with young people, and their perspective of not just beauty and fashion, but life in general, and their experience, how they look at the world," she said.
Dell'Orefice isn't shy about getting some help with her looks. She admits to using fillers, with the philosophy, "If your ceiling was falling down, wouldn't you fix it?"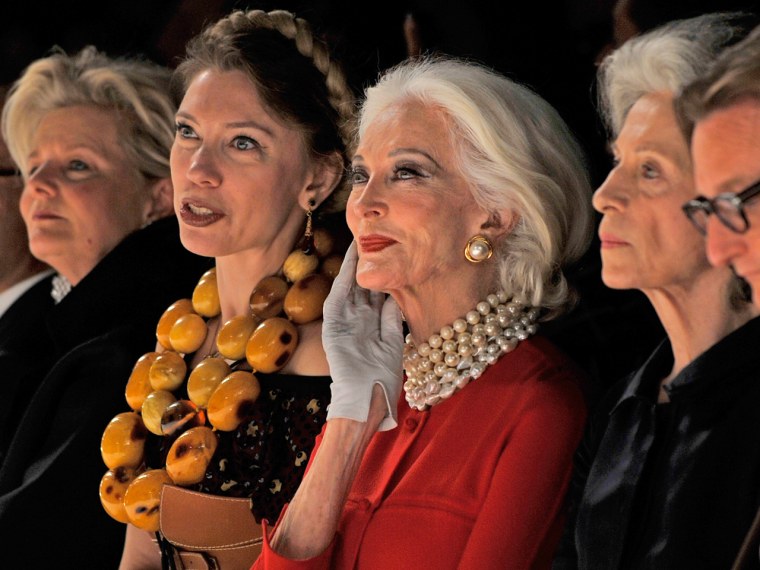 Fashion photographer Tim Peterson, who now calls Dell'Orefice "my muse" after working closely with her for the past four years, declares: "She's my absolute favorite model of all time."
"I think she redefines everything, even the job as a model itself," he told TODAY. "It's like what she does is not really being a model. She's more a celebrity now, or more this icon, really."
Peterson said he rarely notices Dell'Orefice's age when he photographs her.
"Sometimes you look at the pictures and you're like — it feels almost wrong because she looks 30 in a way, which is weird because in real life you can tell that she is, you know, she is her age and the way she is. But she's phenomenal," he said.
"She's the youngest person I ever met and very, very inspiring."
More from TODAY Style:
Designer: Michelle Obama's DNC dress will hit shelves
Beauty secrets from an 80-year-old 'goddess' of style
Bobbi Brown: Katie Holmes 'is the new Ali McGraw'
Mercedes-Benz New York Fashion Week gets under way in New York City with Tyra Banks, Alicia Keys, Victoria Beckham and more stars getting a front-row look at the biggest designer shows for Spring 2013.