Our editors independently selected these items because we think you will enjoy them and might like them at these prices. If you purchase something through our links, we may earn a commission. Pricing and availability are accurate as of publish time. Learn more about Shop TODAY.
A beach day can be divine, but sometimes, the thought of slathering sticky sunscreen all over your body is simply dreadful. But, so is a bad sunburn.
So, this summer we're crushing on swimdresses that offer more coverage than a regular bathing suit. They're modest and offer extra protection from the sun.
While we're at it, we also asked a few experts about sun-protective clothing and ultraviolet protection factor (UPF) to find out if covering up is enough or if you should really be wearing swimwear with a little extra protection.
Labelar UV Protection Swimming Dress, $20-24, Amazon
Pretty in purple! This swimdress is a definitely a looker, but it's also pretty practical. After all, you can wear it as a one piece or a swimdress — depending on your mood.
URqvick Swimdress Skirtini, $32-36, Amazon
Comfort and UPF 50+ sun protection? Sign us up! This sleek swimdress also has a wire-free bra and a super flattering A-line silhouette that we're seriously digging.
Spanx Retro UPF 50 Dresskini Swim Top, $10-118, Amazon
Yep, Spanx even makes swimwear. And if you pair the brand's retro swimdress top with any old bikini bottom, you'll have an instant vintage pinup look. Of course, you'll also enjoy top of the line shaping in a sunscreen and chlorine-resistant fabric.
Woman Within Colorblock UPF 50 Swimdress, $52, Amazon
Thanks to chlorine-resistant Extra Life Lycra spandex, this swimsuit will retain its color, fit and shape up to 10 times longer than an ordinary suit. Did we mention it's available in up to size 34?
Mott50 Women's Sonja Swim Dress, $115, Amazon
Available in 20 fun colors (we're partial to fuschia), this multipurpose swimdress gets bonus points for its UPF 50 coverage.
SanSoleil UV Rashguard Swimdress Cover-Up, $39, Amazon
At first glimpse, this rashguard might seem like a cover-up, but it's really so much more. The multipurpose UPF 50 piece can be worn in the water, while running and more, and it's also got a quick dry, moisture-wicking fabric.
Momo Maternity UPF 50+ Colorblock Swimsuit, $19-59, Amazon
This soft and stretchy swimdress for expectant moms features adjustable shoulder straps and adorable pink colorblock detailing.
ZeroXposur Race Lace Back Swim Dress, $35, Amazon
Available in two summery color schemes, this swim dress features 4-way stretch and fast drying fabric so you can have fun at the beach or pool and be comfy all day long.
SwimZip Womens Swimsuit Swim Dress Cover up UPF 50+, $75-80, Amazon
Quick drying, breathable fabric? Check. Adjustable side ruching for the perfect fit? Check. A swimdress you can wear in the water or lounging by the pool? Yep, this summer swimdress checks off all the boxes!
Solbari UPF 50 Swimdress, $100, Amazon
Block more than 98 percent of UVA and UVB rays with this sleek sun-protective swimdress. It even has discreet thumb holes to cover the back of hands and prevent sun spots!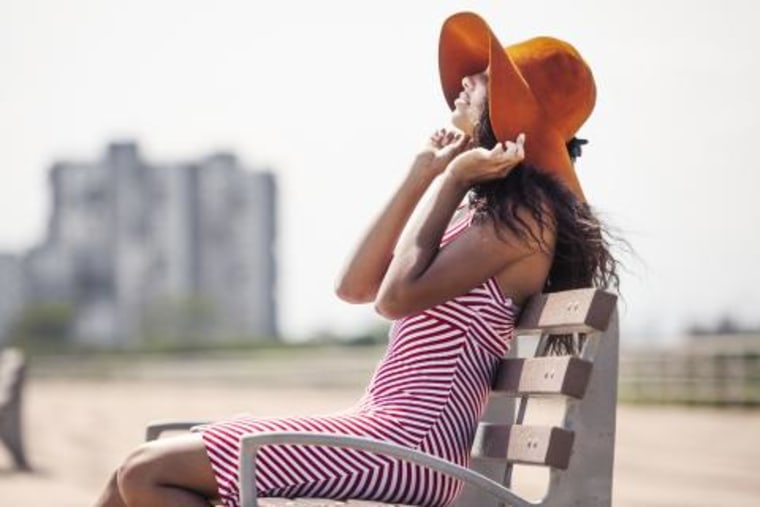 What's the deal with sun-protective clothing, anyway?
Kudos if you're hitting the beach with a cover-up or wearing a swimdress that offers a bit more coverage from the sun. Any little bit helps! But are you doing enough to protect your skin from the sun, or should you be wearing sun protective clothing instead?
UPF clothing has been rising in popularity over the past several years, and if you're anything like us, you're a bit curious about it. Does it last forever? How do you take care of UPF clothing? Is it a substitute for sunscreen?
"Between UPF and SPF, the concept is essentially the same: to protect your skin from ultraviolet radiation. What SPF is to lotions, liquids and serums, UPF is to fabrics and clothing," said Kendra Reichenau, CEO of the sun protective apparel brand Coolibar.
SPF stands for sun protection factor, and most sunscreens will only protect you from UVB rays (the "burning" rays) — unless it's a broad spectrum SPF. UPF (Ultra Protection Factor) clothing, on the other hand, blocks both UVA and UVB rays. For instance, only 2 percent of UV rays will pass through a fabric that has a UPF factor of 50 plus.
So, how exactly does a piece of UPF clothing work? It varies depending on the manufacturer, of course, but most UPF garments have a few characteristics in common.
"Fabrics with a high UPF rating are usually tightly woven, with little space between the threads. Some UPF products have embedded minerals such as zinc or titanium in the fabric to help reflect the sun's rays," said board-certified dermatologist Allison Arthur, MD, FAAD.
UPF clothing is thoroughly tested to make sure it sufficiently blocks those dangerous UVA/UVB rays.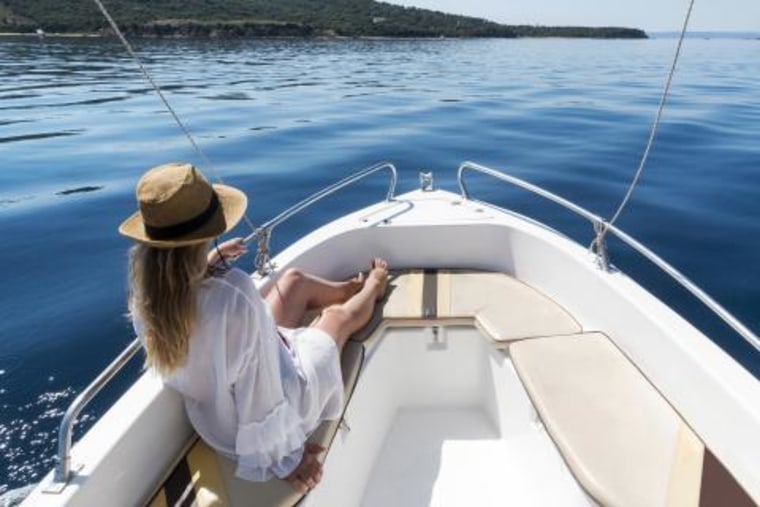 Is sun protective clothing necessary?
You might not think UPF clothing is necessary if you're not walking around in a bikini, but it turns out our typical summer attire doesn't exactly offer the best sun protection.
"Not all clothing is created equal. A white cotton shirt offers on average of UPF 5 protection," said Slava Furman, founder and CEO of Noli Yoga, an activewear brand that offers UPF 50 protection. "A lot of factors come into play — color, fabric (content, fiber, weight), construction and treatments. Darker, compression fabrics will be more effective at naturally blocking harmful rays. If the fabric is wet or stretched out, the UPF rating can go down."
The bottom line? If you're going to be outside for a prolonged period of time, it might be best to throw on a garment that offers sun protection or apply sunscreen under your clothing.
Nothing lasts forever, but many sun-protective garments are guaranteed to last for a certain amount of washes — as long as you take care of them and wash them properly, of course.
"As a general rule, it's best to wash all clothing with care and play close attention to the care instructions included on the inside of the garment," Reichenau said.
Natural wear and tear can take a toll on a garment — no matter how well you take care of it — so don't expect sun protective clothing to last forever. It might, however, be just the thing you need to help get some much-needed sun coverage this summer!