When hurdler Lolo Jones was at her lowest point in 2012 after going home without a medal for the second straight Olympics, she turned to a sport she had never tried.

Not only did bobsledding help bring Jones out of her depression, it also gave her another chance at an Olympic medal, this time in the Winter Games in Sochi. On Sunday, it was announced that she had been selected as one of six women who will represent the U.S. in bobsledding next month. 
"I think it's even more about redemption,'' Jones told Savannah Guthrie on TODAY Tuesday. "I learned so much from the moment I walked into that Olympic training center in Lake Placid and met the bobsledders. They embraced me at one of the lowest points of my life. I was just coming off the Summer Games, and I was pretty depressed, and they lifted me up and day by day they encouraged me to never give up on this Olympic dream."
In June 2013, Jones rankled some fellow bobsledders after posting a Vine video joking about her stipend check. She shows her check for $741.84 from the U.S. Bobsled and Skeleton Federation and pretends to call her landlord, saying she's going to be a little late on the rent this month. Many Olympic hopefuls rely on stipends from around $700 to $2,000 per month. She insisted the Vine video was just a joke and later apologized. 
With that minor dust-up in the rear-view mirror, she is now part of history. Jones and teammate Lauryn Williams, a former Olympic sprinter, will become the ninth and tenth U.S. athletes to have competed in both the Summer and Winter Olympics.
"I think it's funny because in the Summer Games I was complaining that we didn't have air conditioning, and now I definitely don't complain about lack of cold,'' Jones said. "It's pretty thrilling, and I'm excited to be here."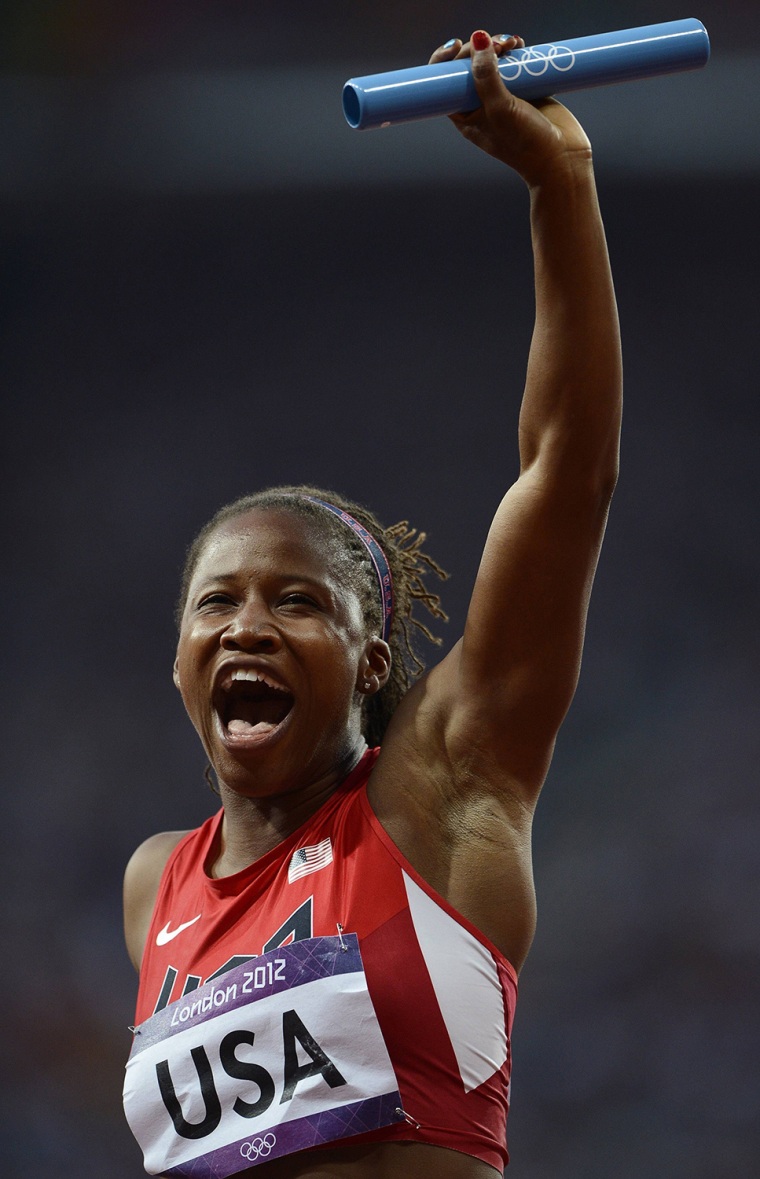 Jones, 31, finished in fourth place, one-tenth of a second away from a medal, in the 100-meter hurdles at the Summer Olympics in London in 2012. That race marked the second crushing disappointment for Jones, who was on her way to winning gold in Beijing in 2008 before she clipped a hurdle and finished seventh.
"They really did give me a fresh start,'' she said about the USA Bobsled and Skeleton Federation. "I know you can't change the past, but knowing I hit a hurdle, got fourth place, I wouldn't change it for the fact that I know that it led me here. It led me to meet a great group of female athletes, and we are truly united and bonded and ready to go to Sochi and dominate."
At the suggestion of Olympic bobsledder Elana Meyers, Jones made a bid for a spot in the Winter Olympics as a brakeman. In her first World Cup event, she was part of a team that took home a silver medal, and she was hooked. She then talked Williams, who won gold in the 400-meter relay in London, into giving bobsledding a try. 
Jones, Williams and Aja Evans were the three women selected on Sunday from a pool of six for the push athlete spots on the bobsledding team. Williams and Evans joined Jones on TODAY along with Meyers and fellow teammates Jazmine Fenlator and Jamie Greubel, who made the team as drivers. Jones has embraced being part of a team after pursuing track, a more solitary sport, for most of her life.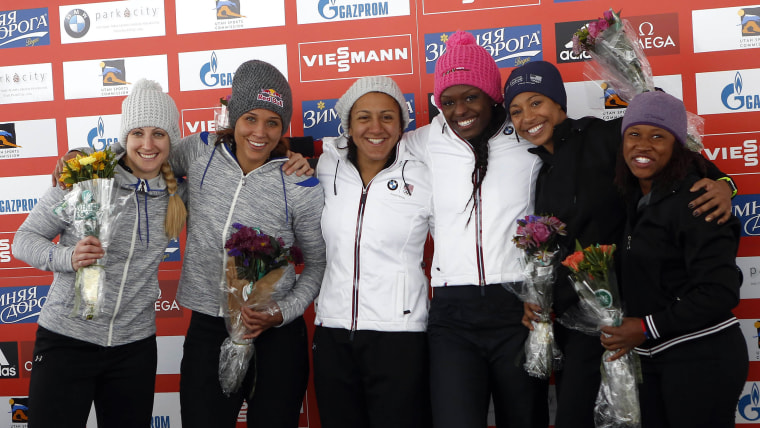 "There's a Bible verse that says, 'Two is better than one, and when one falls, another one can lift them up,' and that is why team is so important to me,'' she said. 
While her explosiveness as a runner translates to bobsled, Jones still had a steep learning curve over 8 months to pick up a new sport. 
"There are some skills that will transfer from track, obviously the running behind the bobsled, but other than that, there is actually a lot that I had to learn,'' Jones said. "You just have to be really strong and powerful for bobsled, and there's really no sport like it. It's not like you can practice this sport in high school or middle school. 
"You really have to come there and have no knowledge about it and then just have to learn everything so very quickly. It takes a lot of help from your teammates. It's a lot of people just molding together at the same time. It's been a challenge. It's definitely more challenging than track and field in that aspect." 
Jones had to put on 30 pounds of muscle to get the power she needs as a push athlete.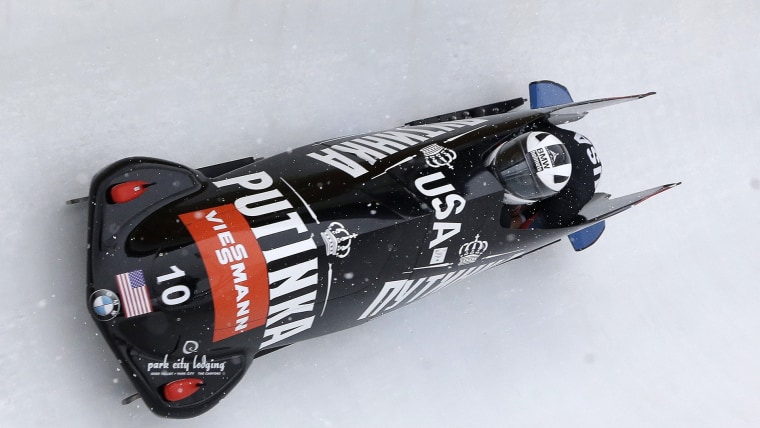 "For track and field, obviously you don't want too much weight on you, and for bobsled, weight actually comes into factor because you have to weigh a certain amount at the end of the finish,'' she said. "It's just thrilling that I was able to kind of have a different diet and change it up from my past experience with track." 
Bobsleds can reach speeds of 90 miles per hour during races, which means a crash can be a jolting experience at first. 
"I'm going to have to downplay my crashes because my teammates, the ones that crashed me, are right next to me,'' Jones said before laughing. "It was not bad; it was actually really smooth." 
With the disappointments of the last two Summer Olympics behind her, Jones now hopes to write an uplifting chapter in Sochi. 
"I think any time you represent Team USA, it's the biggest honor that I'll have in my life,'' she said. "You feel the weight and the pressure of a country behind you, and you know it's not only your hopes and dreams. You're fighting for other people back home, and so I carry that with a lot of responsibility and I hope to make everybody proud."