Ree Drummond doesn't do boring bedroom decor.
"If I just had a plain white bed that was comfortable, my soul would probably cease to exist," Drummond, a blogger-turned-Food Network star who's best known as "The Pioneer Woman," told TODAY Home. "I have to have color and patterns and personality, you know?"
You'll find those three things (and more) in her new bedding line now available at Walmart and Hayneedle. With pieces ranging from $20-$100, the line is as affordable as it is country chic.
"There are collections that match if you like things to be more match-y and neat," said Drummond. "And then there are ways you can go where you have a little bit of everything from the different collections so you wind up having a bed all your own." The ranch wife and mom of four admits that she personally prefers a look that appears collected over time.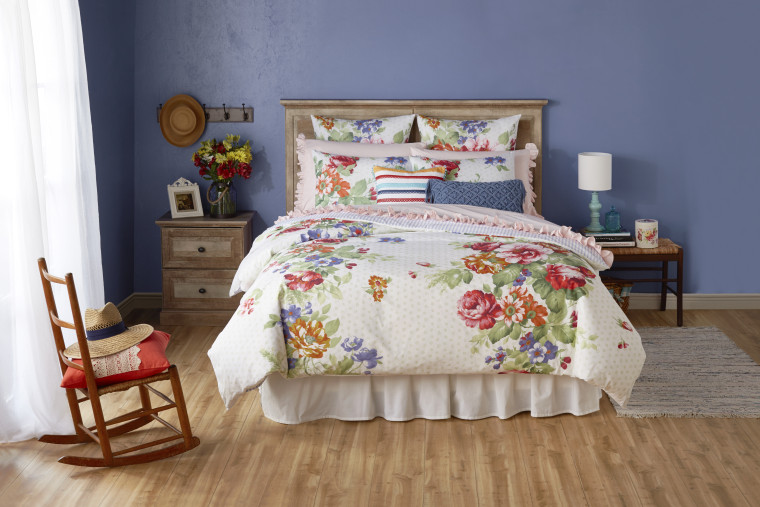 In fact, the mix of dishes that fill her kitchen cabinets inspired the patterns on the throw pillows, sheets and duvets. "I have plates I love from here, and cups from there, in different colors — that's really the inspiration for my bedding line," she said.
With her seven distinct collections — including Barn Dance, Beautiful Bouquet, Rose Garden and Ruched Chevron — making your bed could almost be an art form.
Still, Drummond doesn't forget the bed's purpose. "It's not a stiff, hard or formal or stuffy line. It makes you just want to take a running leap into the bed and just kind of roll around in it," she explained.
Here are a few our favorite looks from the line that make us want to do that duvet dive.
Ruched Chevron Comforter, $70, Walmart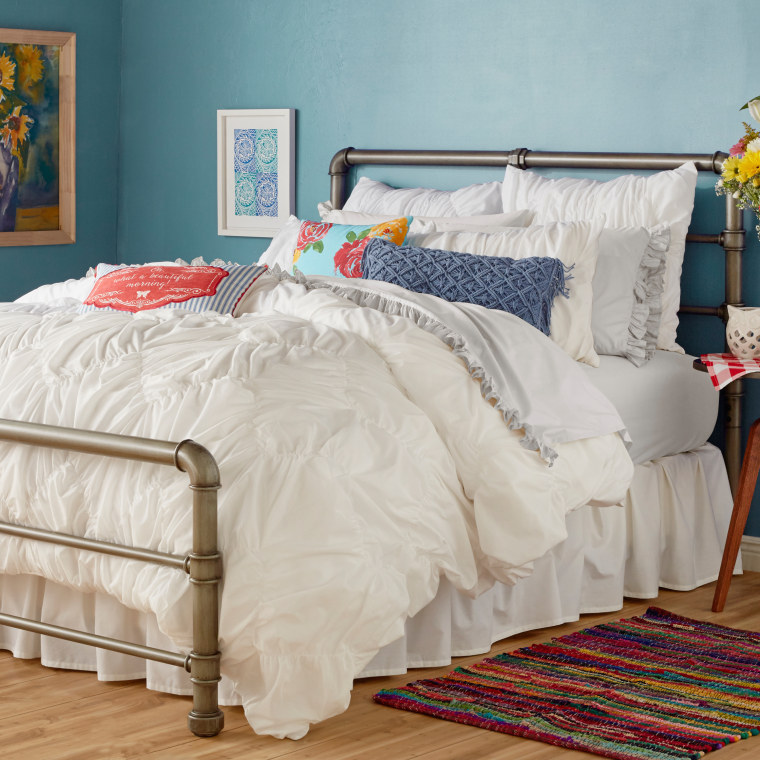 Yes, this comforter comes in only solid gray or white. But the simple palette makes it easier to appreciate the ruched chevron detailing. Plus, it's the perfect backdrop for throw pillows that pop!
Rose Garden Duvet, $60, Hayneedle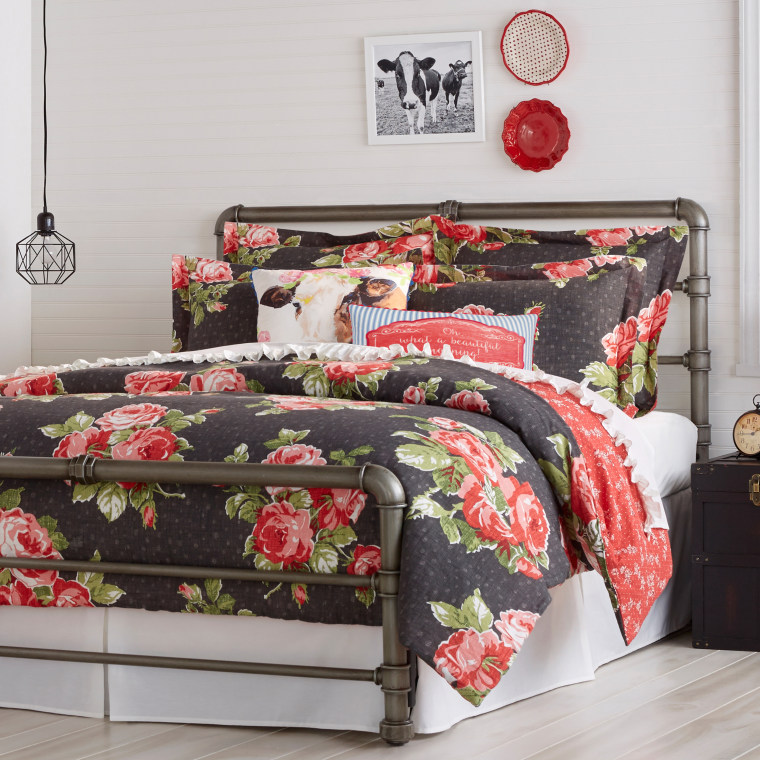 You'll dream of roses while resting under this duvet adorned with the most romantic of flowers. It's functional, too: The bedding is made from 100 percent cotton, machine-washable and reversible. Simply flip it when you feel like showing off a quieter floral print.
Macrame Decorative Pillow, $30, Hayneedle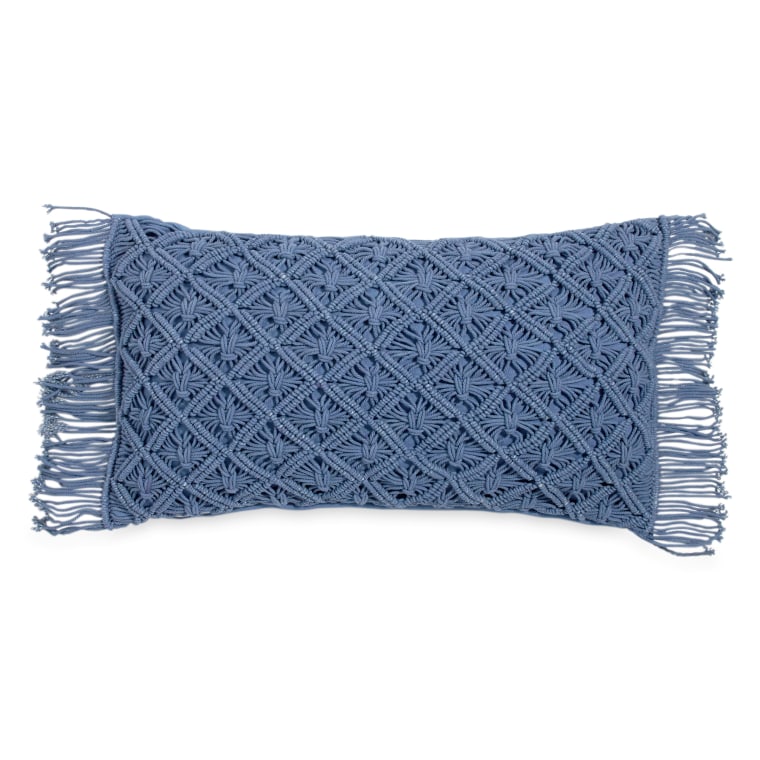 "What I love about the line is the pieces have a little bit of a natural texture," Drummond said. For example, this inviting blue pillow with a knitted woven front, solid canvas back and fringed edges.
Solid Ruffle Sheet Set, $35, Hayneedle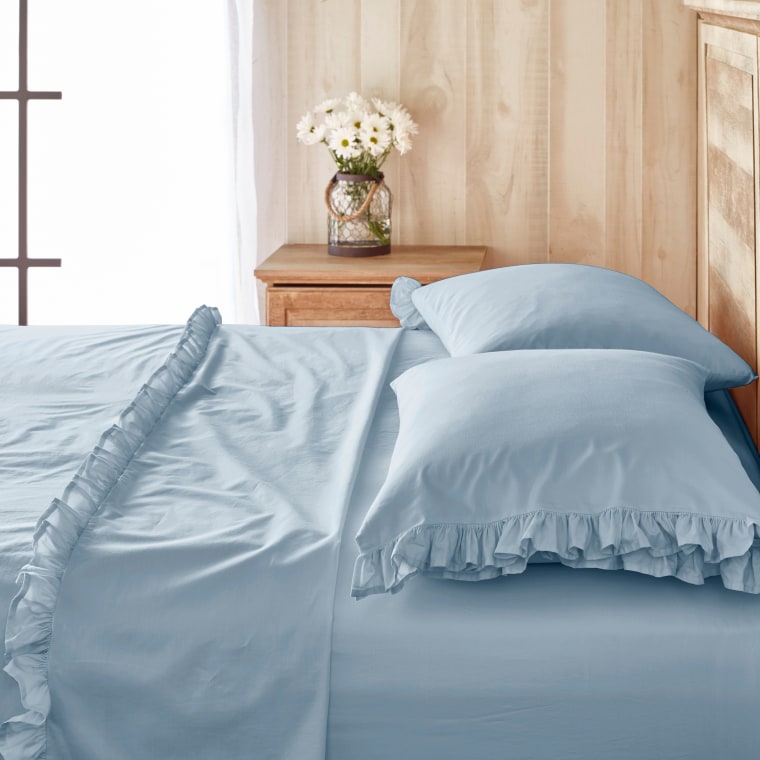 These 300 thread count sheets marry style (ruffles!) with comfort (cotton percale). And it's easy to keep them feeling fresh.
"You can iron them if you like things to look more crisp," said Drummond. "But if you just throw them in the dryer and take them out they really have that great feel about them where they look like they're supposed to be slightly relaxed or wrinkled."
Flower Cow Decorative Throw Pillow, $25, Hayneedle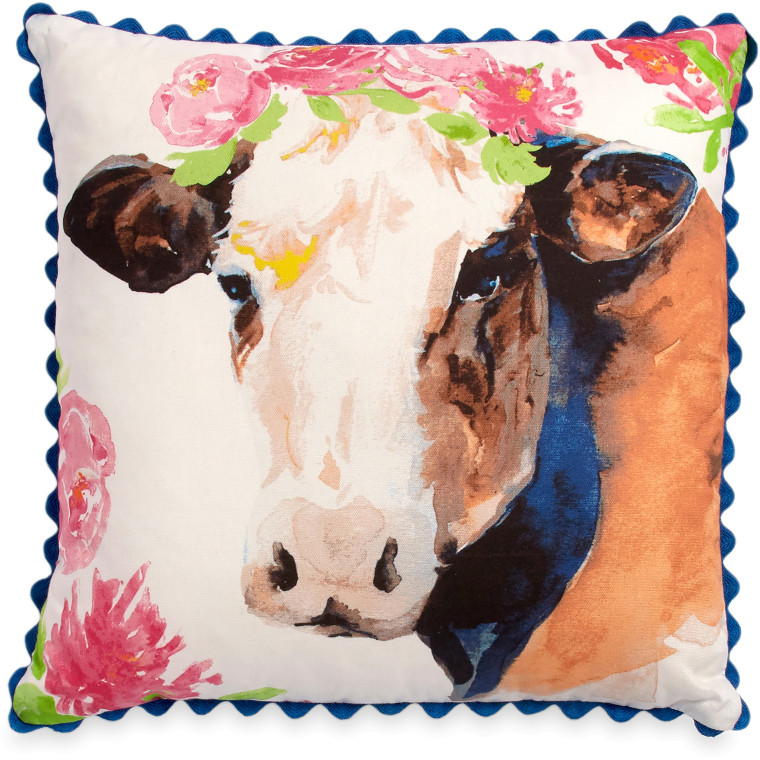 Drummond lives on a ranch, so it makes sense she'd include a beautiful bovine reference. This machine-washable cover boasts a pretty content-looking cow framed in pink flowers.
Charlie Dog Decorative Throw Pillow, $25, Hayneedle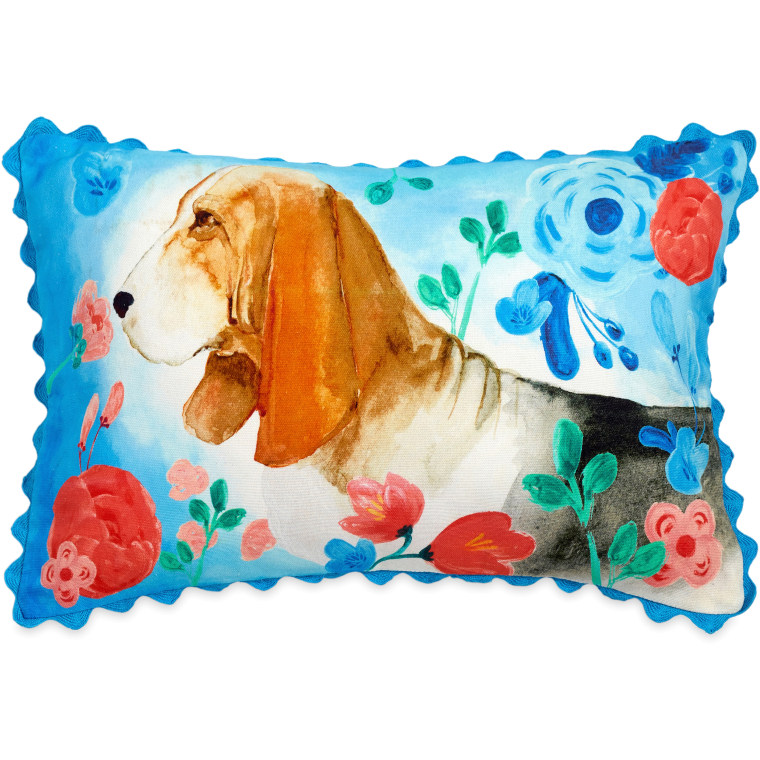 It's no secret how much Drummond adores the family dog, Charlie. So, we're not surprised she created a pillow bearing his basset hound's likeness.
Barn Dance Quilt, $50, Hayneedle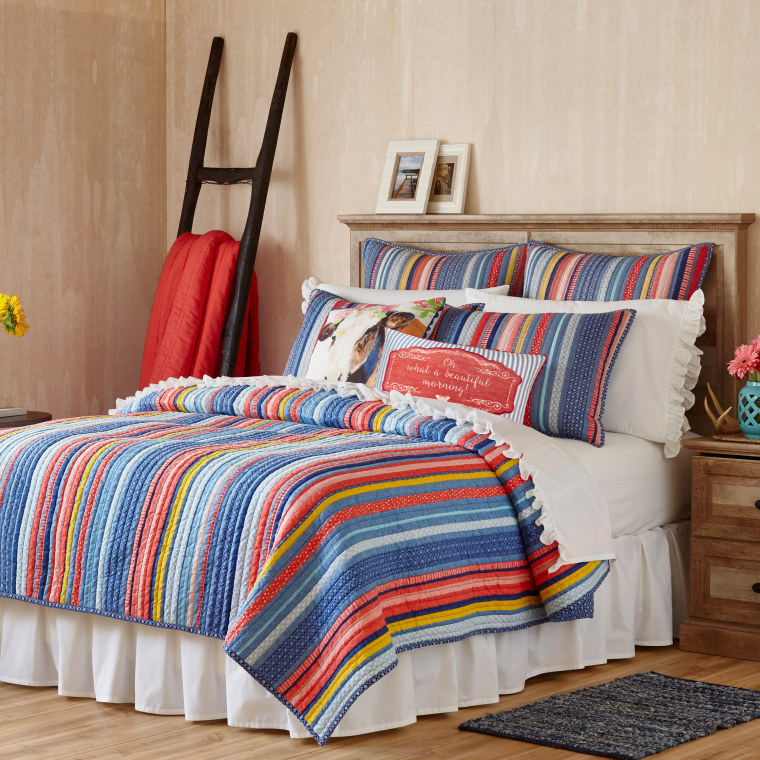 Meet the quilt of many colors! This multicolored striped piece is like sleeping under a sophisticated rainbow. But don't be intimidated: Like everything else in the line, it's machine-washable.
Calico Floral Pillowcase Set, $20, Hayneedle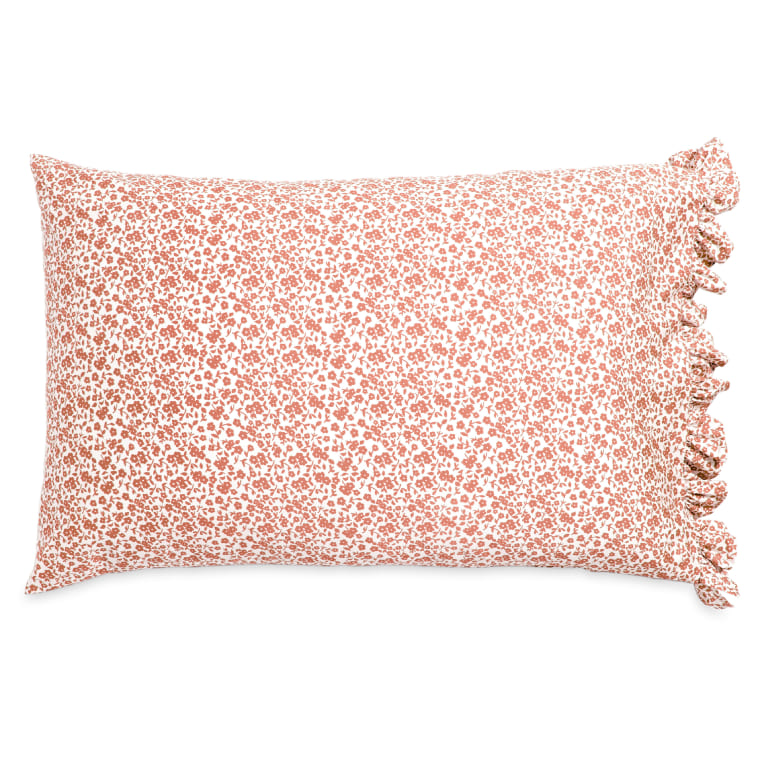 "I love to have a little bit of a vintage feel to everything," Drummond said, adding that she's especially keen on older floral prints. With delicate flowers and a ruffled hem, this pillowcase set is classic Pioneer Woman. You can choose between blue or coral, in standard or king-size.
Beautiful Morn Decorative Throw Pillow, $25, Hayneedle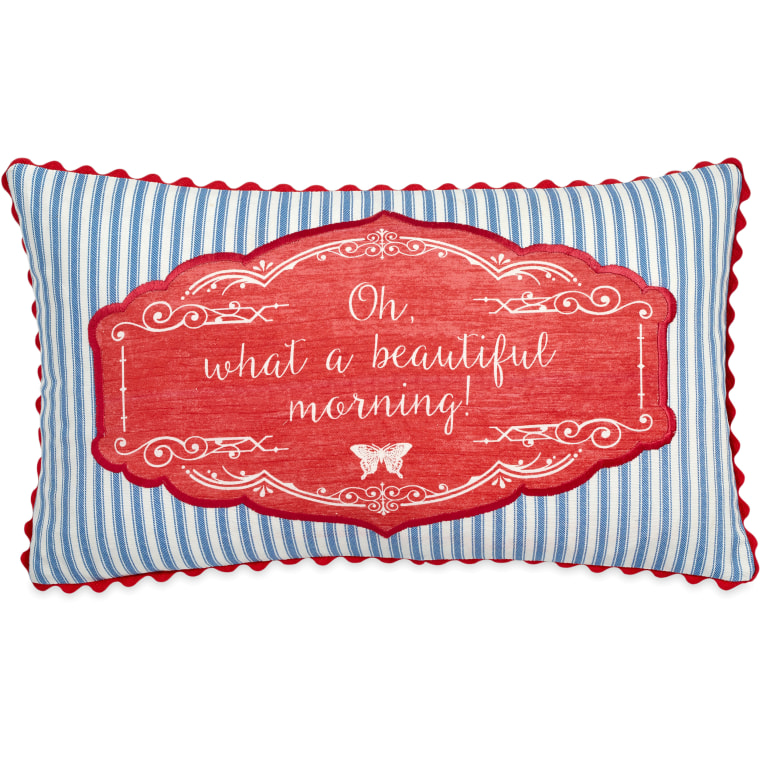 You may have a new mantra after waking up to this cheerful pillow.
Want more of the Pioneer Woman's style? Check out her collection of floral-printed slow cookers.