It's officially beach season and we've got good news for you: It may be easier to show off that "bikini body" than you think.
TODAY spoke with Sophie Kay, a personal trainer and fitness blogger, who proved that the "before-and-after" fitness makeover can be as easy as taking a selfie.
In a recent post about fitness myths on her blog Fitology, Kay highlights the inaccuracies that so often persist on social media. Instead of taking the before-and-after photos weeks or even months apart to show an actual transformation, these selfies were taken within three minutes of each other.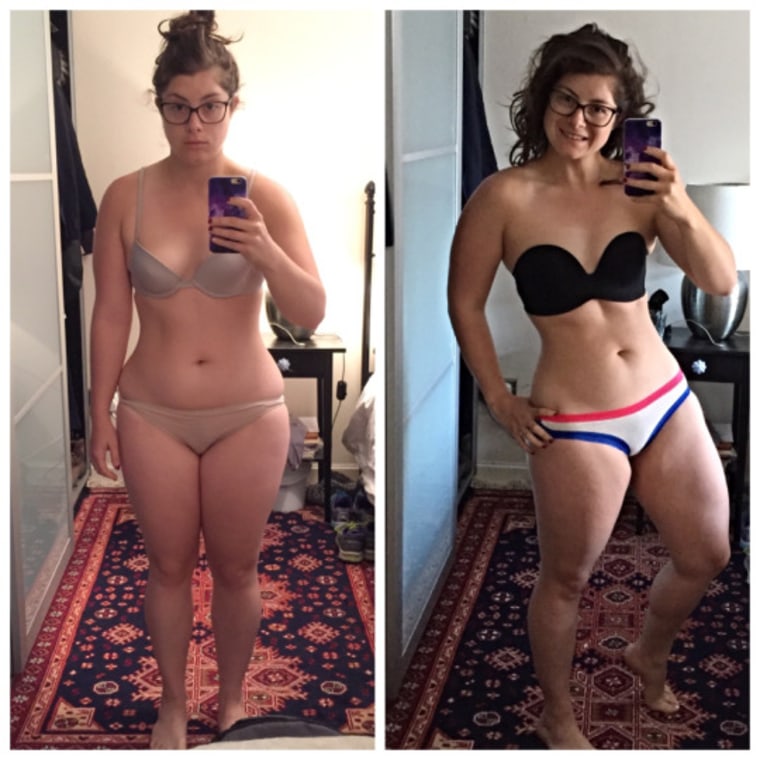 "The idea for the post came from photos on Instagram and Facebook saying do this diet or exercise and you'll like this in two weeks, but it's just not true," said Kay.
So how did Kay make the two pictures looks so different? It all comes down to some quick and easy photo styling tricks.
Kay admits she hasn't always been super fit, explaining she's been everything from overweight to even too skinny. But over the past few years, she dedicated her life to being healthy.
"I've worked to get into shape and feel happy about my body, so I don't look in the mirror and hate it," she said. "I trained as a personal trainer to help other people become the best they can be, not the best other people can be."
The reality is that if you're not dedicated to fitness and dieting (and perhaps don't have the genes to support it), it's almost possible to look like the images of models and celebrities that flood social media.
"Just because someone at work has lost 20 pounds doing some diet doesn't mean you will. You're never going to be them because you're you," Kay explained.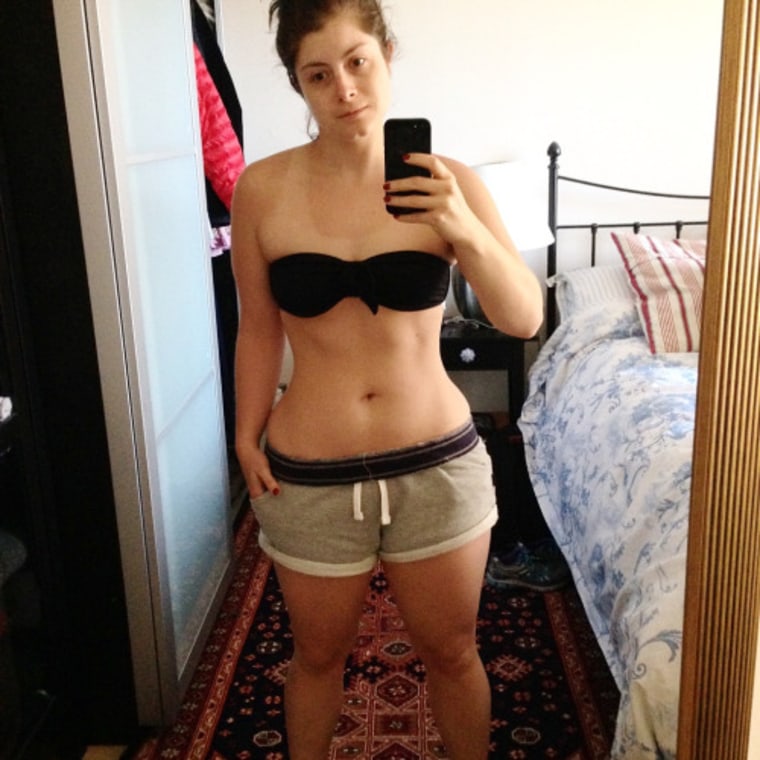 At 27, Kay has noticed the pressures on body image intensify over the years.
"Growing up there was pressure from magazines and TV shows, but that was about it. Now, you're constantly bombarded with images of the perfect woman or perfect man," said Kay.
But with the right lighting and pose, you can still take the perfect full-body selfie. Kay has six simple tricks for anyone who has the confidence to work the camera:
Change the lighting. Kay advises finding the light that will show off your contours. The difference between the before and after photos, for example, is that the lights are on in the first and switched off in the second.
Strike a pose. It's important to find an angle that shows off your figure, she explained. For Kay, it's about flaunting her waist, but she encourages others to decide what they love most about themselves and highlight it. In the first picture, for example, the straight-on shot was not as flattering as when she twisted her body.
Flex those muscles. In the first picture, Kay admits to pushing out her stomach, but in the second she held those muscles tight to create a lean silhouette.
The outfit does matter. Just like with a professional photo shoot, it's necessary to wear well-fitting clothes and underwear. While she tends to wear only undergarments in her selfies (to show off her results), she suggests deciding how you feel most comfortable. Baring it all online can be scary.
Filter it. Filters can completely alter how you look in the final result. Kay prefers to use more natural settings and isn't a fan of apps that take "fix" flaws like taking out blemishes or slimming down your legs, for example. She urges against over-editing and supports keeping photos looking natural, if a bit enhanced.
Be confident. Kay says she takes the best photos when she's feeling good about herself. It's more important to feel confident and happy and proud with the progress you're making, than wherever you are in your fitness journey, she explains.