Pharrell Williams' "Happy" is among the biggest hits of 2014 and was nominated for an Academy Award. Now it's earned an even higher honor: a spoof from "Weird Al" Yankovic, whose celeb-packed video for the funny parody song, "Tacky," dropped Monday.
"Tacky" is the first in a string of eight (yes, eight) new videos from the veteran song satirist, who will be releasing one each day to accompany his 14th studio album, "Mandatory Fun." The second video, for the song "Word Crimes" (based on Robin Thicke's "Blurred Lines"), hit the Web Tuesday.
"I've been doing this a long time," Yankovic told TODAY. "My challenge is to do something I've never done — and do it better than I've done before."
Sign up for top Entertainment news direct to your inbox 
In the "Tacky" video, Yankovic and guests Aisha Tyler, Kristen Schaal, Jack Black, Margaret Cho and Eric Stonestreet vamp in hideously mismatched outfits while lip-syncing to Yankovic's humorous lyrics about tasteless behavior.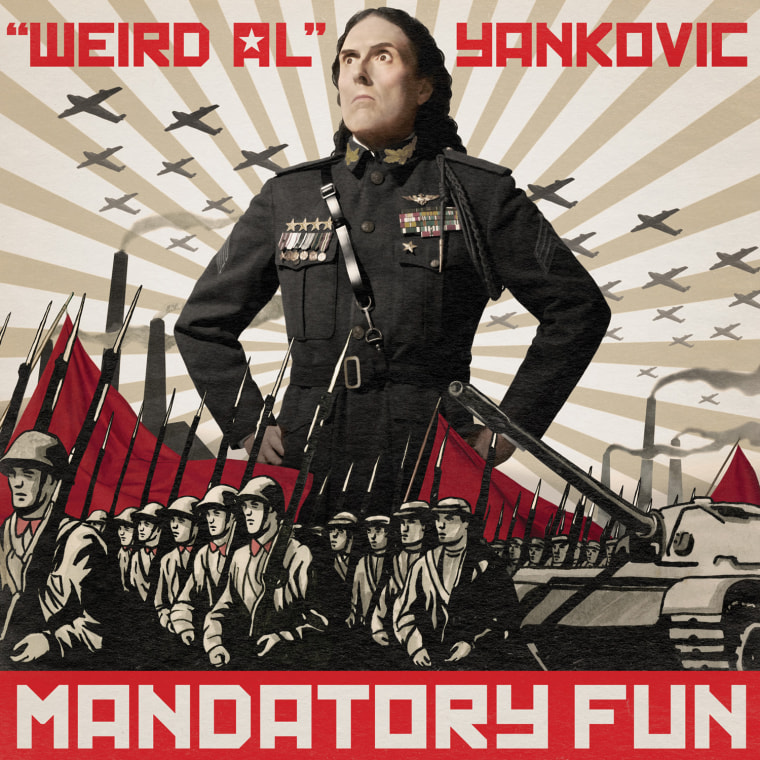 Yankovic does not know whether Williams has seen the video. "I don't send the parodies out before we release them," he explained. "(The artists) do know they're coming — they've approved the parodies, or their representatives have. But I don't know the reaction."
Not all Yankovic's covers have gone over well. In 1996, rapper Coolio took offense when his "Gangsta's Paradise" turned into "Amish Paradise." The two artists eventually patched things up.
"I don't want drama," Yankovic said. "I don't want to be involved in a drive-by or have anyone harboring any ill will toward me. I respect the artists and their work."
In addition to "Happy" and "Blurred Lines," "Mandatory Fun" riffs on Lorde's "Royals" (Weird Al rendition: "Foil," about the various uses for the food wrap) and "Fancy," by Iggy Azalea (which becomes "Handy," an ode to household repairs).
Some indirect parodies and originals echo or mash up other artists: "NOW That's What I Call Polka" is an accordion-heavy medley of no fewer than 11 tunes from musicians including Miley Cyrus, One Direction and Macklemore, while the 9-minute epic "Jackson Park Express" mimics the folksy style of Cat Stevens. 
Yankovic said he'd like to be recognized for his originals but understands that funny spoofs steal the spotlight. 
"I've come to accept that the mass audience knows me as the parody guy," he said. "It's nice to be known and appreciated for that. I've made peace with that."
So which of Yankovic's parody covers is he most proud of? He broke it down for TODAY:
"Smells Like Nirvana" (1992)
Parody of Nirvana's "Smells Like Teen Spirit"
"I'm a huge Nirvana fan, and it was fun to be a grunge artist," he said. "A few times when we play that video in concert, actual mosh pits break out!"

"Amish Paradise" (1996)
Parody of Coolio's "Gangsta's Paradise"
"It was really fun to do; I had a lot of my relatives in the video, including my parents. They're cheaper than hiring extras, and I got to dress up my whole family in Amish wardrobe," Yankovic recalled.

"White & Nerdy" (2006)
Parody of "Ridin'" by Chamillionaire and Krayzie Bone
"It was my first platinum single, and I feel close to that song because it's probably my most autobiographical," Yankovic said. He added that Chamillionaire thanked him for spoofing the song, which went on to win a Grammy Award. Said Yankovic, "He lets me touch it once in a while."
"Mandatory Fun" is available online and in stores.