Getting a multi-talented star like Neil Patrick Harris to sing the national anthem before a baseball game is kind of a big deal — and not just for the home team and their faithful fans.
Harris counted himself lucky to get the chance to stand at the mic and belt out "The Star-Spangled Banner" at Yankee Stadium Sunday night.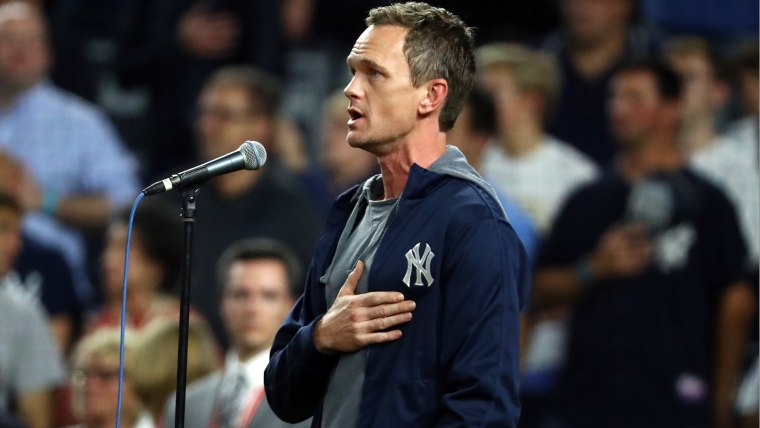 The actor, who's already had the opportunity to show off his vocal talents on Broadway and beyond, sang the notoriously difficult song just before the New York Yankees faced off against the Cleveland Indians for Game 3 of the American League Divisional Series.
And he knocked it out of the park with his performance.
Harris stood with his hand over his heart and delivered a simple but stirring rendition of the anthem in front of massive flag held over the outfield.
"Honored to sing the National Anthem tonight at @Yankees Stadium," he wrote in a post to Instagram after the game. "And they won! I take (almost) no credit."
To explain how important it was to him, Harris added the hashtag "#bucketlist."
Harris has long been a fan of the Yankees, and earlier this year, he celebrated Memorial Day weekend by taking his son, Gideon, to his very first game.
The soon-to-be 7-year-old is following in his father's footsteps as a fan of team — even if he isn't quite sure of all the details of the sport.
"One day I want Yankees vs. Yankees," he told his dad in clip from their big day out. But after giving it a little more thought, he decided "Yankees vs. Eagles" — yes, the football team — would make for an even better game.
Maybe dad could sing the anthem for that must-see matchup, too!