When your name is Ariana Grande, you get used to going big. The pop sensation lived up to her moniker Friday when she hit the TODAY plaza to perform her chart-topping summer hits — and ended up taking over the better part of the broadcast, too.
In addition to belting out "Problem," "Break Free," Bang Bang" and "Break Your Heart Right Back" for a devoted throng of Arianators on the plaza, Grande ended up chatting with Matt, forecasting the weather with Al (who was all too ready for his guest), admiring Tamron's rear view, and bringing her grandmother "Nonna" on set for an interview of her own.
Before Grande got down to business on stage, Grande told Matt she stays grounded thanks to a close inner circle. "I spend a lot of time with my family. ... I just have to constantly remind myself how lucky I am to do what I love," she said.
But the singer wasn't spilling on her love life. When talk turned to romance, Grande laughed, "Y'all are putting me on the spot!" before declaring, "I'm happy."
Later in the show, she did a happy dance with Al while a clip from her performance played on a monitor.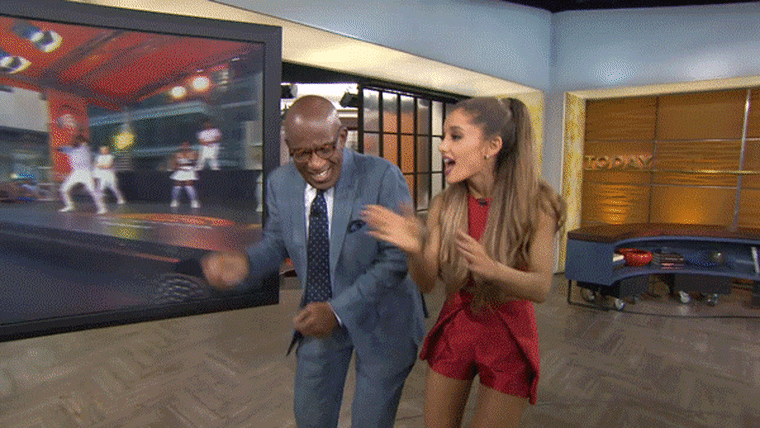 It's a wonder the two settled down for the forecast.
Even amid Grande's mile-a-minute antics, she still made time for fans, tweeting out messages of strength to the early risers who gathered to see her.

Judging by the response of the crowd and viewers at home, those warm, fuzzy feelings were mutual.