Although the title alone might be enough to indicate there's some horrible behavior in Jennifer Aniston's upcoming film "Horrible Bosses," there's still some surprise over just how reprehensible some of the words and actions in the film might be.
Today's case in point revolves around Aniston's character, Dr. Julie Harris, who is a sex-crazed dentist who goes about her day engaged in various forms of sexual harassment with her assistant Dale (played by Charlie Day). In the course of Dr. Harris' HR-violating day, Aniston at one point taunts Dale, saying, "You're starting to sound like a little f----- there, Dale."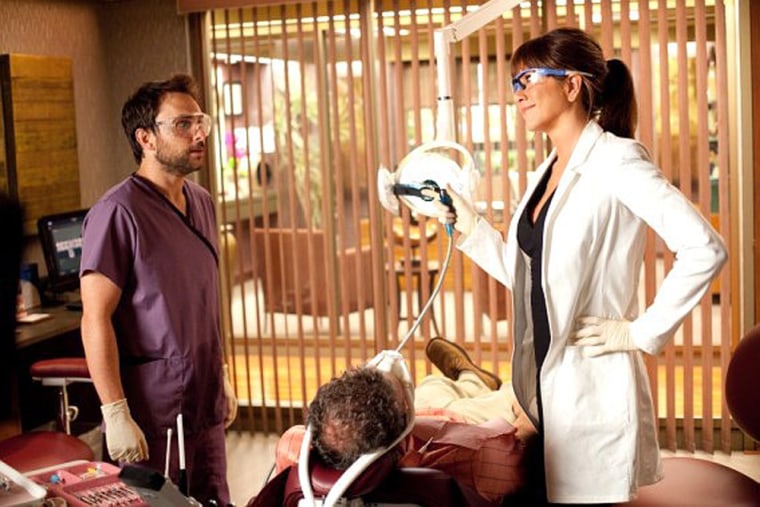 Aniston's (or rather her character's) use of "the other F word" has captured the attention of many; among them, Newsweek/Daily Beast writer Ramin Setoodeh, who writes that in today's "climate of heightened sensitivity, a number of celebrities have sworn off the term completely," despite attempts to re-frame it in various ways in the past. In other words, regardless of how pejorative the term may or may not be for any given population, it's just not being used. 
The film's co-screenwriter Jonathan Goldstein addresses the controversy, telling Newsweek/The Daily Beast, "I think part of the challenge is to, in a fairly short amount of time, get these guys to a place where an audience can empathize ... To shorthand that, we tried to think: what are the most offensive things they can say? Using a word like that I think is one of them. It says this woman is irredeemable."
If there is any theme here, it does seem to align more closely with creating something irredeemable as opposed to something that's just meant to be abjectly offensive. As Aniston's publicist tells Scoop, "It's clear in the film that the character she plays is a horrendous person and she does many things that are indefensible and offensive to any human being. The film is called 'Horrible Bosses' after all.  The use of the word by her character helps to illustrate her horribleness."
Related content: