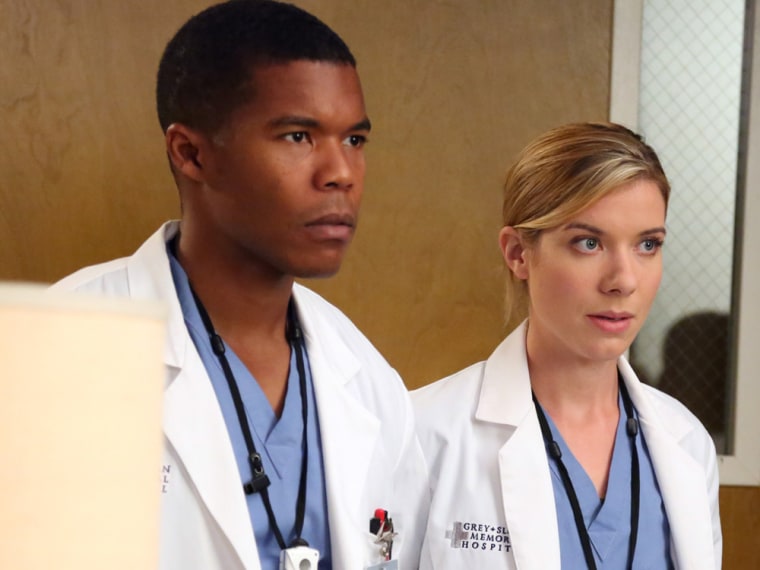 It appears Sandra Oh will not be the only "Grey's Anatomy" star making an exit this season. Both Deadline and Entertainment Weekly have confirmed that Tessa Ferrer and Gaius Charles — who play surgical residents Leah Murphy and Shane Ross — are not having their contracts picked up.
ABC declined to comment. There's been no word yet about how the two characters might exit, and if they could return for guest appearances.
Both Ferrer and Charles joined the medical drama in season nine, and had their roles expanded in the current season.
This 10th season has seen Leah and Shane run into some drama of their own. Leah got intimate with Arizona Robbins, the head of pediatric surgery, then filed a complaint against Arizona's wife, Callie, for a hostile work environment after the wronged spouse learned of the affair. Unlucky-in-love Leah's issues with Arizona and Callie could make for a convenient excuse for her to bail.
It's a little trickier with the ambitious Shane. After having working himself senseless and having a meltdown, his story line seems to be back on track thanks to Dr. Webber. But with his mentor, cardiothoracic superstar Cristina Yang (Oh) on her way out, that may pave the way for him to follow her out of Grey-Sloan Memorial's doors.
Though some of the doctors are leaving, one is on his way back. As previously reported, Isaiah Washington, who played Dr. Burke for three seasons, is returning for one episode to send off Oh's character. Also returning for more "Grey's" are Ellen Pompeo and Patrick Dempsey, who recently renewed their contracts and will continue playing Derek Shepherd and Meredith Grey.
"Grey's Anatomy" airs Thursdays at 9 p.m. on ABC.
Follow Anna Chan on Google+.