Already popular on Twitter, humorist Josh Hara took things from grande to venti in 2014, when his 100 coffee-cup cartoons perked up the Internet and went viral.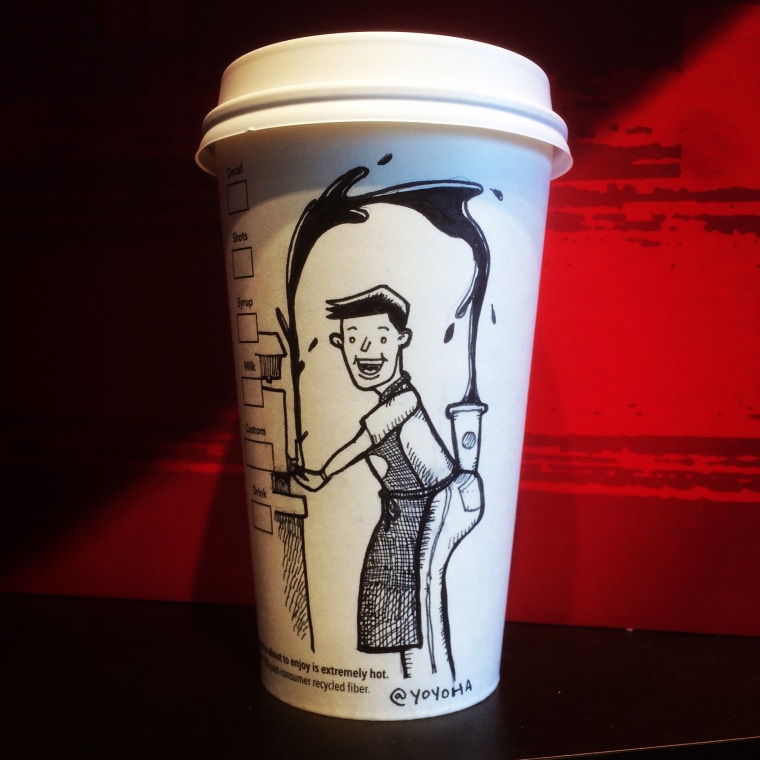 Under the handle @yoyoha on Twitter and Instagram, the Columbus, Ohio, resident was inspired in February to combine his love of sketching and pop culture with his Starbucks obsession. To raise the stakes, he later tacked on the goal of drawing 100 original cartoons on 100 different coffee cups on 100 different days, all before 2014 came to a close.

"Really, this project was born out of an opportunity to do cartoons on a more regular basis," Hara, 42, told TODAY.com. "I was always sketching, I was always cartooning. When I was single, I was drawing more finished cartoons and sharing them with friends, but I'd really gone away from doing that for years. I was looking for a new way to do it. Looking at a blank sheet of paper seemed like a lot of work. I think that there was something about the cups, which I always appreciated."

As someone who had started his mornings with a large Starbucks coffee, Hara discovered a new medium for his work in the palm of his hand. Sometimes, he'd even use coffee as a makeshift kind of ink for shading purposes.

"That one side that I do the cartoons on was just pristine," he said. "It was just perfect for drawing. It's the perfect surface. It takes ink well. I can pencil on it and erase it if I wanted."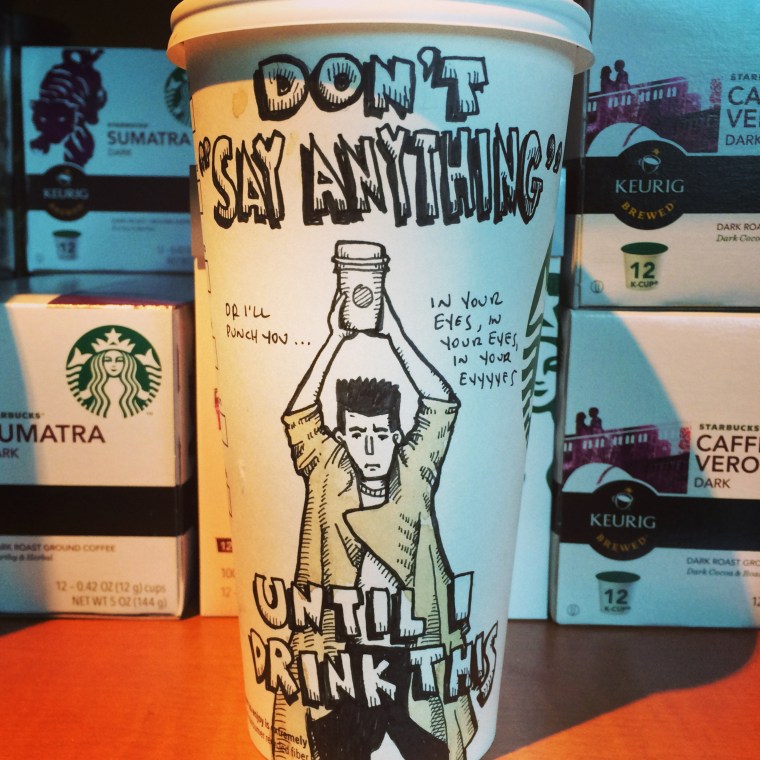 With tens of thousands of Twitter followers — who include Sarah Silverman, Andy Richter and Blink182's Mark Hoppus — and support from his co-workers at a marketing agency, Hara was motivated by the feedback for his earliest works.

"[Author] Kelly Oxford reached out and she was just like, 'I love this idea,' and I felt like, 'She knows funny;' I could tell I was hitting on something," Hara said. "One of my creative directors at work said, 'You should do this, with the hashtag, #100CoffeeCups.'"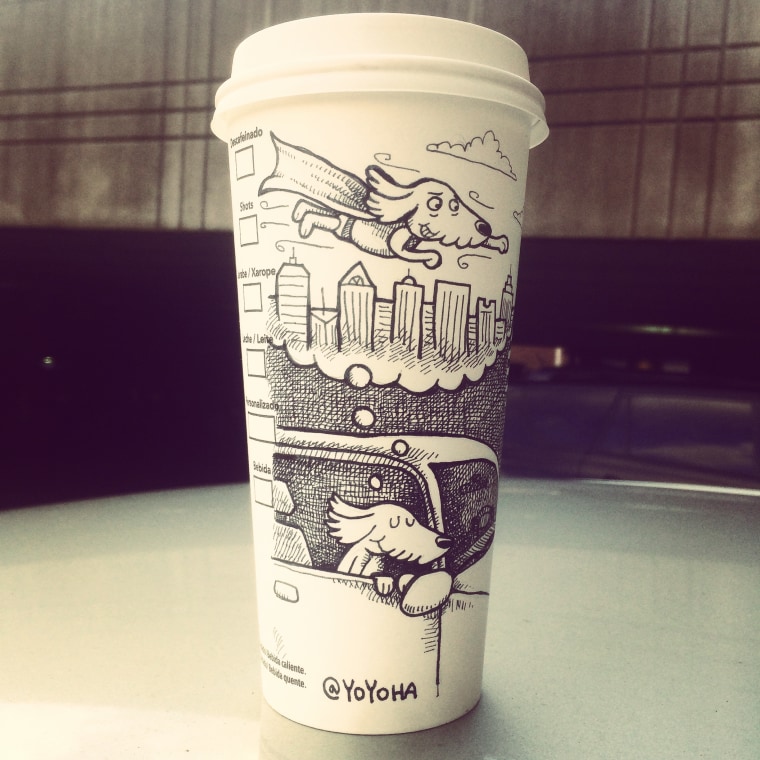 The countdown was on. And through Instagram Likes and Twitter favorites and retweets, fans showed their appreciation in droves.
"The one that got the most love on Instagram was the one the dog, with its head out the car window, dreaming of flying like Superman," Hara said.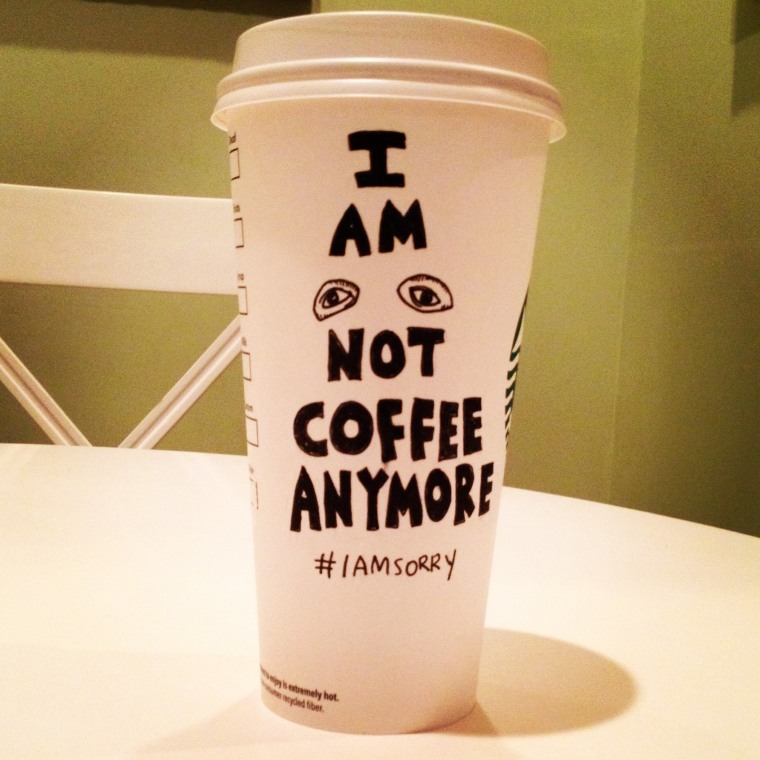 Outside of Instagram, the most popular coffee-cup cartoon was Hara's parody of the Kim Kardashian "Break the Internet" cover shoot for Paper magazine. Hara's spoof became so viral, it wound up on the front page of Reddit.

"That was the most viral cup I did," Hara said. "I love the way that drawing came out. I just think it's so hilarious. That one, I was really super-proud of, and that one was the most popular one I ever posted on Twitter. That was a huge one for me."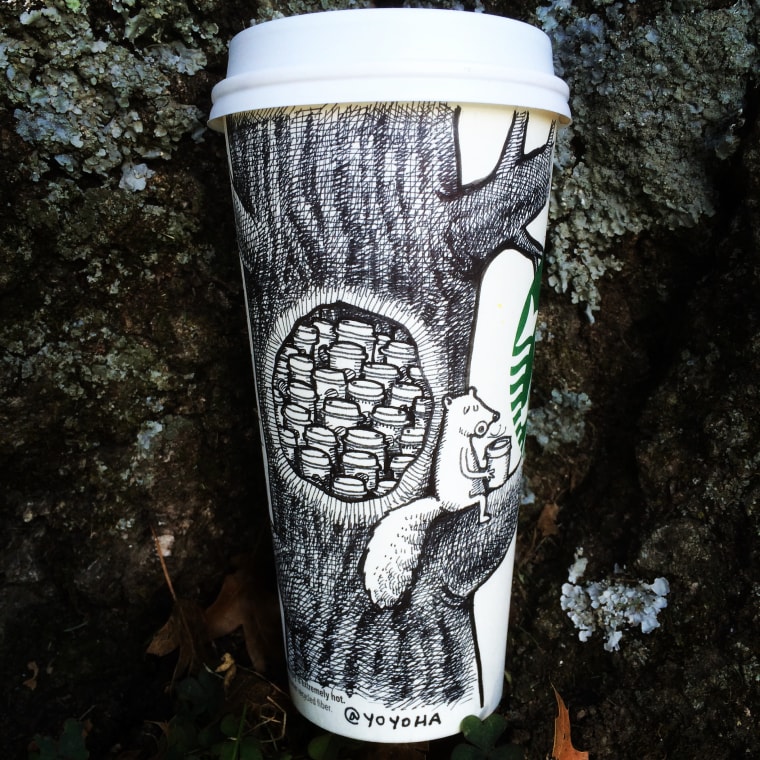 After a few dozen cups were in the bag, he realized he had to store his works of art.
"They used to be all over my desk at home and at work, piled up. But after I got over 50 or 60 cups, I had to put them in storage, stacked together inside a plastic bin, inside my basement," he said with a laugh. "They're like the Ark [in the Indiana Jones movie "Raiders of the Lost Ark"]. They're sealed up in a box, and I know that they're safe."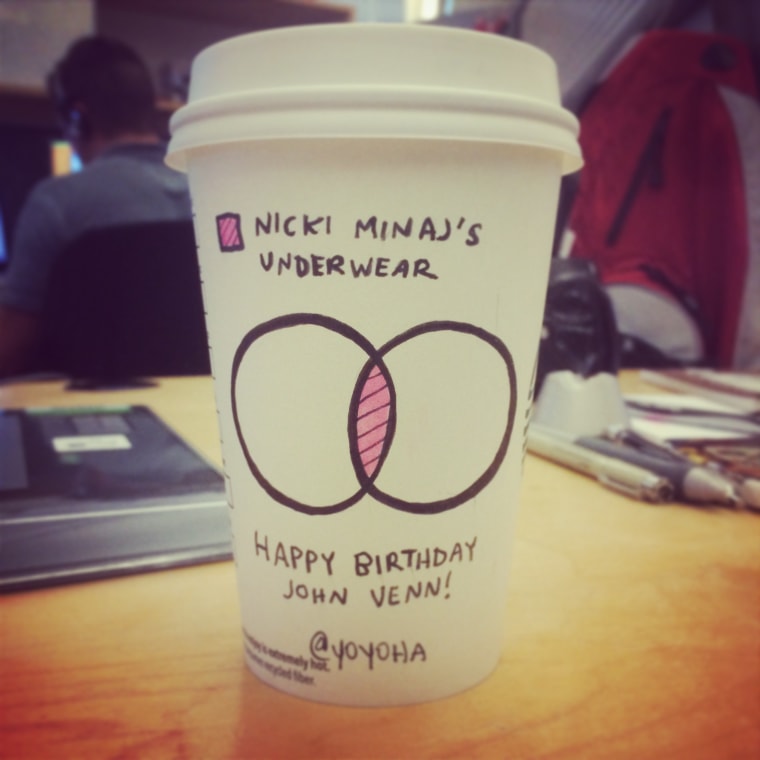 Seasonal distractions made the deadline a little scarier than originally anticipated. "I took a long break in the summer, when I wasn't doing them as often, so, when I got to the end of October and the beginning of November, I was still a good 20 cups away [from 100]," Hara said. "I was definitely concerned."
International media exposure may have added to the pressure. The artwork's viral nature peaked in November, when BuzzFeed and Mashable were among the many media outlets to highlight Hara's caffeinated creativity.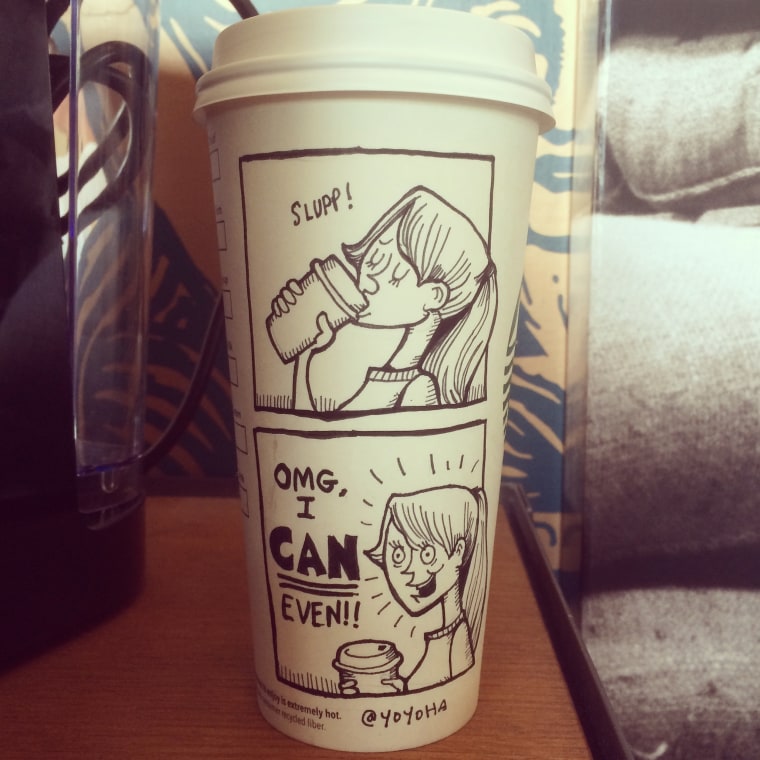 An autumn push helped him get to the finish line, almost sooner than expected.
"I thought that I was at 96 cups, when I was actually at 98, and that was with three days left [in 2014]," Hara said.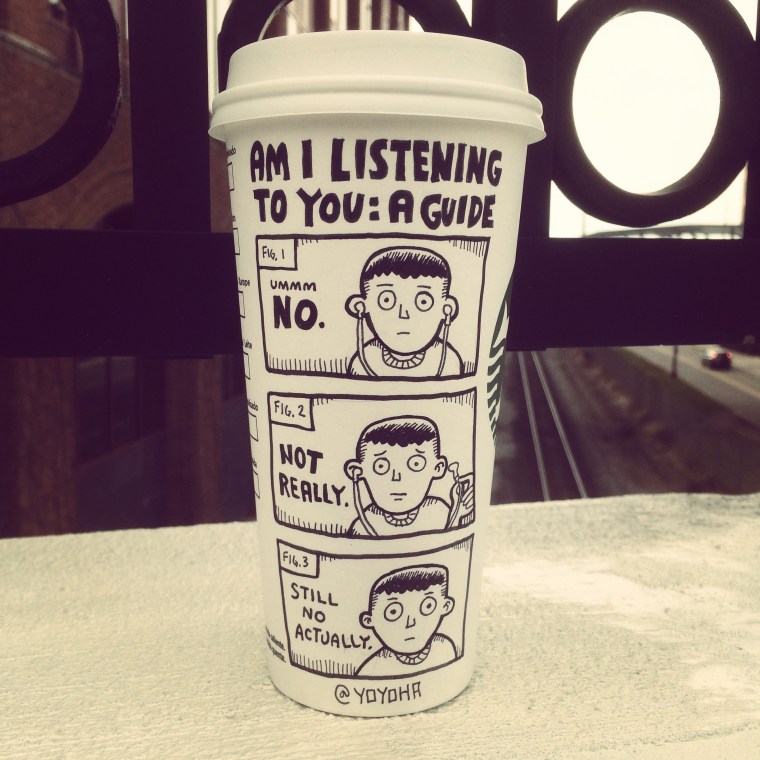 Drawing and posting his 100th cartoon on Dec. 31, Hara could have taken a break, but on New Year's Day, he began the first of what he hopes to be another 100 coffee-cup cartoons in 2015.
"Originally, I thought 'I'll get to 100, and then I'll have an art show in a Starbucks, just for fun, and auction them off, or what have you," he said. "Then, after [they went viral], I started getting inquiries from literary agents. In a perfect world, I would love to have all of them professionally shot, and be able to do a book of them, and then if and when a book becomes a possibility, I think the best way to launch the book would be to auction off the originals and donate the proceeds to charity."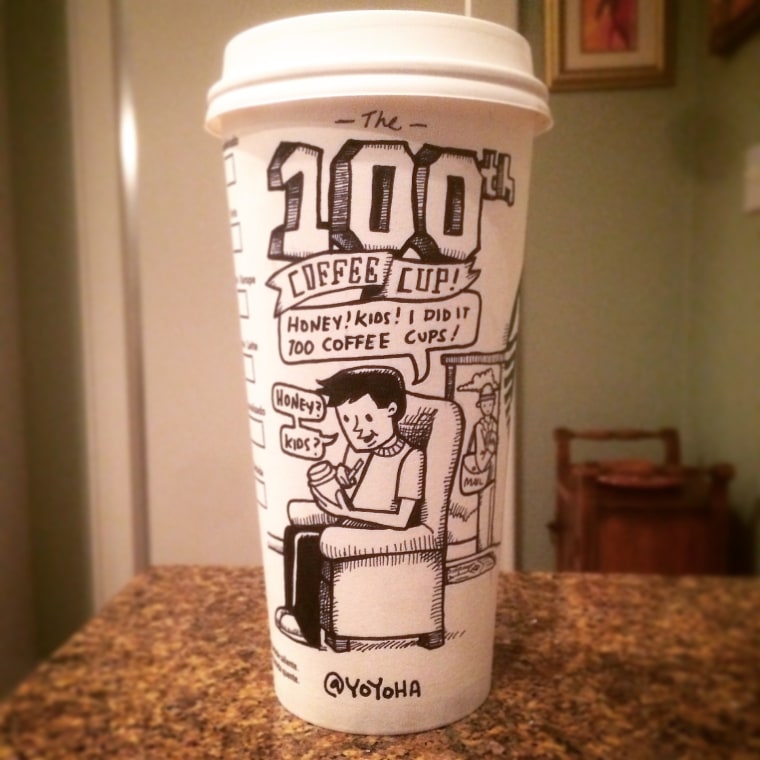 And he doesn't plan to stop this New Year's Eve, either.
"I've committed to doing 100 every year," he said. "Luckily, I've stockpiled blank Starbucks cups. I have about 400 blank cups, so, I'm covered for at least the next three years."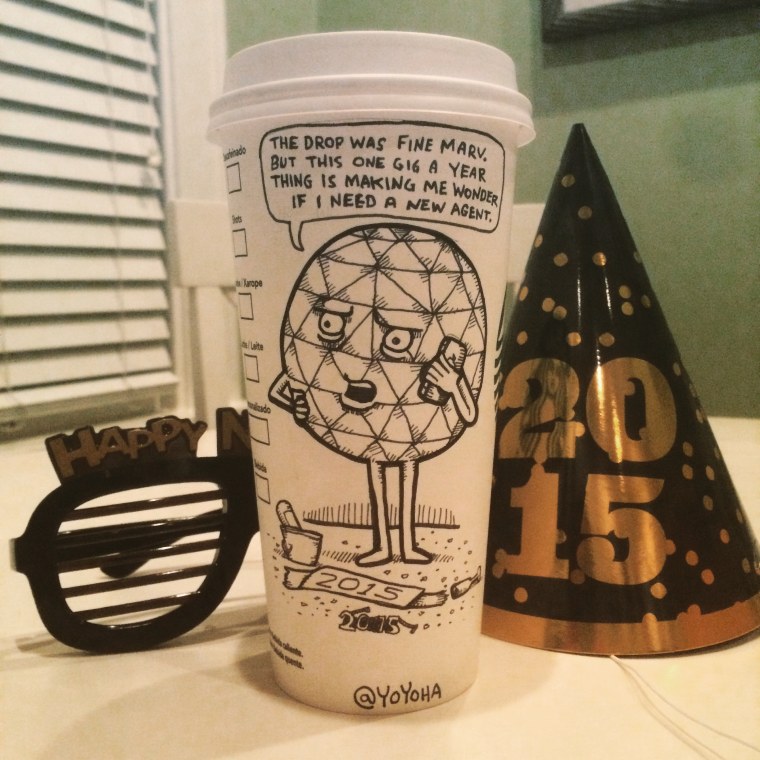 Follow TODAY.com writer Chris Serico on Twitter.