AppleTV+ wants viewers to go back to a beautiful time.
The upcoming docuseries "The Super Models" will chronicle the rise of Naomi Campbell, Cindy Crawford, Linda Evangelista and Christy Turlington through throwback footage and new interviews.
The official trailer for the series dropped Sept. 6 and previews a landmark reunion for the four models.
"It's the first time we're all together in our 50s," Turlington says in the clip.
The trailer also promises an exploration of the models' legacies and their complicated feelings about fame.
"I was not seen as a person who had a voice in her own destiny," Crawford says.
Campbell reveals that she was initially excluded from the business side of the modeling industry.
"I wasn't going to be bullied for the color of my skin," she says.
Read on for everything to know about the upcoming series "The Super Models."
What is 'The Super Models' about?
The show will take viewers back to 1980s New York, where one famous quartet were about their mark on fashion and culture.
"The four-part series spotlights the remarkable careers of Naomi Campbell, Cindy Crawford, Linda Evangelista and Christy Turlington," Apple said in a press release.
"Unprecedented access to the models takes viewers behind the camera and beyond the catwalk, revealing how they dominated the elite modeling world while illuminating a bond that single-handedly shifted the power dynamic of an entire industry," the press release continued.
The streaming service first dropped a teaser for its upcoming four-part series on July 11.
Who is starring in 'The Super Models'?
Campbell, Crawford, Evangelista and Turlington are participating in the show both on camera and as executive producers.
They among the most recognizable and influential supermodels of their era, whose impact extended beyond the runway.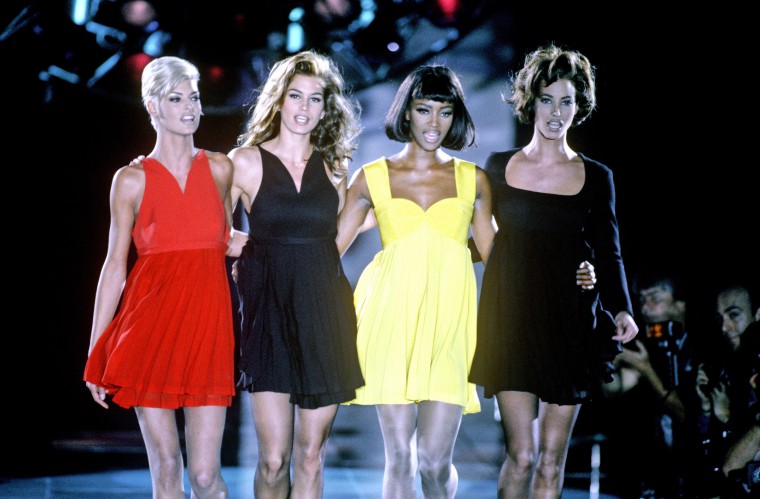 "Their prestige was so extraordinary that it enabled the four to supersede the brands they showcased, making the names Naomi, Cindy, Linda and Christy as prominent as the designers who styled them," the press release explained.
Based on the trailer, the show will also feature interviews with designers and editors, like Donna Karan and Vogue's Edward Enninful.
"What I loved about the girls was they were a group, and that was so fabulous," Karan says.
Evangelista shares that they "were always together."
"They were my sisters," Campbell says.
When does the 'The Super Models' premiere?
"The Super Models," directed by Roger Ross Williams and Larissa Bills, will be available to stream beginning Sept. 20.