Jason Sudeikis and his 'Ted Lasso" co-stars attended a White House daily briefing, where they fielded a question from a familiar reporter.
Sudeikis and his castmates from the hit Apple TV+ show joined the March 20 briefing just ahead of a meeting with President Joe Biden to discuss the importance of mental health awareness.
"No matter who you are, no matter where you live, no matter who you voted for, we all probably, I assume, we all know someone who has — or have been that someone ourselves, actually — that's struggled, that's felt isolated, that's felt anxious, that's felt alone," Sudeikis said in a video of the briefing C-SPAN posted on Twitter.
"It's actually one of the many things, believe it or not, that we all have in common as human beings," he added.
The former "Saturday Night Live" star said one of the "big themes" of "Ted Lasso" is to encourage people to look after one another. "Check in with, you know, your neighbor, your co-worker, your friends, your family, and ask how they're doing and listen sincerely," he said.
The actor added that it takes courage for a person to ask for help with their mental health.
"While it's easier said than done, we also have to know that we shouldn't be afraid to ask for help ourselves," he said. "And that does take a lot, especially when it's something that has such a negative stigma to it such as mental health, and that doesn't need to be that way."
Sudeikis plays the Emmy-winning show's title character, an American football coach who struggles with anxiety after being hired to manage an English soccer team.
Joining Sudeikis at the podium were co-stars Toheeb Jimoh, Brett Goldstein, Hannah Waddingham and Brendan Hunt.
When it came time to field questions from reporters, Sudeikis called on just one journalist in the room: Trent Crimm of the Independent.
Fans of the series likely recognized Crimm's name and voice right away. He's the shaggy-haired British sportswriter who relishes asking Coach Lasso challenging questions at press conferences.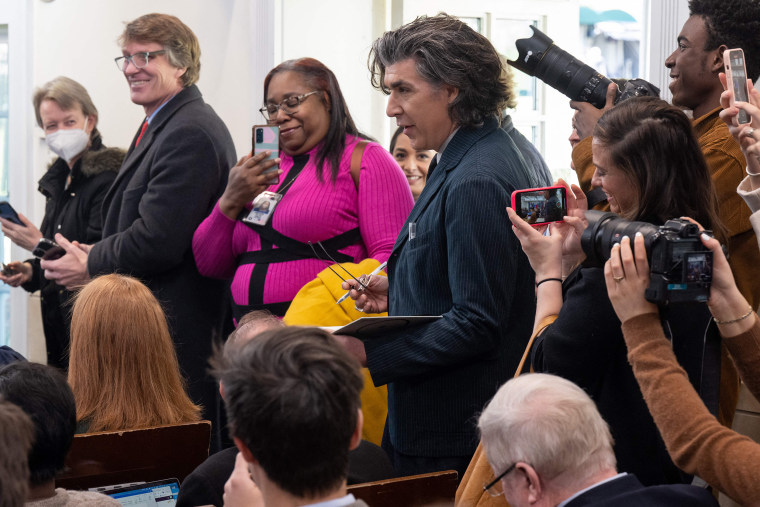 In real life, Crimm is played by English actor James Lance. For this occasion, Lance asked Sudeikis, who lived for years in the Kansas City, Missouri, area, how he felt about Kansas City hosting 2026 World Cup matches.
"I'm very excited, truth be told," Sudeikis responded. The only problem, as far as Sudeikis was concerned, is that once folks from all over the world visit Kansas City, they'll never want to leave.
"That's what I'm worried about," the actor joked.