You know you're in for an unforgettable episode of television when one of the guest stars deems it so "unsettling," she won't let her teenage son watch it.
In the April 6 "Law & Order: SVU" episode "Bubble Wrap," Michelle Gomez guest-stars as construction tycoon Connie Parish, who goes head-to-head with the show's lead, Capt. Olivia Benson, who's portrayed by the "phenomenal" Mariska Hargitay.
Gomez, who's known among fans for her recent roles on the "Chilling Adventures of Sabrina" and "The Flight Attendant," tells TODAY.com she "jumped at the chance" to appear on "SVU."
She was especially excited about working with Hargitay "because she is a phenomenal human being — not just an actor, but such a great person."
Gomez describes her "SVU" character as "a force of nature" who works hard and "takes no prisoners — takes no s---" but also "carves a path as a really powerful woman."
With great power comes "a lot of success" for Parish, whom Gomez says was "a lot of fun to play."
Also fun were Gomez's intense scenes with Hargitay. Benson's team is tasked with investigating Parish's family, and from the looks of the episode's promo, Parish's son gets himself into trouble as he confesses to his mom he "hurt someone." It's also apparent Parish and her adult son have an odd relationship, to say the least. In the words of Benson, "She treats her son like a little boy."
"I was so nervous because, obviously, she is a huge icon for all of us (New York actors)," Gomez says about Hargitay. "She's been doing it for a while, and you would never guess that she's been doing it for as long as she has because she's so fresh and so on it and so passionate."
Gomez adds she was "a little bit nervous" on her first day but ended up not needing to be because Hargitay was "one of the warmest people" she's come across in the acting business.
Speaking to Hargitay's generosity, Gomez says, "You do things on the day that aren't necessarily in the script, and then you wonder, 'Well, will that make the cut?' And most of it did, and I think that's down to Mariska just really embracing having us as a partnership."
Could the chemistry of their partnership rival Gomez's chemistry with her former "Chilling Adventures of Sabrina" co-star Miranda Otto? "Sabrina" fans loved the duo's on-screen tension so much, they combined their characters' names, Madam Satan and Zelda Spellman, to create the "ship" name Madam Spellman, which the actors played into off screen.
"Oh! It's definitely up there," Gomez says about her chemistry with Hargitay, "because Mariska and I — we didn't have, like, a whole season to build that relationship. We had to get down to business immediately and make something happen."
She adds that she "for sure felt like there was a little fire there."
"You're only as good as the person you're playing opposite," Gomez says. "I did have that wonderful opportunity with Miranda in 'Sabrina.'"
She adds about her character's showdown with Hargitay's Benson, "But my most recent head-to-head (is) with a powerful woman. And I don't think it gets much better."
Gomez had previously shared a photo from filming with some other powerful women: "SVU" newcomers Molly Burnett and Jasmine Batchelor.
"It was a really wonderful experience actually to work with those girls as well because they're kind of like the next generation of powerful women coming up the ranks," she says. "And so it was cool to be with them."
Gomez also had a "surreal moment" on her first day of filming when she saw "SVU" legend Ice-T.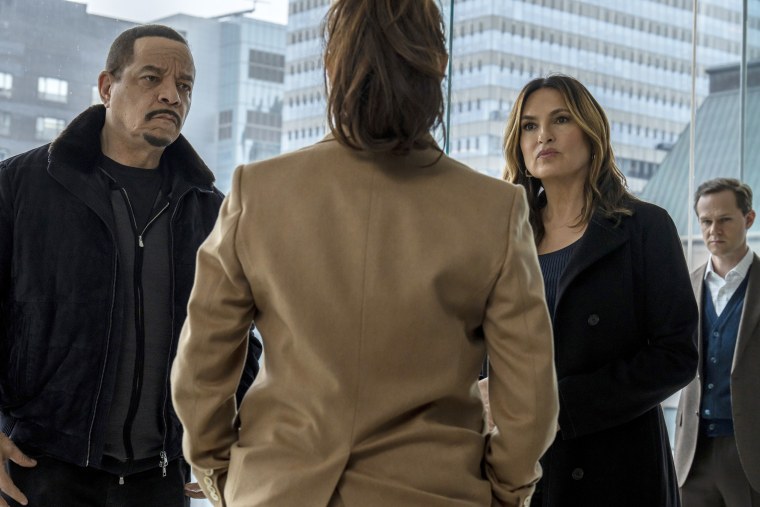 "First of all, I turned around, and there's Ice-T standing there," she recalls.
"It was such a surreal moment for me, and he's so friendly and lovely," she says.
When it comes to Gomez's favorite scene from the episode, however, she says it's one she shot on her last day in the SVU precinct with Hargitay, Peter Scanavino, who plays the show's ADA, and Joseph Cross, who portrays Parish's son, Martin.
"It was just a really good ensemble cast for that last day for me because I got to sort of play a few different colors there, which is probably a more complicated scene than I've done prior," Gomez says.
What's also complicated is the relationship between Parish and her son.
Gomez points out the title of the episode, "Bubble Wrap," is "so clever" and indicative of Parish's "parenting style."
"That boy really was, like, wrapped up, not quite in Bubble Wrap, but there was a lot of cotton wool there," she teases.
"When I read the script, I had to read it a few times back-to-back to really understand what was happening because it didn't feel like an 'SVU' script for a minute because it felt really wrong," she explains.
"It's basically connected to her being an overbearing mother and taking that parenting style to the nth degree — to a very unhealthy place," she previews.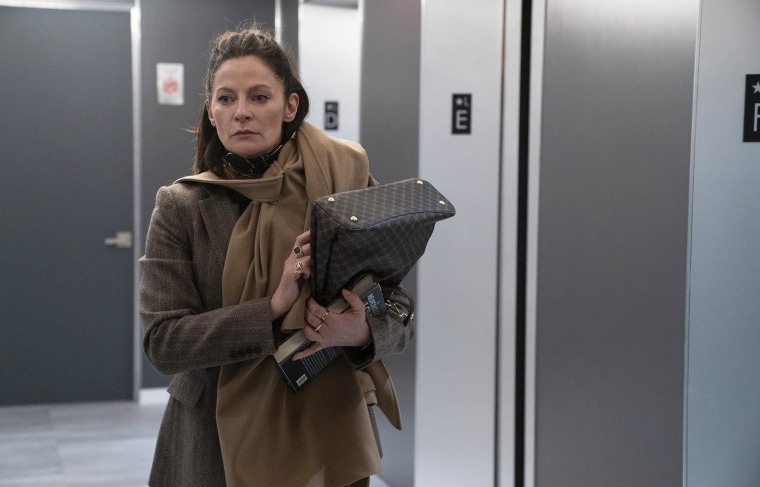 Gomez doesn't think she'll allow her real-life son, who's 13 years old, to watch the episode because it's so "unsettling."
"I don't know how I'm going to explain this to him," she says. "It's definitely a very unsettling version of motherhood."
"Connie Parish just has made a career of getting inside people's heads," Gomez says about her character.
She also describes Parish as "manipulative" and "at her most effective" once she's backed into a corner.
"She will somehow sniff out your weakness, and there's no shame as far as how long she will go just to get what she needs," Gomez says.
Gomez says Parish and her other icy characters from the "Chilling Adventures of Sabrina" and "The Flight Attendant" "are the way they are for a reason."
"Mostly, if you were to distill it down to one word, it's probably fear," she explains, "fear of losing something, fear of not getting something, fear of (things) not going your way. It's all about control and trying to hang on to something that you think is yours. I think they're all flawed in that way."
She adds that while most people let things go, the women she's portrayed do the opposite.
"They're going to keep pushing until they get what they want," she adds.
"Law & Order: SVU" airs Thursdays at 9 p.m. ET on NBC, after "Law & Order" at 8 p.m. and before "Law & Order: Organized Crime" at 10 p.m.