Mary Tyler Moore and her husband, Dr. Robert Levine, were married for more than 30 years before her death in 2017.
The beloved comedian revolutionized the role of the modern American woman, breaking barriers with her performances on "The Dick Van Dyke Show" and "The Mary Tyler Moore Show."
But to Dr. Levine, as he told TODAY's Jenna Bush Hager, his Mary was "someone who had (an) enormous heart, great grace... extraordinarily generous and kind."
The former couple got married in 1983. They met by coincidence after Moore's mother, Marjorie Hackett Moore, was sick and needed a doctor. Dr. Levine was on call.
"When I was about to leave, I said what you would expect a doctor to say, 'Mary, if you have concerns or any further questions, just give me a call,'" he recalled. "And she turns to me and says, 'Is acute loneliness a good enough reason to call?'"
"And I said, 'I can't think of a better reason to be calling at 3 a.m. And so in fact, a couple of days later, at 3 a.m., she called me," Dr. Levine said, adding that he was "absolutely" shocked.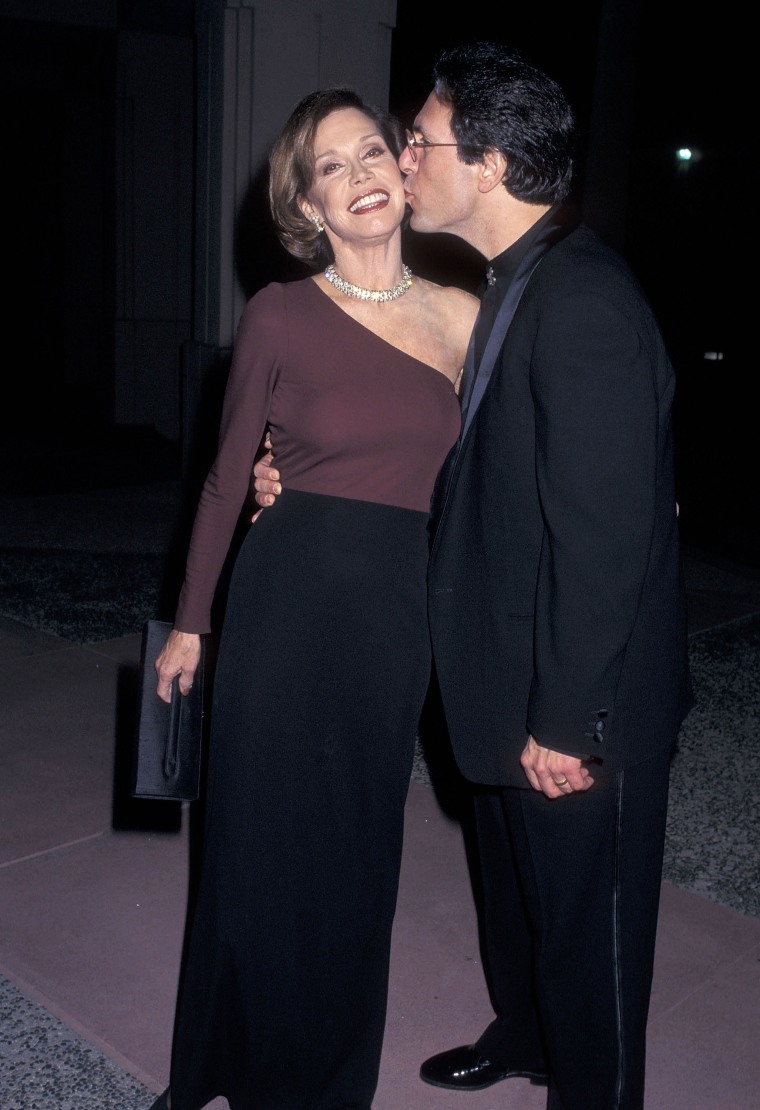 The doctor revealed that he had no idea Moore was such a huge star, but knew their relationship was special.
"In that first moment, I recognized it was different and certainly our first date... it was so easy," he said. "Because I didn't really know Mary as a star, so there wasn't (a) fan-star thing going on."
Dr. Levine had barely seen any episodes of "The Mary Tyler Moore Show," explaining how he was busy with college and medical school. "(It) really wasn't what I was doing, watching TV on Saturday nights."
Moore was previously married to Richard Carleton Meeker from 1955 to 1961, and Grant Tinker from 1962 to 1981. However, Moore previously said Dr. Levine was her first true love.
"You must feel really lucky and blessed that that was you," Hager Bush said, with Dr. Levine replying, "Yeah, yeah I was. Absolutely."
In a new documentary, "Being Mary Tyler Moore," fans will get to see never-before-seen pictures and archival footage found in Moore's own basement that shows more of the woman behind the smile.
"I suggested we call the film, 'Being Mary Tyler Moore,'" Dr. Levine, who serves as an executive producer, said. "The thing about it was, being Mary, because everything Mary did, she was authentic. She was being herself."
Dr. Levine is now carrying on his late wife's legacy, working to find a way to cure complications from diabetes with the Mary Tyler Moore Vision Initiative.
Moore was diagnosed with Type 1 diabetes in her early 30s and faced other challenges throughout her life. The television icon struggled with alcoholism and suffered the death of her only son, Richie Meeker, who died at the age of 24.
"If you look at her from physical challenges, from health challenges, but also from emotional, she never shied," Dr. Levine said. "I wanted to reflect on what Mary's life was, remind people of her importance and her impact, and encourage them to be a Mary too. To stand up for what you believe and to always present the world with a smile, but to not be shy from the battle."