Mary Tyler Moore, the iconic actress who turned the world on with her smile and changed the television landscape forever with "The Mary Tyler Moore Show," has died at the age of 80.
"Today, beloved icon Mary Tyler Moore passed away at the age of 80 in the company of friends and her loving husband of over 33 years, Dr. S. Robert Levine," Mara Buxbaum, her longtime representative told TODAY, adding that she was a "groundbreaking actress, producer and passionate advocate for the Juvenile Diabetes Research Foundation" who will be "remembered as a fearless visionary."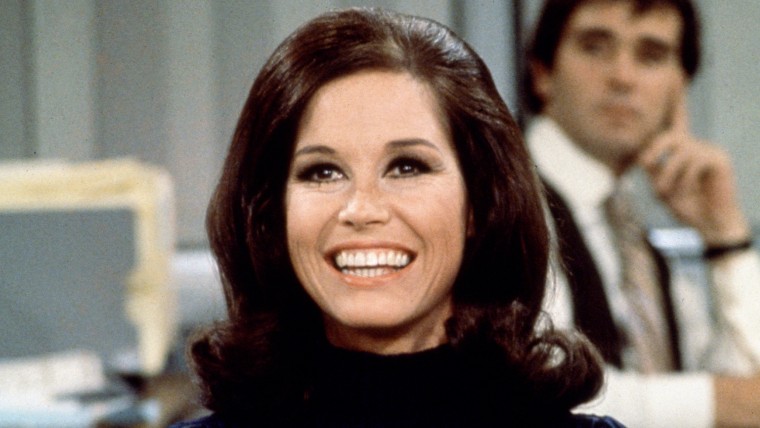 Moore rose to fame as perky homemaker Laura Petrie on "The Dick Van Dyke Show" in the early 1960s, and went on to play broadcast news producer Mary Richards, one of TV's first single career women on "The Mary Tyler Moore Show," from 1970 to 1977.
RELATED: 'She will be missed terribly': Mary Tyler Moore remembered by friends, co-stars
The Emmy-winning and Oscar-nominated actress also lit up the silver screen in films including "Thoroughly Modern Millie" and "Ordinary People."
Here's a look back at five of Moore's best moments.
1. "The Dick Van Dyke Show"
Moore, who began her entertainment career as a dancer, showed off her slinky moves in one famous "Dick Van Dyke Show" episode.
2. "The Mary Tyler Moore Show"
Moore famously tossed her hat in the air, argued for equal pay and revealed she was on the pill, among other memorable and groundbreaking "Mary Tyler Moore Show" moments. But the show's most acclaimed episode features the absurd death of Chuckles the Clown, and finds Mary and the rest of the WJM News gang at Chuckles' funeral, where Mary gets a case of the giggles.
3. "Ordinary People"
Moore showed off her dramatic skills in her Oscar-nominated performance as a brittle, repressed mother trying not to fall apart after one of her sons dies tragically in 1980's "Ordinary People."
RELATED: Mary Tyler Moore was a passionate advocate for diabetes research
4. "Mary and Rhoda"
Valerie Harper got her big break playing Mary Richards' best pal Rhoda on "The Mary Tyler Moore Show," before going on to star in her the spinoff series "Rhoda."
The two stars reunited in the beloved made-for-TV movie "Mary and Rhoda" in 2000.
5. "Hot in Cleveland"
Moore and Harper caused a sensation when they reunited again, this time with fellow "Mary Tyler Moore Show" alums Betty White, Cloris Leachman and Georgia Engel on White's sitcom "Hot in Cleveland" in 2013. The group played a bawdy quartet of old friends who were once champion bowlers.