"Jeopardy!" fans are clamoring about an editing mistake that accidentally spoiled the outcome of the syndicated game show's March 8 episode.
The goof happened just minutes into the game when viewers were mistakenly shown the image of all three contestants' final scores.
Host Mayim Bialik was introducing contestants Jackson Jones, Justin Bolsen and Maya Wright, all finalists in the show's High School Reunion Tournament. The tournament reunites more than two dozen former Teen Tournament contestants so they can compete against each other for the chance to win a $100,000 grand prize.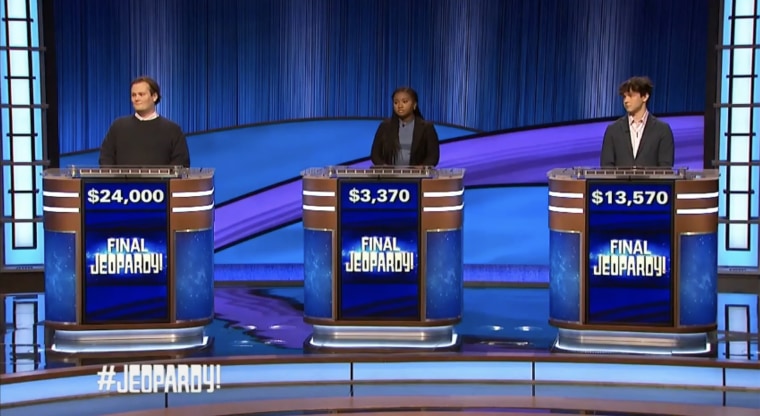 Though the game's first round hadn't even started, the program accidentally flashed a long shot of the contestants that revealed their final scores on their podiums.
Viewers were able to see Jackson Jones' total winnings of $24,000, Justin Bolsen's winnings of $13,570 and Maya Wright's $3,370. Sure enough, these were the exact dollar amounts each finished with at the program's end.
TODAY.com reached out to reps for "Jeopardy!" about the error but had not heard back at the time of this story's publication.
Though the game's outcome was spoiled for viewers, the grand prize winner of the High School Reunion Tournament is still anyone's guess.
Jones, Bolsen and Wright will all be back to compete in the tournament's final game airing March 9. Whichever finalist ends up with the highest score from both nights will be crowned the tournament champion.
Still, "Jeopardy!" viewers had things to say about the glitch on Twitter. Some of them admitted that the sight of the final scores so early in the game left them utterly confused.
"Whoops — they showed a shot of the final scores during Mayim's intro #Jeopardy," wrote one.
"I was so confused!! I thought I missed a day and this was day two of a TWO DAY TOTAL POINT AFFAIR," wrote another.
Another viewer called the error a "big oopsy."
"I saw that and was like, wait, did I miss a day, is this day 2?" the person asked.
Though many viewers expressed disappointment over knowing the game's outcome from the start, at least one "Jeopardy!" fan was able to find humor in the error.
"For a moment I thought I'd become clairvoyant," joked the fan.