Eva Longoria says she would love to do a "Desperate Housewives" reboot — she's just not so sure her former co-stars would join her.
"I would be the first to sign up," Longoria, who played model-turned-housewife Gabrielle Solis on the show, revealed on Bravo's "Watch What Happens Live with Andy Cohen" on June 15.
"I mean, I love Gaby. I miss Gaby. But I think I'd be the only one to sign up," she added with a laugh.
When host Andy Cohen suggested that Longoria's former castmates — including Teri Hatcher, Marcia Cross and Felicity Huffman — had "moved on" since the show went off the air in 2012, Longoria agreed.
"But also, (creator and showrunner) Marc Cherry, he says, 'I fully mined those characters,'" said Longoria, referring to the show's many intricate plots and subplots over the years.
"Back in the day, we used to shoot 24 episodes a season and we did that for eight years. We fully mined those characters. None of this six-episodes-a-season s---," said Longoria, causing Cohen's studio audience to laugh.
She jokingly added, "There was nobody left on the street for me to sleep with. I slept with everybody."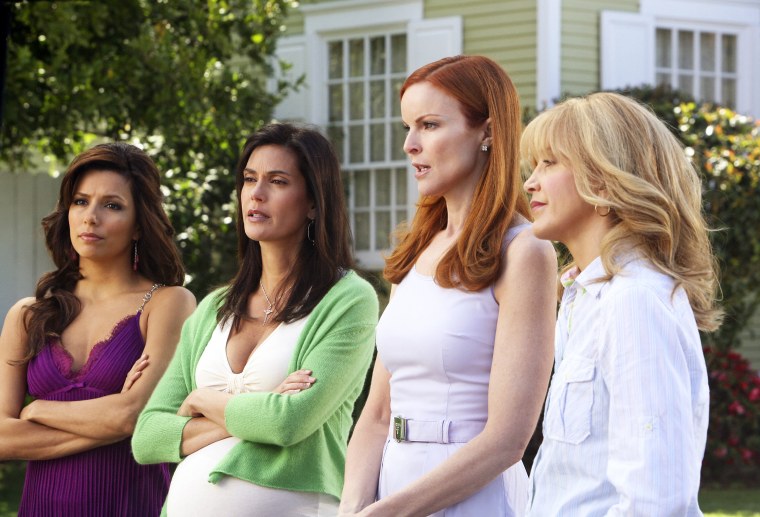 "Desperate Housewives" aired on ABC for eight seasons from 2004 until 2012. The soapy dramedy told the story of a group of women who lived on the fictional Wisteria Lane. Though the women's lives appear conventionally ideal on the surface, each woman becomes embroiled in scandalous activity ranging from extramarital affairs to murder.
As for what Gaby might be up to these days, Longoria knew the answer right away. "Well, Gaby would be an influencer, for sure," she said, laughing. "She'd be an Instagrammer."
During a recent conversation for Hoda Kotb's "Making Space" podcast, Longoria opened up about how she got her big break on "Desperate Housewives."
"By the time I got 'Desperate Housewives,' it wasn't a surprise to me. I think it was a surprise to the world because nobody had heard my name," said the former "The Young and the Restless" star.
She added, "But I had been working towards this moment. I was like, 'I deserve this moment. I worked very hard for this moment.' ... 'I prepared for this opportunity. Of course, I should get it.'"