With part one of the sixth and final season of "The Crown" premiering on Nov. 16, viewers may require a quick recap of what happened in Season Five.
The fifth season of Netflix's British royal drama showed the monarchy entering the 1990s, an era when the world witnessed the shocking deterioration of the marriage between Prince Charles (Dominic West) and Princess Diana (Elizabeth Debicki).
The future King Charles' relationship with his mom, Queen Elizabeth II (Imelda Staunton), had also grown increasingly strained. To top it all off, the public's fascination with the once seemingly-glamorous royal family has turned to disapproval. Let's take a look.
Queen Elizabeth is at odds with her family and her public
In Season Five of "The Crown," Queen Elizabeth, who has sat on the throne for nearly 40 years at the decade's onset, has been grappling with a rapidly changing culture, a challenging daughter-in-law and a restless husband.
Prince Philip (Jonathan Pryce) has spent more time away from home with his riding friends, including Penny Knatchbull (Natascha McElhone), who just happens to be married to his godson.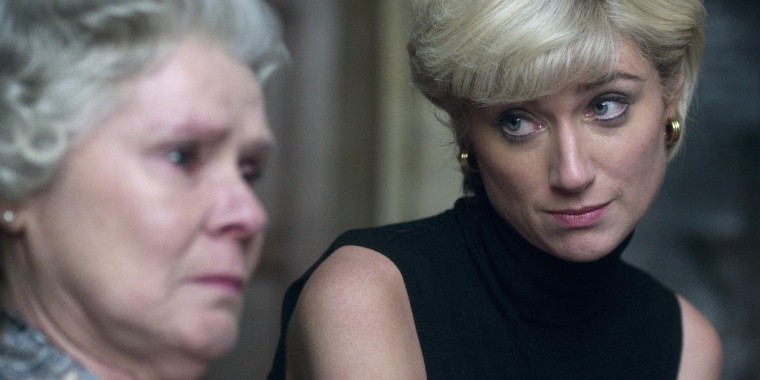 As gossip about the royal family abounds, the monarchy is being attacked for being out of touch and a waste of taxpayer money. For the queen, it stings, too, that her oldest son, the then-Prince Charles, appears more aligned with the public than he is with her.
But it's not only commoners taking issue with the royal family. Conservative Prime Minister John Major (Jonny Lee Miller) also sensed that the House of Windsor was on the brink of a disaster before he handed the baton to young Labour Party Tony Blair (Bertie Carvel) in 1997.
Princess Diana shares secrets about her marriage and the royal family
The disasters happen like a series of bombs. Prince Charles comes to terms with the fact that the public loves Diana more than him. After a separation, Diana agrees to participate in a tell-all memoir, sharing the awful secrets of the couple's marriage, including Charles' affair with Camilla Parker-Bowles (Olivia Williams).
Charles' humiliation worsens when a newspaper prints lurid quotes from a steamy intercepted phone call between him and Camilla taped years before.
Diana is later manipulated by BBC journalist Martin Bashir (Prasanna Puwanarajah) into sitting for an explosive on-camera interview about the royal family.
The royal family is further shaken when Charles and Diana divorce, something the queen finally allows after Diana's bombshell interview.
Diana's tragic death will be depicted in Season Six
The worst of the royal family's disasters — for both the Windsors and the world —  would prove to be, of course, Diana's tragic 1997 death, which will be depicted in Season Six.
A somber trailer for part one of the final season was released in late October. In a bit of foreshadowing, it shows the paparazzi now following Diana around the globe to capture images of her new romance with boyfriend Dodi Fayed (Khalid Abdalla).
Queen Elizabeth looks irritated after being told that interest in Diana's "private life" has only escalated since she separated from Charles.
"All one wants is for that girl to find peace," she says.
As photographers' bulbs flash and headlines blare, Diana's oldest son, Prince William (Rufus Kampa), calls his mom to ask her, "Mummy, you OK?"
A tearful Diana replies, "I'm OK. It's just… It has all been a bit mad recently."
Diana then smiles as she picks up a handwritten card from an admirer, presumably Fayed. "Paris next week?" it reads.
The trailer also shows flashes of the aftermath of the car crash that killed both Diana and Fayed. William tears himself from his father's embrace. The queen wonders why the public is angry about her stoic response to Diana's death.
Speaking on the phone, a stunned Charles utters a sentence that remains accurate more than a quarter century later: "This is going to be the biggest thing that any of us has ever seen."
The first four episodes of Season Six of "The Crown" will premiere Nov. 16 on Netflix. Part two of the final season will be released on Dec. 14.