Warning: This story contains spoilers for the "Black Mirror" episode "Joan Is Awful." 
Before Annie Murphy starred in "Black Mirror," she was obsessed with "Black Mirror."
The long-running show, which recently dropped its sixth season on Netflix, began in 2011 on the BBC. Each episode is a standalone story (connected by the occasional Easter egg) that looks at how a futuristic piece of technology might change people's lives.
In the 12 years since its first episode, the world has changed rapidly thanks to technology, with some turns that are straight out of a "Black Mirror" episode.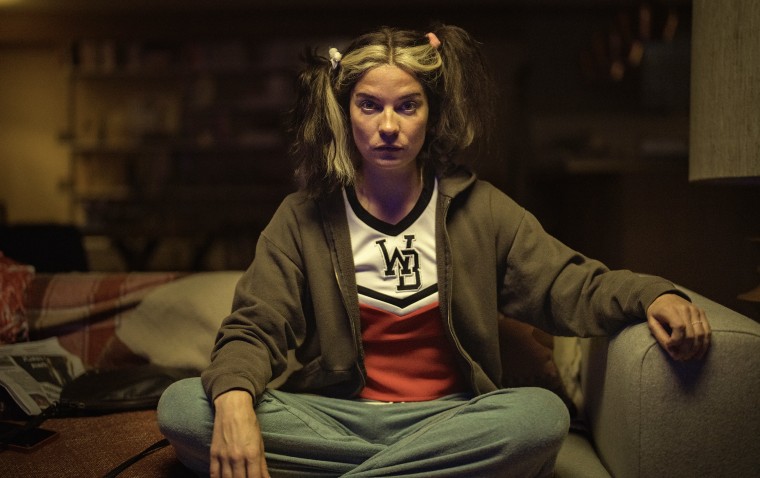 "I really do think that Charlie has some kind of psychic (ability)," Murphy tells TODAY.com. "He has his finger on this futuristic technology pulse that we don't. He also might be an alien, I don't know." 
Murphy's own episode, which explores the intersection of AI and entertainment, comes out months after ChatGPT and other generative AI platforms began to open up possibility (and anxiety) about that very thing.
Given her love for the anthology series, the "Schitt's Creek" actor signed on without knowing the premise of her episode. "I was like yes, yes, yes! Get me in there," she said. The episode's plot shocked her — as did its resonance with 2023.
"They sent me the script and my jaw just kind of kept dropping and dropping and dropping.  Then we got to the end and it basically unhinged from my skull and fell all the way on to the floor," she says.
'Joan Is Awful' is about an AI-powered TV show
Strap in, because things are about to get meta.
In "Joan is Awful," the first episode of the series, Murphy stars as Joan, a woman who discovers that a Netflix-esque streaming service, Streamberry, has adapted her daily life — secrets and all — into a show starring Salma Hayek (who plays herself in the episode).  
Turns out "Joan Is Awful" is generated by powerful artificial intelligence and deep fake technology. Joan signed away her life rights by agreeing to Streamberry's terms and conditions; Salma Hayek sold her likeness to the streamer.
The Streamberry show deliberately focuses on Joan's bad side, hence the title. "I think it's so much easier to try to find the salacious, dirty details in others than to turn inward because we're full of anxieties of ourselves," Murphy says.  
Annie Murphy and Salma Hayek wanted to make 'Joan Is Awful' a buddy comedy
Horrified by the show, the two characters team up to take down the quantum computer.
Murphy says she "learned so much" from working with Hayek.
"What I didn't expect from her was how funny she was and how willing to make fun of herself she was and what a goof she is. We kept making each other cackle. We were trying to real hard to turn (the episode) into a proper buddy comedy but Charlie was like 'no, no, no, no, let's dial it back," she says.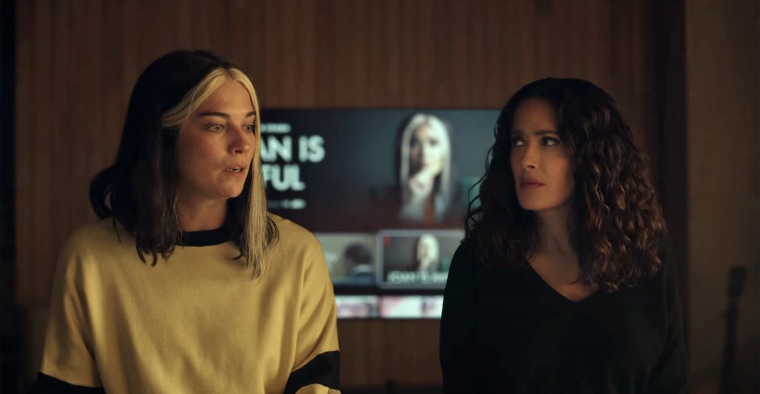 Did Murphy's 'Black Mirror' episode predict the future? We asked her
When asked to give her thoughts about the future of artificial intelligence, Murphy is quick to answer. "It terrifies me!" she says.
Murphy didn't anticipate just how prescient her episode would be. For example, at the time of "Black Mirror's'" Season Six premiere, Hollywood writers are striking over the use of AI in the creation of TV shows.
"When we shot (this episode) in September, we were like 'Oh, this is really timely.' It's not just Charlie Brooker imagining (things). It's literally happening right now at a rate that is so terrifying," she says.
"I hope this show can spark some conversations about the scary repercussions that can happen if we let it go off the rails."