It's been a dramatic week in Hollywood, to say the least. 
On May 2, the Writers Guild of America (WGA) — an alliance of two labor unions representing over 11,000 film, television, news, radio and online writers — went on strike, demanding higher pay and a stable pay structure, as well as fairer deals and contracts and provisions about artificial intelligence, per a list of WGA proposals.
The guild, when announcing the strike, called this moment an "existential crisis" for writers.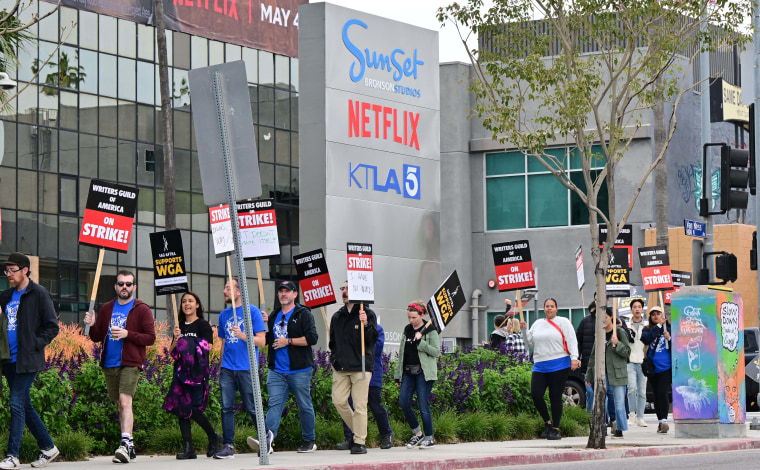 "We have reached this moment today not of our own choosing but because the companies' assault on writer income and working conditions have pushed us to an existential brink," WGA negotiating committee co-chair Chris Keyser said on the organization's website.
For the past week, writers have been picketing the headquarters of major studios including Netflix, Amazon, Warner Bros., Universal Studios, and others. 
Protestors have been brandishing signs demanding higher wages and targeting studio executives with tongue-in-cheek messages like, "Give up just ONE yacht" and "Pay your writers or we'll spoil 'Succession.'"
With the strike entering its second week, production has halted on several major TV shows.
"Saturday Night Live" went dark on May 6, and late night shows including "The Tonight Show Starring Jimmy Fallon" and "The Late Show with Stephen Colbert" also stopped taping live episodes, airing reruns instead.
Why are writers walking off the job? Here's what to know about why writers are striking, and what the strike means for upcoming TV show and movie releases.
Why are Hollywood writers striking?
Writers went on strike after six weeks of negotiations failed with the Alliance of Motion Picture and Television Producers, a body that represents major Hollywood studios and production companies like Discovery-Warner, NBC Universal, Paramount, Sony, Netflix, Amazon, Apple and Disney.
One of the strike's key demands is higher compensation. 
Median weekly writer-producer pay has declined 23 percent over the last decade when adjusting for inflation, according to a recent WGA report. 
"Our wages have been falling in the last few years as the streamers' profits have been skyrocketing," writer Amanda Mercedes tells TODAY.com.
Mercedes, 36, who lives in Burbank, California, is a staff writer for the ABC crime procedural "The Rookie: Feds." She says the rise of streaming services like Netflix have "changed the business model completely," making it harder for writers to find consistent, well-paying work. 
Whereas a successful show could have run for seasons during the cable era, giving writers steady job and learning for years, the binge-able, big-budget shows made for streamers are typically shorter and renewed with less consistency. Writers have to scramble from jobt to job.
"With traditional TV models, jobs were lasting six months, nine months, a year. I saw a writer the other day that said that her last job was four weeks, and that's just not sustainable to be able to string together gigs in that way to make a living," Mercedes says.
Streaming also lead to different format of writers' rooms. Mercedes pointed to the rising use of "mini rooms" — scaled-down writers' rooms that hire fewer writers for shorter periods of time, and often pay less, according to the WGA. In a mini room, a small group of writers typically work with the showrunner to break down the season's plot points and work on scripts, which are finished without them.
"Mini rooms are crushing the ability for writers to string together jobs the way that we used to," Mercedes says.
There's a lot at stake for Mercedes, who spoke with TODAY.com just before heading out to join the picket line at the headquarters of Paramount.
Mercedes started her staff writing job last May and joined the WGA in September, just in time to be eligible for health insurance before welcoming a baby this February.
"It's objectively a terrible time to have just broken in and started a family," she wrote in a recent Instagram post. "But I will be wearing that baby on the picket line so that I have a shred of hope to stay in this business while raising him."
Writers are also fighting for higher residual payments, or the payments writers receive when shows they have worked on are re-released, whether as reruns or in syndication.
According to the WGA, half of all writers now work in streaming, which pays fewer residuals for new and pre-existing shows.
Valentina Garza, a producer and writer who has worked on shows including "Wednesday," "Only Murders in the Building" and "Jane the Virgin," shared one stark example on Twitter of how low residual payments can be on streaming services.
"In case anyone's wondering why the WGA is on strike, this is my streaming residual check for two episodes of 'Jane the Virgin,'" she tweeted, sharing a photo of a check made out for three cents. "One for .01 another for .02. I think the streamers can do better."
In the face of these industry shifts, the union is proposing regulations regarding artificial intelligence, pay structures to make up for the elimination of residuals, preservation of the writers' room, minimum pay for streaming, and guaranteed number of on-the-week jobs for writers, per a WGA document.
The Guild's proposals, according to the WGA, would cost studios $429 million per year. Studios' counterproposals were $86 million.
How is the writers' strike affecting TV shows and movies?
As the WGA strike enters its second week, some major shows and films have delayed production. 
Some shows, including the CBS drama "Evil" and the Apple TV+ comedy "Loot," stopped production after writers formed picket lines at filming locations. In solidarity with the writers, many non-writer crew members reportedly joined the strike, stalling filming.
Other shows are delayed because there are no writers to staff their writers' rooms.
Writers for ABC's "Abbott Elementary" were "supposed to be going back into the writers room (on May 3) to start on the third season," series star Sheryl Lee Ralph told TODAY.com on Friday. "They won't be."
Similarly, the creators of "Stranger Things" announced on Twitter that filming for the supernatural Netflix series would be postponed.
"Writing does not stop when filming begins," read a tweet from the show's producers, brothers Matt and Ross Duffer. "While we're excited to start production with our amazing cast and crew, it is not possible during this strike. We hope a fair deal is reached soon so we can all get back to work. Until then — over and out. #wgastrong."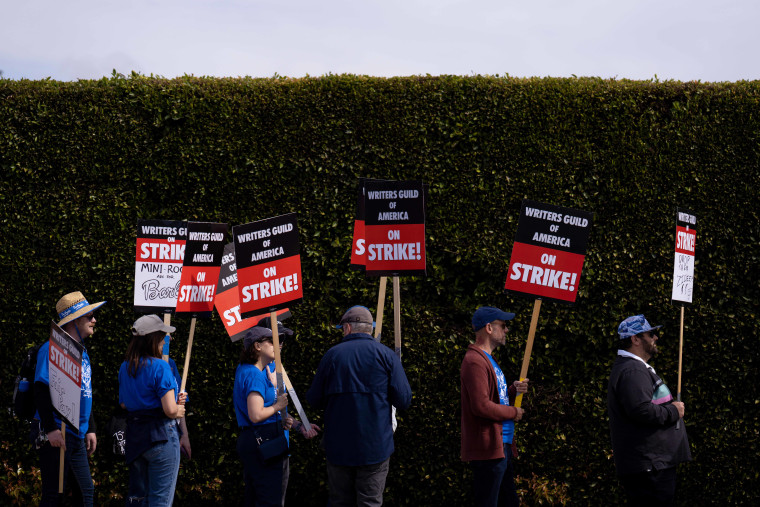 Several other shows have also paused production, including HBO's "Hacks," Apple TV+'s "Severance" and a planned "Game of  Thrones" prequel, "A Knight of the Seven Kingdoms: The Hedge Knight."
On the movie side, pre-production was also paused on Marvel Studios' vampire thriller, "Blade", according to The Hollywood Reporter.
Late-night talk shows, which rely on teams of writers, have also gone dark.
Seth Meyers, himself a member of the WGA, spoke in support of the strike a few days before NBC's "Late Night With Seth Meyers" went off the air.
"I … feel very strongly that what the writers are asking for is not unreasonable," he said on his show on April 24. "And, as a proud member of the guild, I'm very grateful that there is an organization that looks out for the best interests of writers."
Soap operas, meanwhile, may continue airing fresh content for at least a little while longer. As Vulture reports, "Days of Our Lives" has a backlog of new episodes that will stretch into the fall, while "General Hospital" has "about a month left" of new content.
Note that reality shows, sports, daytime talk shows and news shows are not affected by the strike.
When will the writers' strike end? 
It's difficult to say when the writers' strike will end.
The last time the WGA went on strike in November 2007, the strike lasted until February 2008, when the union reached a deal with the Alliance of Motion Picture and Television Producers. The WGA also launched a strike in 1988 over residuals, spanning 153 days.
The more recent three-month strike disrupted the seasons of many hit shows at the time, including "The Office," "Friday Night Lights" and "Breaking Bad." The entertainment landscape shifted during those 100 days as a result, leading to a reality TV boom (for example, NBC launched the "The Celebrity Apprentice" during this time; "Cops" was developed during the writers' strike of 1988).
In the meantime, several Hollywood stars have spoken out in support of the current strike.
"This is what I would be doing on TV without writers," Mandy Patinkin wrote in a viral tweet, sharing a video of himself standing in silence.
Rob Lowe, Tina Fey, Fran Drescher, Seth Meyers, Mindy Kaling and other celebrities have also been spotted on picket lines over the past week. Pete Davidson delivered pizza to a strike in Brooklyn.
Mercedes says that while she has no idea whether the current strike will last as long as the previous one, she is confident that she and her colleagues will strike "as long as it takes for us to get the contract that we need."
"The creativity starts with us," she added, "and the rest of the industry can't move forward without the words on the page."