J. Harrison Ghee made history this week as one of two actors who identifies as nonbinary to win a Tony Award for acting.
At the United Palace theater the night of June 11, the 33-year-old won the award for leading actor in a musical for their portrayal of Jerry/Daphne in the musical comedy "Some Like It Hot."
"My mother raised me to understand that my gifts that God gave me were not about me, to use them to be effective in the world, to help somebody else's journey. So thank you, for teaching me how to live, how to love, how to give," Ghee said after accepting their Tony. "For every trans, nonbinary, non-gender-conforming human who ever was told you couldn't be seen, this is for you."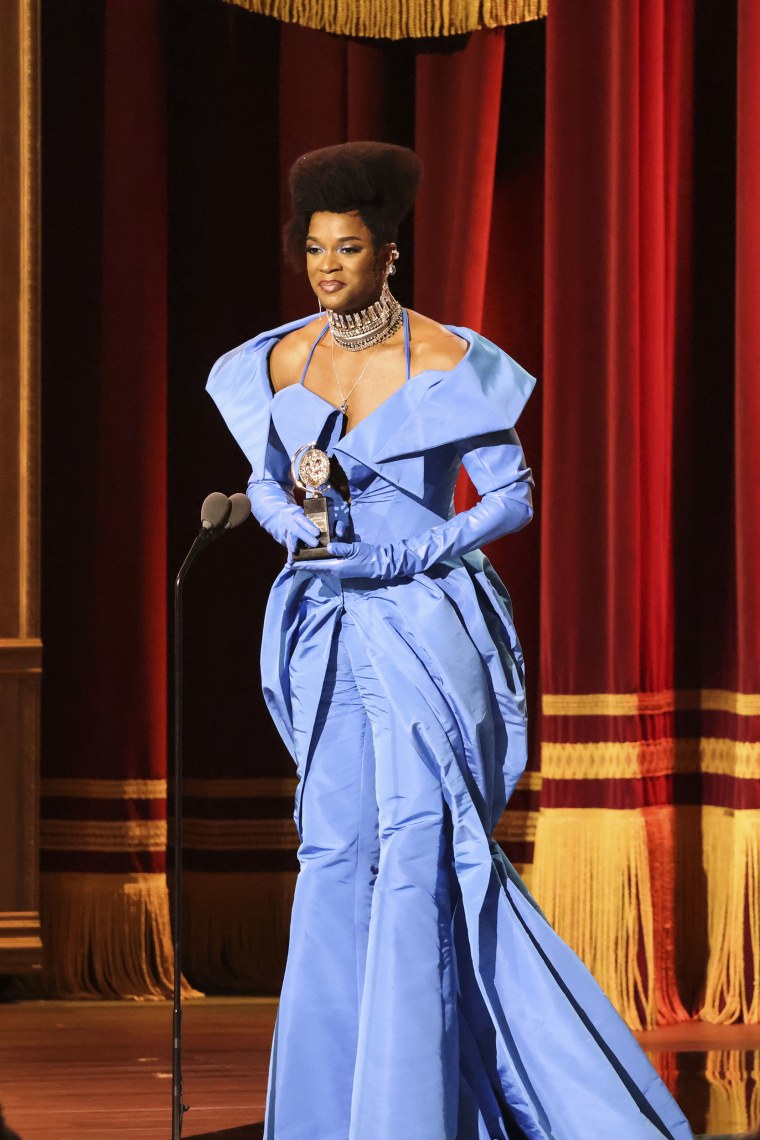 In the musical adaptation of the 1959 film, Ghee plays a Chicago musician on the run from the mafia after witnessing a murder. To disguise himself, the character is forced to dress as a woman and join a female band, when he goes on his own journey of self-discovery. Jerry finds he loves being Daphne, opening up a discussion about gender identity through the musical's 1920s-era vocabulary.
Before the Tonys took place, Ghee reflected to TODAY.com about the role and its legacy, saying that being nominated for a Tony felt like "honoring humanity and existence and diversity in the world."
"It is so humbling to be one of the first openly nonbinary people nominated alongside Alex Newell for best featured actor," Ghee said, referring to their fellow Broadway star, who also won a Tony Sunday night. "We both feel so grateful to just be making a difference in the world."
Unexpectedly discovering they were nominated for a Tony Award was a moment Ghee said they would "never forget."
The actor said they were sitting on the floor of Studio 1A at TODAY waiting to perform with their fellow "Some Like It Hot" cast mates when they decided to check their phone for an update on Tony nominations.
"I opened my phone and the first thing I saw was a text message from a friend of mine that I went to college with that said, 'You did it! You did it! You did it!' And then I opened my Instagram and our 'Some Like It Hot' page posted the picture that said I was a Tony nominee," they said.
In the subsequent moments, Ghee said they started to "well up." Nearby cast members asked what had happened.
"I just turned the phone around and showed them that we had been nominated for best musical and that I was nominated," they continued. "And we couldn't make any noise because they were on air. So we were all jumping up and down in silence and just so much energy. And I was sitting on the floor and I just felt my cast pour such love on me."
Ghee described the reaction to his nomination as one of "so much love," saying they have "so many messages." Fans wait outside the Broadway stage door each night to express their support.
"I have felt love from every direction, from people I know, people I don't know from the industry," they said. "I've walked past people on the streets here in New York and … people you don't even know are rooting for you. Just everybody is so excited."
Ghee said the upwelling of positivity has roots in Jerry's transformation into Daphne, which they call an "expansion of humanity, of existence and of experience that really stretches into this free, fun, frivolous place."
"That's the thing I was excited to share with audiences from the first time I read the script, of really freeing yourself to see yourself, allowing yourself to use all the crayons in the box to play, to explore, to exist and to not be limited in a way that keeps you stuck or (in) a limited way of seeing life," Ghee said.
Ghee's personal journey aligned with Jerry/Daphne's, to the point that lines Ghee uttered in real life wound up in the script.
During the first meet and greet with the cast, Ghee said the actors went around the room to introduce themselves, naming what character they play and which pronouns they prefer.
"I always say, 'I am J. Harrison Ghee and my pronouns are all things with respect,'" they say. "I allow and create the space for people to call me all things as long as you do it with love and respect."
That moment struck such a chord with the creative team that they decided to include it towards the end of the show when Christian Borle's character, Joe/Josephine, asks Jerry/Daphne what they'd like to be called.
"I say, 'Either is fine as long as you do it with love and respect,'" Ghee says. "And so when I walked into rehearsal one day and that (line) was in the script, it grounded me that much more in my character and also grounded me that much more in the trust and in the work I was doing with these creatives — that they really were listening to me and allowed me to be infused into this character."
As for the future of having more nonbinary actors and creatives honored at award shows? Ghee said they believe "we're moving in the right direction" in an effort to allow "all voices to be heard and seen and to be celebrated."
"There's room for everyone in such a beautiful way and I hope that as an industry, we continue to make space for everyone," Ghee added.
The actor approaches people with "conscious sensitivity," with the "awareness that everybody is an individual and has their own experience that they bring to every moment."
"I hope, as a society, as an industry, we're not trying to homogenize people's experience, but really celebrating the diversity and who we are. My nonbinary is a different thing than Alex's nonbinary," Ghee said, referring to Alex Newell. "And that's OK. Both can exist and be celebrated at the same time."
Newell, who plays Lulu in "Shucked" and also identifies as nonbinary, made history alongside Ghee, winning the Tony for best featured actor in a musical.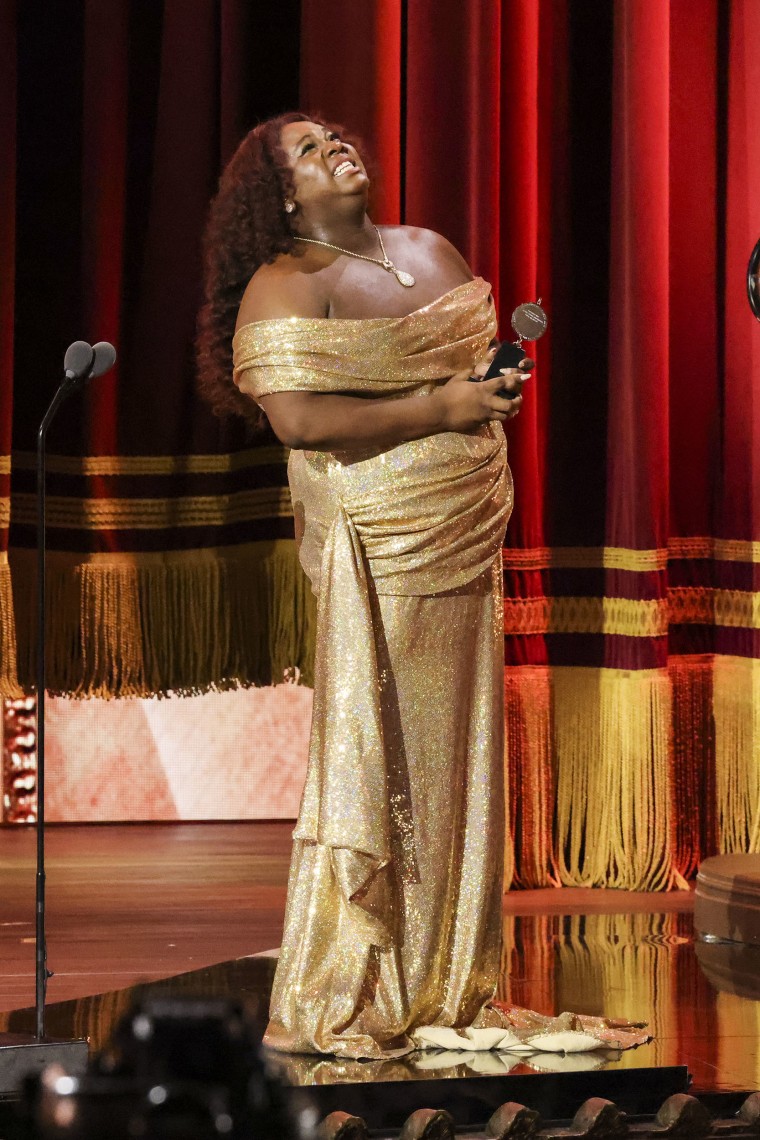 "Thank you for seeing me, Broadway. I should not be up here as a queer, nonbinary, fat, Black little baby from Massachusetts. And to anyone that thinks that they can't do it, I'm going to look you dead in your face that you can do anything you put your mind to," Newell said in their acceptance speech.
Newell and Ghee made history, but some nonbinary performers are still contemplating their place in awards shows, which remain gendered. Justin David Sullivan, who plays nonbinary character May in the musical "& Juliet" and identities as nonbinary, withdrew from the Tonys on the basis of gendered award categories.
"The decision that I made to withdraw from the Tony Awards was mostly so that any nonbinary performer who ... ends up on Broadway in any season after me — I didn't want anyone to be faced with the same question, which was like, 'Would you rather submit in the male category or the female category?'" Sullivan, who also identifies as nonbinary, told TODAY.com.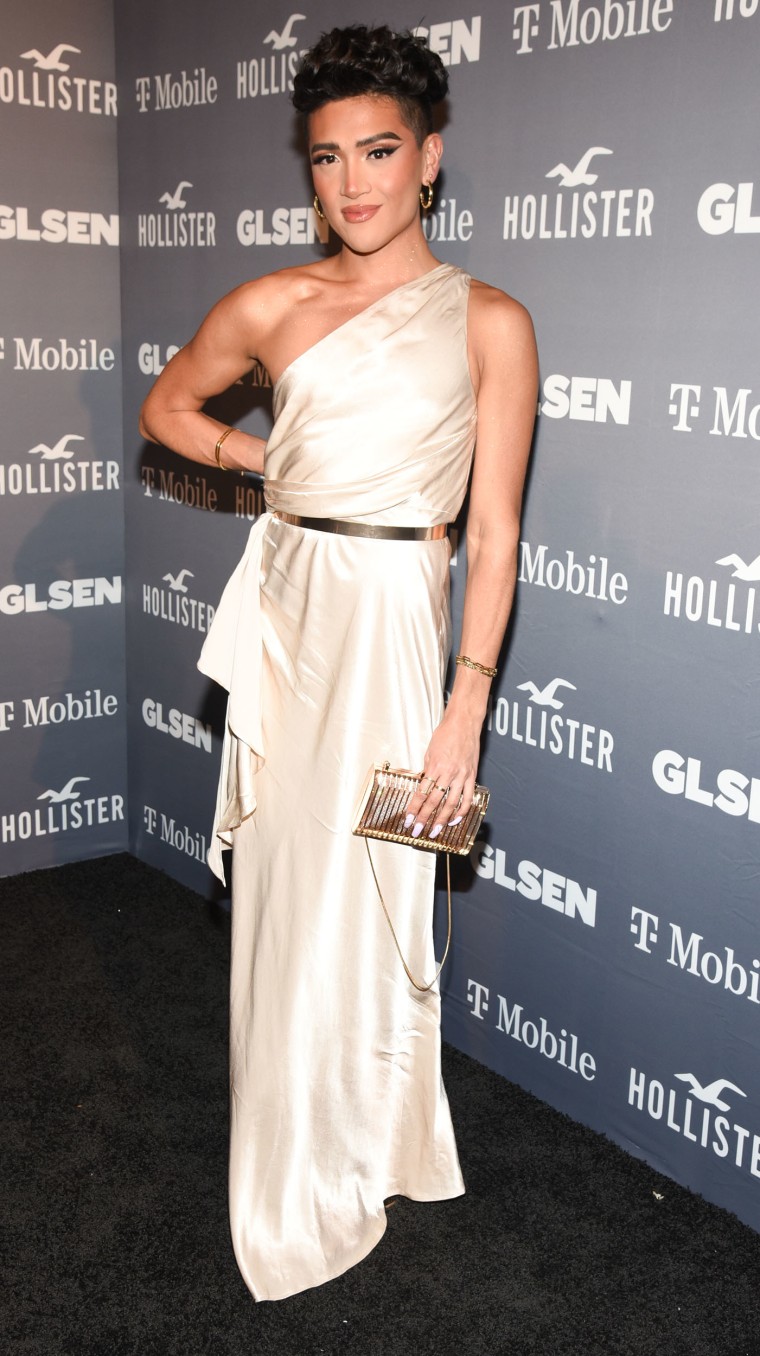 However, the actor said that "there's room to grow" for award shows and that change could be on the horizon.
"I would love to see change and I'm hopeful that there is change to come," they said. "And I'm grateful that this has has inspired some conversation and reflection over the way that we think about the world."
Despite not being considered for a Tony themselves, Sullivan said they weren't surprised that Ghee and Newell remained in contention for their awards, adding how "incredible" it is to "see them shining so bright."
"I am so proud of both of them," they said. "And I am so glad that they are getting the flowers that they deserve."