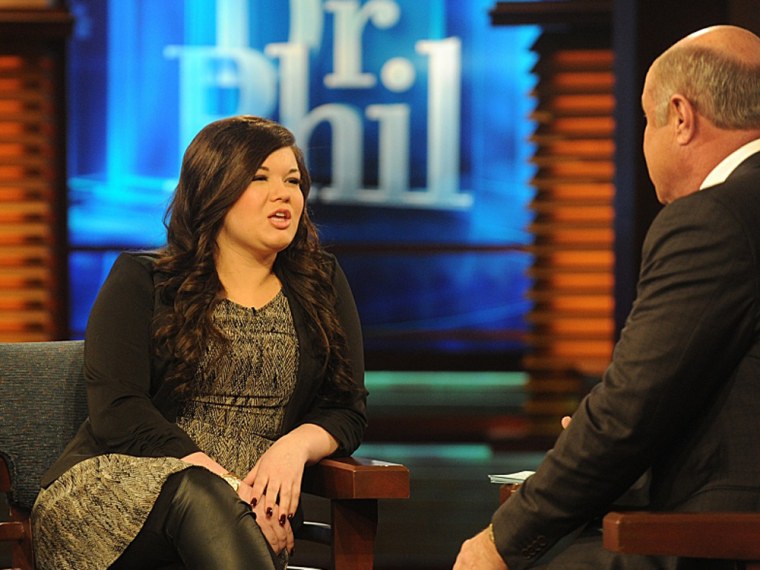 "Teen Mom" Amber Portwood is telling all on "Dr. Phil" Friday in her first interview since being released from prison last month, and she's got plenty to reveal about her struggles with drug abuse.
The young mom, now 23, admitted that while she was in rehab, she was still using drugs. 
"I was using a drug called fentanyl ... it's patches," she explained in a clip. "I opened up the patch and I would eat the patch. It was like a three-day patch. It's very dangerous. I was using that the whole time I was in (rehab) ... in drug court and on house arrest. Crazy." 
According to the National Institutes of Health's website, fentanyl skin patches are used to control severe and chronic pain. The drug can be habit-forming.
Portwood admitted to the TV doctor that she was pretty much high for everything. She even copped to chewing one of the patches during a drug test. According to her, the "Dr. Phil" interview is the first time she's been on stage sober.
Portwood will also be discussing her anger issues and decision to go to prison during the interview.
The reality TV personality's struggles have been well documented on MTV's hit docuseries "Teen Mom," and in the press. Portwood's troubles started when "Teen Mom" aired an episode in 2010 showing the young mother repeatedly hitting Gary Shirley, her ex-fiance and the father of her child. She was arrested for felony domestic violence. In 2012, Portwood was sentenced to five years in prison after telling the judge that she didn't want to complete her court-ordered drug program.
Check DrPhil.com for local air times.