Sylvester Stallone's mom is going to be a contender.
Jacqueline Stallone, the psychic mother of the action star turned reality-TV star, may be getting her own reality show. The fortune-telling mom — who does "rumpology" readings from clients' buttocks and also gets messages from her psychic dogs — made headlines in the U.K. when she joined the British version of "Big Brother."
The smoky-voiced Stallone became a fan favorite because she was so outspoken.
"These are ignorant people. For example, they put peas in all their food. I told them to kiss my [bleep]," Jacqueline Stallone told The Scoop. "It was live and not rehearsed and it made me an international star.  . . . They kept trying to tell me to bond with the other people, but I'm not going to bond with a bunch of weirdos like that. I speak my mind and I guess they're not used to that. People told me I was what made people watch the show.  . . . The newspapers had photographs of me, comparing my face to Michael Jackson's and Miss Piggy's — but hey, any publicity is good publicity, and I've never had so many job offers in my life."
Stallone says that her agents are currently in negotiations with some of the people behind Big Brother to put her in her own reality show, set in Los Angeles, and shown in the U.K. and possibly the U.S. "There are three deals being discussed. It's a case of which one will fly. They like the idea of me running a boarding house that I own with someone like maybe Cher's mother," Stallone said. "Cher's [mother] is sort of sweet and will listen to people, I tell them where to go."
As for her son's reality show, "The Contender," Jacqueline Stallone tells The Scoop that she is "so [bleep] thrilled" for Sylvester. "It's the first time in 20 years I've seen that look of joy in his eyes." Can fans of the show expect to see Sly's scene-stealing mom in any episodes? "Absolutely," she says.
Tangled past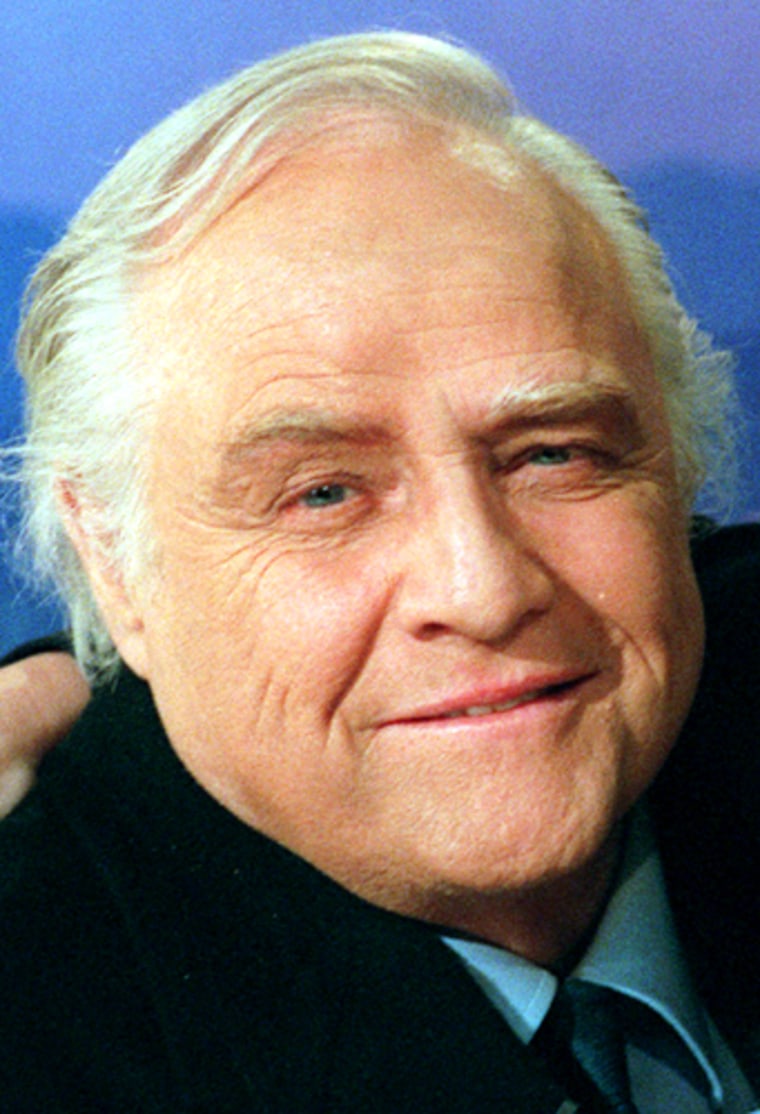 Did Marlon Brando abuse his daughter?
That's the claim made in a book that's been published in France. According to "Marlon, My Love And My Torment" by Tarita Teriipia, a former wife of the late film star, Brando had an "inappropriate" relationship with his daughter Cheyenne, his daughter who hanged herself in 1995.
According to a report in the London Daily Mail, the book claims that the moody actor abused his daughter when she was a child, and when she was older, he fondled her breasts.
"He used to like to massage me as if wanted [sic] me to pretend we were making love," according to a quote from Cheyenne's diary as reported in the Mail. "He presented it as a game, but I was just a child and had no idea what it meant."
Cheyenne Brando spent time in and out of mental hospitals and attempted suicide several times before she succeeded.
Notes from all over
Poor Elton John. He's whining because George Michael won't speak to him — after John called Michael's latest album "disappointing" and said the former Wham! singer was in a "strange place" in his life. "I tried to call him at Christmas to sort things out but he wouldn't come to the phone," John said, reports the Scottish Daily Record. "I spoke to his partner Kenny but he couldn't persuade George to talk to me."  . . . Madonna's documentary about her "Reinvention" tour is scheduled to premiere May 21 at Cannes, according to buzz.  . . . Britney Spears has posted a message to Kabbalah on her web site, thanking the red-stringy religion for turning around her life. "There came a point where not even my family or my advisors had the answers I needed," notes the belly-baring crooner. "The answers I was looking for were all in my heart. Through Kabbalah, I was able to look within myself, clear all the negative energy and turn my life around."
Mondays through Thursdays on MSNBC.com