/ Source: msnbc.com contributor
Time will tell how this season's "American Idol" finalists rank with past seasons. Is Anthony Federov really in Clay Aiken's league? Was Mikalah Gordon as bad as Camile Velasco?
That depends on viewers' lingering memories of their performances. Sometimes one can watch a contestant and literally feel them turn into a real star (or an impostor). A bad performance doesn't always doom a strong contender, and a great one can also go unnoticed. And guess what — you don't have to be the best singer to turn in the best performance, either.
What's the difference between a good performance and a memorable one? A good performance takes on a likeable, popular song that won't alienate voters. A memorable performance squeezes something great out of a risky choice, introducing that tune to a wider, younger audience than its original. A good one is technically proficient; a great one makes Paula cry.
Here are my picks for the 10 best performances (well, 11 — there was one tie) over all four seasons I've limited each contestant to one song, with one honorable mention. Remember, this is not a 10 best singers list. (Scott Savol: Rest easy, you wouldn't be on that list either. Sorry. buddy.)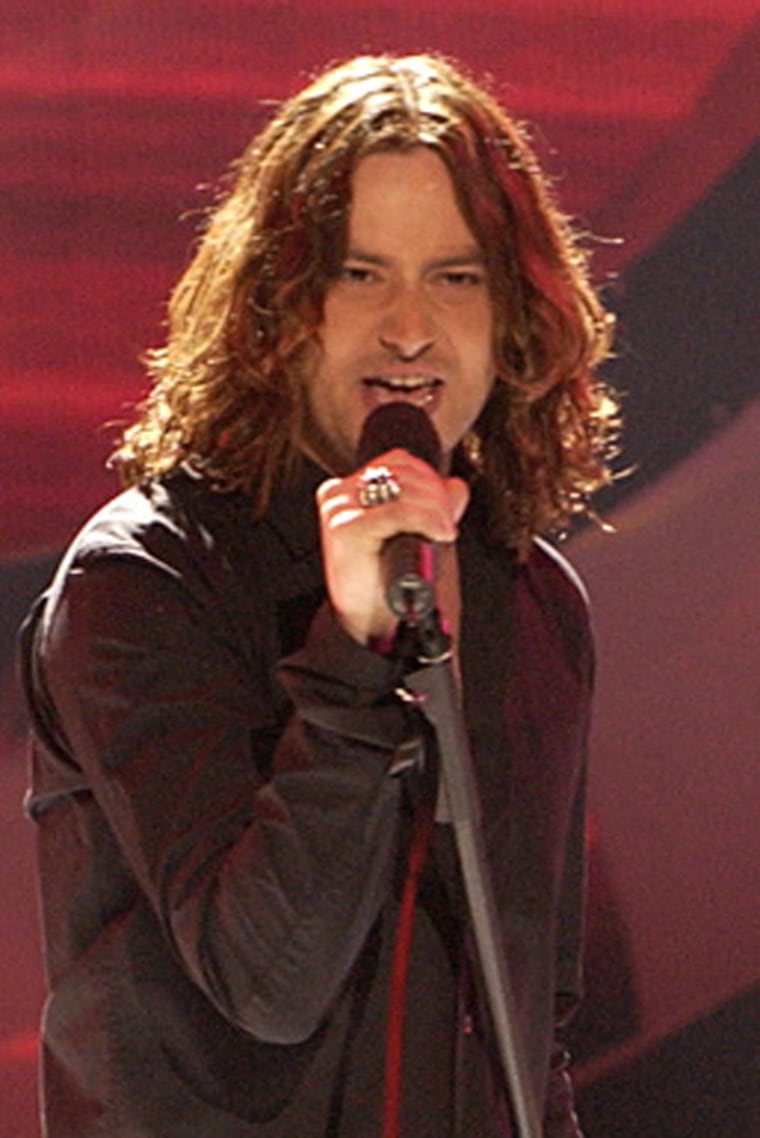 Maroulis' Steven Tyler-esque manner of hair-stroking and seducing his microphone had a polarizing effect on viewers and judges alike. Even Simon told him, "If this were Smoldering Idol, you'd win hands down." Yet Maroulis' peak was the gutsiest song choice of any competition: Queen's rock-operatic "Bohemian Rhapsody," which — come on — might be a classic, but also is the kind of song you never try to take seriously. Maroulis, 29, pulled off an electric performance — tongue-wagging and all, inching toward the head of the pack by showing that showmanship really does go a long way.
His close second: "My Funny Valentine"
10.  (tie) George Huff, "Take Me to the Pilot," season three
Huff, a last-minute replacement for booted finalist Donnie Williams, was best known for looking a decade older than his 22 years. But on an Elton John-themed night, Huff leapt from his role as an also-ran to a serious contender by singing the lesser-known "Take Me to the Pilot." Showing a gospel flair and what would become his trademark calf-exercising bounce, Huff's husky-voiced rendition not only revealed an old-school soul, but a guy whose joy of singing was so infectious you couldn't help but smile.
His close second: "Ain't Too Proud to Beg"
9. Bo Bice, "Spinning Wheel," season four
"American Idol" hadn't seen a finalist like 29-year-old Bice, whose early comparisons to fellow "rocker" Maroulis turned out to be premature when he slunk onstage for Blood, Sweat & Tears' "Spinning Wheel." With confidence, charisma and his ubiquitous leather pants, Bice raced across the stage, barely gasping for breath and swinging his microphone stand like a baseball bat. His funky rasp brought a "fearless" from Randy and a standing ovation from Paula.
His close second: "Whipping Post"
8. Jennifer Hudson, "Circle of Life," season three
In the battle between ground-swelling orchestral power ballads, it was hard to pick between season 2 finalist Kimberley Locke's "Somewhere Over the Rainbow" and Hudson's "Circle of Life." The edge, however, goes to Hudson for finally walking the diva talk she'd been splaying in the weeks prior. Blowing the roof with a goosebump-inducing rendition of Elton John's Disney hit, 22-year-old Hudson set out to prove she deserved to be named with the likes of fellow "divas" Fantasia Barrino & LaToya London. She succeeded.
Her close second: "I Have Nothing"
7. Christina Christian, "Ain't No Sunshine," season one
It's usually the girls with the big voices who make a splash on "Idol," but sultry 21-year-old Christian went the other direction, turning Bill Withers' very mellow "Ain't No Sunshine" into a sexy serenade. Simon, who admitted a little crush on the finalist, compared her performance to Sade. Other male fans, meanwhile, bent to wipe their drool off the floor.
Her close second: "Glory of Love"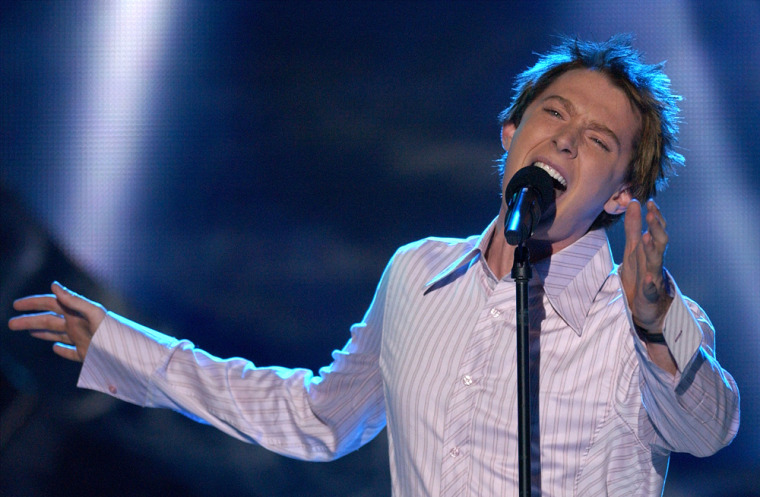 If this list were about overall consistency, Aiken, 24, would have ranked much higher. Save for an uber-cheesy rendition of "Grease," the season two runner-up turned in one strong performance after another. The Foundations' "Build Me Up Buttercup" was an unusual but welcome choice for the balladeer, who hadn't loosened up until then. Oddly enough, the song became a favorite of his many fans, who likely not only downloaded the original but used it for new signs, such as: "CLAY YOU'RE MY BUTTERCUP."
His close second: "Bridge Over Troubled Water"
5. Justin Guarini, "Get Here," season one
Sure, now he's a Trivial Pursuit punchline, but think hard and you'll remember that Justin Guarini, 23, was once in hot pursuit of Kelly Clarkson's season-one title. He first made his mark singing Oleta Adams' "Get Here" during the final auditions, bringing Paula to tears. With a romantic croon free of the Michael Jackson facial expressions that haunted other performances, Guarini had the same mesmerizing effect when he sang it in two more rounds of the finals. Randy called it the "best performance in this whole competition." Just goes to show that if it ain't broke, don't fix it.
His close second: "Let's Stay Together"
4. Tamyra Gray, "A House is Not a Home," season one
Would you rather have a flawless performance that leaves you cold or a near-flawless performance that chokes you up? We pick the latter, and 23-year-old Gray delivered, with a raw, heart-wrenching rendition of  Dionne Warwick's "A House is Not a Home," sung on a Burt Bacharach-themed night. Had she connected emotionally with the audience more often, this technically gifted singer could have won the title. Meanwhile, as Simon said, it's "one of the best performances on TV I have ever seen."
Her close second: "A Fool in Love"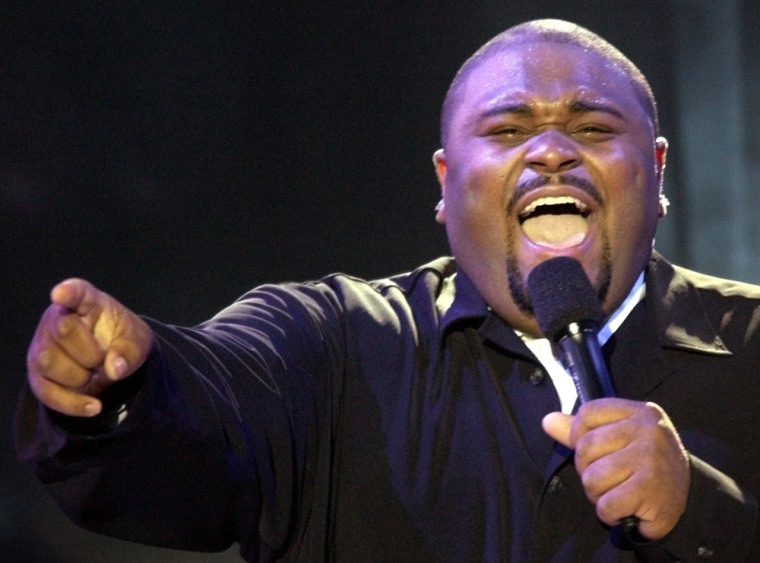 The 25-year-old "velvet teddy bear" with the 205 jerseys sang the Carpenters' "Superstar" on his very first appearance, and the early notes ("Long ago, and oh so far away…") seared right into the spot on your body that makes you shiver. Though he sang with a dimpled smile, the wistfulness in his buttery-rich tenor broke hearts. Studdard, the eventual season-two winner, was greeted with a standing ovation from both Randy and Paula. A champion was born.
His close second: "A Whole New World"
2. Kelly Clarkson, "Stuff Like That There," season one
It's really difficult to pick a "best" Clarkson performance, as nearly every number earned raves. (Clarkson's also the only winner to have never landed in the bottom three on her way to winning the first season.) So why pick the jazz standard "Stuff Like That There," which she sang for the Big Band-themed night? Because, in her little polka-dot dress with the string of pearls, she mopped the floor with previous front-runners Tamyra and Justin, who had preceded her that evening with strong performances of their own. Clarkson was the true revelation of the night, and she hasn't looked back since.
Her close second: "Natural Woman"
1. Fantasia Barrino, "Summertime," season three
Barrino, a 19-year-old single mom whose rasp reminded listeners of Aretha Franklin, was starting to lose fans for being all swagger and no softness. Then she sat down on a stage for a movie soundtrack-themed show and belted "Summertime" from "Porgy and Bess." The result was so overwhelmingly emotional that Randy thought it was the best performance in "Idol" history. The eventual season-three winner sang it again in the finals, and Simon summed it up by saying, "You are without question the best contestant we've had in any competition." Now that's memorable.
Her close second: "Something to Talk About"
Ellen A. Kim is a Seattle-based freelance writer.