Update, 11:15 a.m. PT: Minutes after Charlie Sheen's live interview with TMZ.com, the actor's longtime publicist Stan Rosenfield resigned and issued the following statement: "I have worked with Charlie Sheen for a long time and I care about him very much. However, at this time, I'm unable to work effectively as his publicist and have respectfully resigned."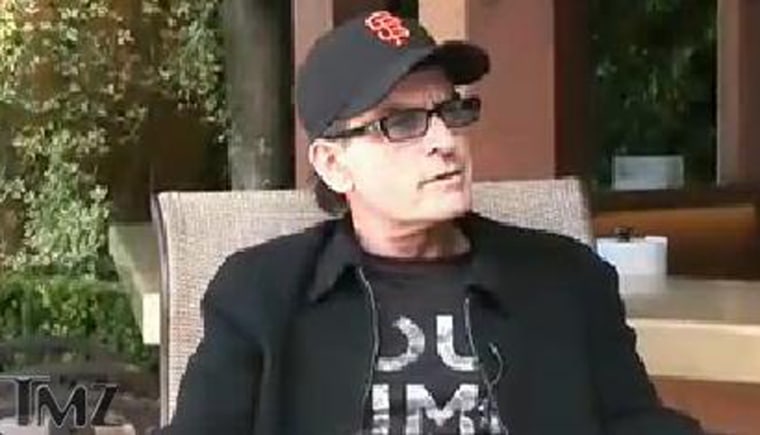 A few hours after his interview with NBC's Jeff Rossen aired on TODAY, Charlie Sheen continued his media tour, sitting down for a live Web video with TMZ.com's Mike Walters.
During the poolside interview at Sheen's Beverly Hills mansion, Walters asked the actor if he was sober, to which he said "totally." When asked if he plans to remain sober forever, Sheen said ... maybe. He said that if he does choose to indulge again, it will be his choice and critics can "get over it."
He also went on to say that he respects his father, actor Martin Sheen, but that he isn't interested in taking advice from him. Sheen also doesn't think he is a bad role model for his five children, but thinks that it would be a good idea if they stayed away from cocaine.
Walters asked Sheen if he was concerned that he could meet a fate similar to that of Michael Jackson, to which the actor said he's already survived a near miss and has come out "golden."
As for Sheen's reported hopes to buy a house and move in a bunch of porn stars, he said, "It was a temporary plan and it fell apart."
While he was critical of media reports on him, Sheen was pleased with his interview Monday on TODAY, calling correspondent Rossen "a rock star." You can watch that interview with Rossen below.
Related content: