/ Source: msnbc.com staff and news service reports
The epic journey of a raggedy gang of humans, hobbits, wizards, dwarves and elves hoisted the fantasy genre to Oscar glory Sunday as "The Lord of the Rings: The Return of the King" won a record-tying 11 Oscars, sweeping every category in which it was nominated, including best picture.
The directing Oscar went to Peter Jackson, overlord of arguably the biggest undertaking in cinema history, the simultaneous filming of J.R.R. Tolkien's Middle-earth trilogy: "The Fellowship of the Ring," "The Two Towers" and "The Return of the King."
Jackson, said he was "honored, touched and relieved" that the Academy finally honored a fantasy film.
"Return of the King" matched the record 11 wins of "Titanic" and "Ben-Hur" and became only the third movie to sweep every nominated category, following "Gigi" and "The Last Emperor," which both went nine-for-nine.
"Wow," Jackson told the Kodak Theatre audience from the stage where his film won all 11 categories in which it was nominated, including best picture. "You're giving us an incredibly overwhelming night."
Before he left the stage, he recalled how he began making films as a little boy, and in a touching moment he thanked his parents, both of whom died before they could see his Oscar triumph.
Members of the Academy of Motion Picture Arts and Sciences seemed to take a wait-and-see approach to the "Lord of the Rings" project, holding off on major awards until the very end to recognize the overall accomplishment. Jackson was nominated for directing the first film in the series, "The Fellowship of the Ring," but Academy voters passed him over last year for the follow-up, "The Two Towers."
This time, he seemed like a lock from the get-go.
"Return of the King" also won for visual effects, makeup, art direction, costume design, sound, original score, film editing, adapted screenplay and best original song for "Into the West."
"It's been a long journey for us all, and it's just an incredible high note to finish it on," said Grant Major, an art-direction Oscar winner for "Return of the King." "It's been an amazing ride."
Theron, Penn win best acting honorsCharlize Theron won for best actress for her portrayal of serial killer Aileen Wuornos in "Monster."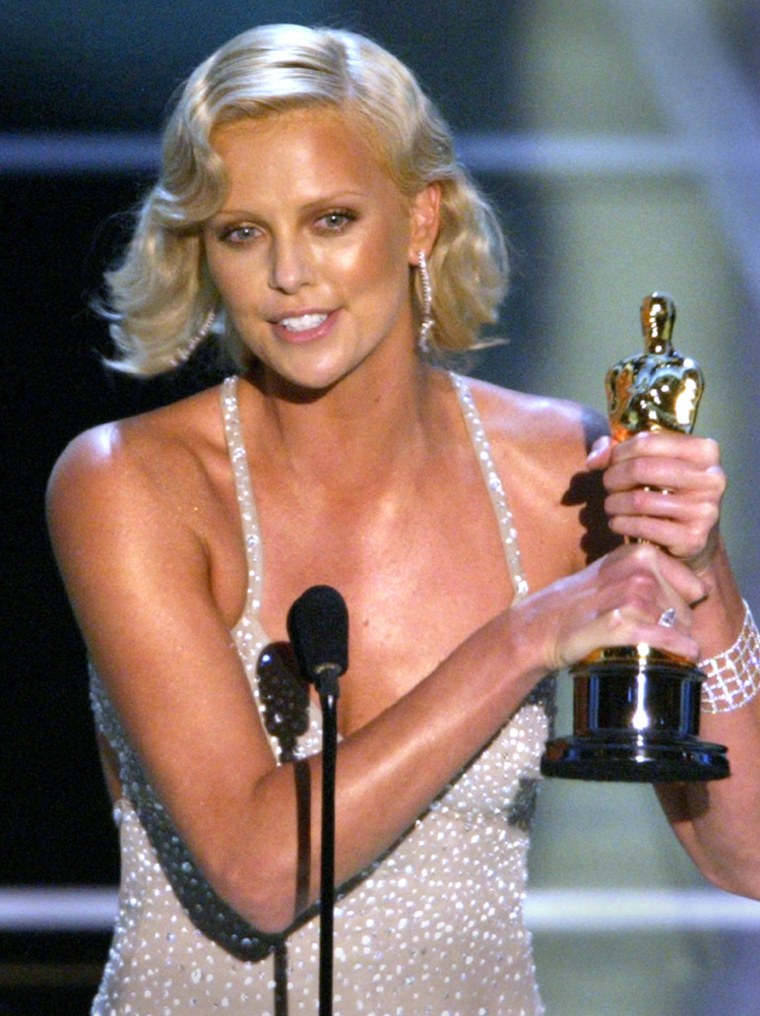 Many regarded Theron, a former model and ballerina, as the front-runner for the award after she gained 30 pounds and wore prosthetic teeth and splotchy makeup to play real-life serial killer Aileen Wuornos. Critics hailed both her emotional and physical transformation.
During her acceptance speech, Theron tearfully thanked makeup artist "Toni G, for transforming me so incredibly."
Sean Penn won the best-actor honor for his perfomance as an ex-hoodlum who falls back on his criminal ways to exact revenge for his daughter's murder in "Mystic River."
Penn, who skipped the Oscars when previously nominated for "Dead Man Walking," "Sweet and Lowdown" and "I Am Sam," showed up and accepted graciously — although he made a crack about there being no weapons of mass destruction in Iraq.
Dismissive of awards in the past, Penn missed last month's Golden Globes but made a point to attend other Oscar and awards functions.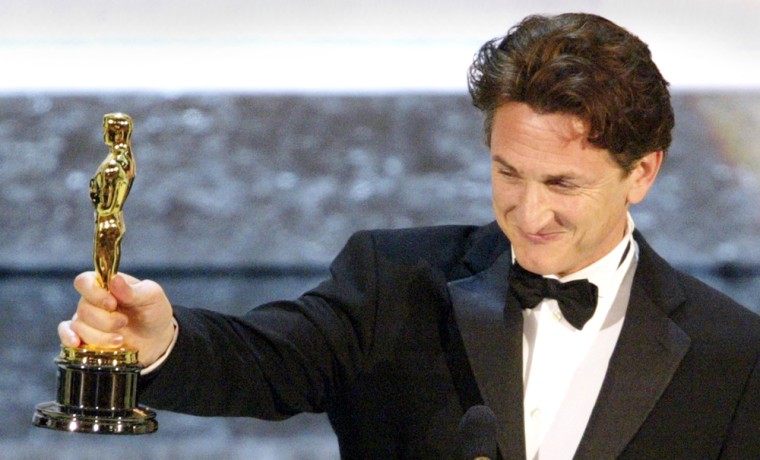 "If there's one thing that actors know, other than there weren't any WMDs, it's that there is no such thing as best in acting. And that's proven by these great actors that I was nominated with," said Penn, who received a standing ovation.
Tim Robbins took home the night's first Academy Award, for his supporting actor role in "Mystic River," directed by Clint Eastwood, whom Robbins thanked for "making my mantel very crowded."
Robbins won with his first-ever acting nomination, though he had been nominated as best director for 1995's "Dead Man Walking."
"In this movie, I play a victim of abuse and violence," Robbins said. "If you are a person who has had that tragedy befall you, there is no shame in seeking help and counseling.
Renee Zellweger won for best supporting actress for her scene-stealing role as the scrappy, plain-spoken farmhand Ruby Thewes in the epic Civil War romance "Cold Mountain."
The 34-year-old Texas-born actress made her big-screen breakthrough as the object of Tom Cruise's affections in the 1996 hit comedy "Jerry Maguire."
In her acceptance speech, she praised Cruise "for showing very early on that kindness and success are not mutually exclusive." The camera simultaneously zeroed in on Nicole Kidman, Cruise's ex-wife and Zellweger's "Cold Mountain" star.
Zellweger won for playing a character in frumpy clothes and a layer of dirt from working the fields, a year after "Cold Mountain" co-star Nicole Kidman received the lead-actress Oscar after wearing a fake nose to simulate Virginia Woolf's plain-Jane features in "The Hours." This year's lead-actress winner, Theron of "Monster," gained 30 pounds and was disguised behind dark contact lenses, false teeth and splotchy makeup.
"I hope it's a trend, meaning interesting parts playing women who are multifaceted and really rich in their journeys. It's what interests me most," Zellweger said backstage. "The more you can change yourself, the more removed the character is from your own experiences, the more rewarding it is."
War warning"Fog of War" won for best documentary. Declaring it was about time, filmmaker Errol Morris won the Best Documentary Oscar Sunday for "The Fog of War," a life and times of Vietnam-era  Defense Secretary Robert McNamara, and pointedly warned the United States was going down the same "rabbit hole" in Iraq.
"I'd like to thank the Academy for finally recognizing my films," said Morris, who has never before won an Oscar despite making such acclaimed works as "The Thin Blue Line." "I thought it would never happen," he said.
McNamara served Presidents John F. Kennedy and Lyndon Johnson during some of the U.S. buildup in Vietnam, and Morris cautioned that the United States was headed down a path as brutal as Vietnam with the ongoing war in Iraq.
"Forty years ago this country went down a rabbit hole in Vietnam and millions died," Morris said. "I fear we're going down a rabbit hole once again -- and if people can stop and think and reflect on some of the ideas and issues in this movie, perhaps I've done some damn good here!" Morris said to thunderous applause from the audience.
After Morris finished, Oscars host Billy Crystal joked "I can't wait for his tax audit."
"Chernobyl Heart" won for best documentary short subject.
French-Canadian director Denys Arcand's "The Barbarian Invasions" won the Oscar for best foreign language film, the first time a Canadian film has won the award.
"Master and Commander: The Far Side of the World" won for sound editing and again for cinematography.
"Finding Nemo," the film about a clown fish searching for his lost son, won for best animated feature film.
"Two Soldiers," based on a 1942 William Faulkner story, won for best live-action short.
"Harvie Krumpet" won for best animated short film.
Glamour is back
Sofia Coppola won for best original screenplay for "Lost in Translation."
The award made her family the second clan of three-generation Oscar winners, joining Walter, John and Anjelica Huston. Her father is five-time Oscar winner Francis Ford Coppola, who was an executive producer on "Lost in Translation." Her grandfather, Carmine Coppola, won for musical score on "The Godfather Part II."
"Thank you to my dad for everything he taught me," Coppola said. "Thank you to my brother Roman and all my friends who were there for me when I was stuck at 12 pages and encouraged me to keep writing."
The Oscars returned to full-glamour mode after two years in which Hollywood's prom night was muted by world events — the aftermath of the Sept. 11 attacks in 2002 and the Iraq war in 2003.
With the passage of time, the Academy of Motion Picture Arts and Sciences figured it was safe to make merry again for the 76th annual Oscars.
Crystal, returning as host for the first time in four years, opened with his usual montage of nominees, having himself inserted into spoofs of key Oscar contenders, including Diane Keaton's screeching nude scene in "Something's Gotta Give."
He joked that for the first time, the show was being simulcast in Aramaic, a poke at "The Passion of the Christ," Mel Gibson's divisive religious film that took in $117.5 million in its first five days. The movie was done in Aramaic and Latin, with English subtitles.
With all the awards for "Return of the King," produced in New Zealand, Crystal joked: "It's now official. There is nobody left in New Zealand to thank."