Here in Bachelor Nation, we don't usually take too kindly to spoilers. But when there's entertainment history to be made? We'll allow it.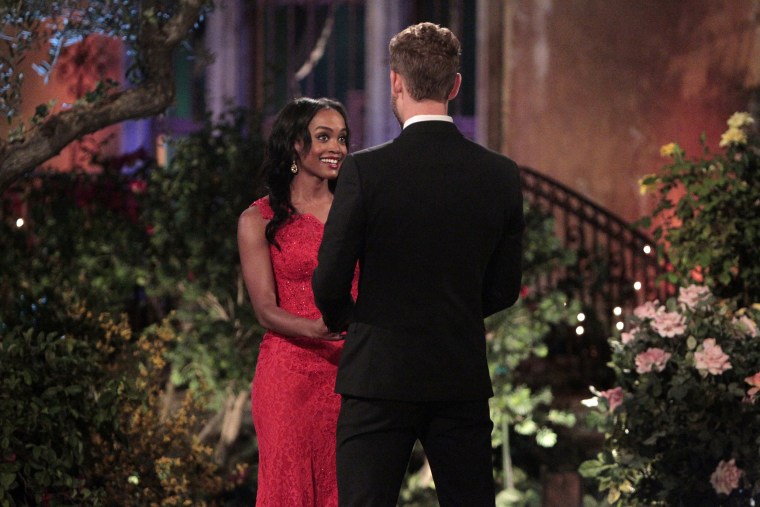 Rachel Lindsay, the 31-year-old lawyer from Dallas, Texas, who has become a standout on Nick Viall's season of "The Bachelor," won't be walking away from this season with a ring on her finger. She will, however, be walking away with her own show. Which is only, like, a million times better. (No offense to Nick.)
ABC announced Monday that Lindsay will star on Season 13 of "The Bachelorette." The news leaked online ahead of this week's episode of the show, and was later confirmed on "Jimmy Kimmel Live!" with a special appearance by Chris Harrison. It's a big deal, because Lindsay is not only the first black lead of the "Bachelor" franchise ... but also still appearing on the show.
We know, we know. Have a sip of wine. You'll feel better.
"We're a couple weeks out from filming, so I'm ready to find love, find a husband," she revealed to Kimmel with a smile on Monday, hinting that it's not too late for her fans to throw their hats in the ring for her season. "I am excited − I'm ready."
RELATED: The Bachelor's Taylor addresses emotional intelligence, is she right about it?
Lindsay started the season strong, taking home the coveted first impression rose. We don't know when or why things will go south with Nick — as of Monday night's episode, she was still in the running for his heart — but now we'll be looking for clues literally all the time! Ugh, this is like when you just had to flip to the last page of "Harry Potter and the Deathly Hallows" and knew that Harry didn't really die at the end! But honestly, that was probably good for your mental health, because a 700-page book takes a long time to read and you might have actually lost it!
So, this is a blessing. And something of a victory for minorities, of course, as it marks the first time a woman of color will be in the title role.
RELATED: Meet the family of 6 that actually lives in the 'Bachelor' home
The franchise has been criticized for its lack of diversity — the leads have been almost exclusively white through the show's history, and minorities have been consistently underrepresented among the contestants. This season, though, executives cast eight out of 22 non-white contestants (the highest percentage ever), and news of Lindsay's casting is a happy ending for fans of progressive fairy tales.
Surprisingly, Lindsay is not the first "Bachelor" lead to have two first names. (Looking at you, Juan Pablo.) But still, we think she'll find her place in TV history just fine.