Well, we can't all be good at everything. Most people would be satisfied at just having accomplished multiple Super Bowl successes on an NFL team — but not New England Patriots quarterback Tom Brady.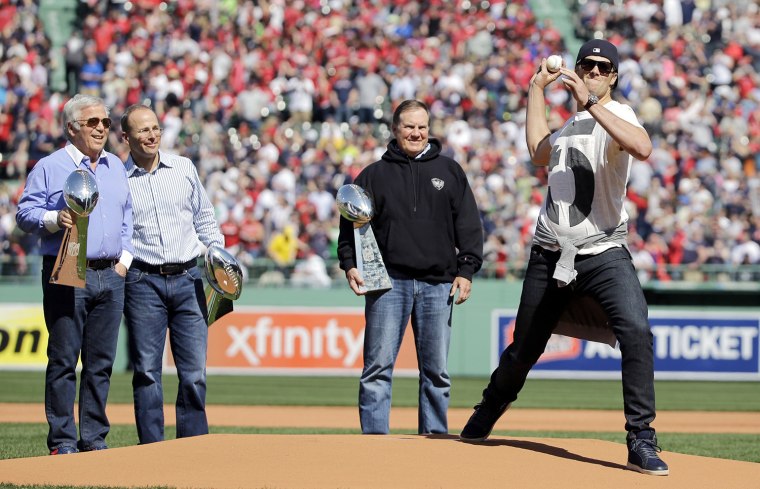 As you may have heard, he tossed out a truly terrible ceremonial pitch at Fenway Park (that's the Red Sox home turf, for those not in the know about baseball) earlier this week that didn't even make it to the home plate before bouncing:
Immediately, fellow members of the sports biz got on his case about it; Buffalo Bills coach Rex Ryan (who tossed out his own ceremonial pitch at a minor league game without issue) joshed to ESPN.com, "Tom needs to keep his elbow up a little bit more."
Fortunately, it turns out that Brady does have a gift outside of his incredible ability to throw a football — in fact, we'd say he has two.
On Wednesday, he posted this picture on Facebook, proving he has a sense of humor:
All is forgiven, Tom! (Though maybe not by Sox fans, who have long memories.)
Then, also on Wednesday, Brady honored his wife Gisele Bündchen's last stroll down the catwalk on Facebook, proving he has a seriously sweet side, too:
Awww times ten! That's more awesomeness than most folks get out in a day. Nice work, "Tom Terrific."