For Jennifer Lopez, showcasing her Latinidad is just who she is.  
From the beginning of her career, the multifaceted entertainer has proudly represented her Puerto Rican roots. And with her various fashion, beauty and producing endeavors, Lopez, 53, has become one of the most successful Latina artists and entrepreneurs.
Now she's giving back to her community and helping hundreds of other Latina entrepreneurs. Lopez and her Limitless Labs foundation, which is the home for all her philanthropic and values-driven work, is partnering with the non-profit Grameen America to invest $14 billion in Latina-owned businesses by 2030.
"We're changing lives," Lopez told NBC's Morgan Radford in an exclusive sit-down interview. "We want to take the Latino entrepreneur, empower them, give them opportunity where there wasn't — you know, me growing up the way I did, we weren't even in the conversation in that way."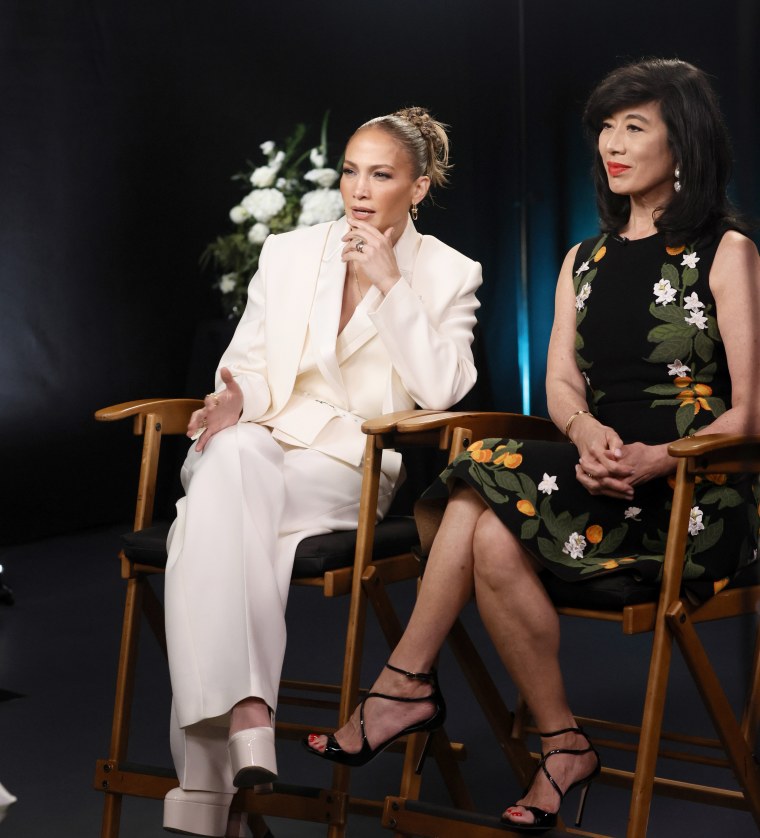 "The opportunity to do something, that's all anybody wants," Lopez continued. "Nobody wants a handout, but that opportunity can change your life."
According to the 2020 State of Latino Entrepreneurship report from the Stanford Graduate School of Business, Latina entrepreneurs, along with their Latino counterparts, make up one of the fastest growing groups of small business owners in the U.S. and are creating businesses six times faster than other racial or ethnic groups.
But Latina and Latino business owners are still 60% less likely than their white peers to get loans approved by national banks, according to the Stanford report.
Lopez shared that it took her some time to realize she should own a part of her own businesses.
"Even in my own business, I was like, the artist who was making billions of dollars for other people, and not really even realizing it, just like happy to be in the room," Lopez said. "And then I started to realize, wait a minute. I can make my own perfume, I can do this in my own way, I should own a part of this business."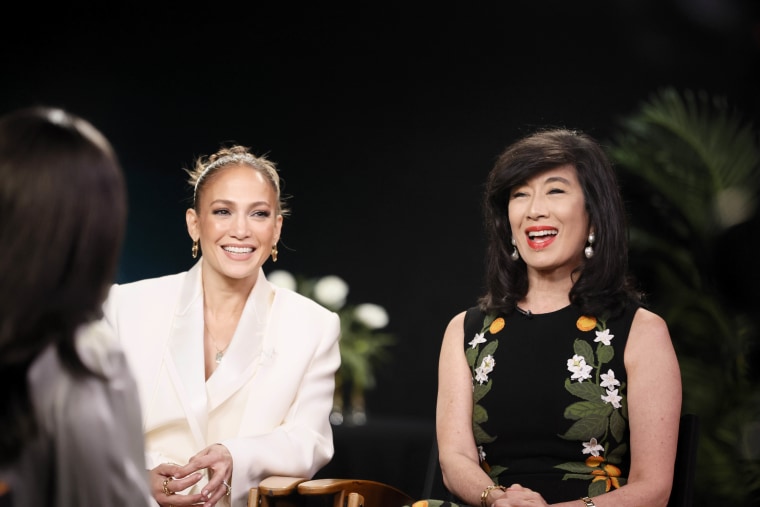 Lopez and Grameen America President and CEO Andrea Jung announced the initiative at the Raising Latina Voices event, kicking off Hispanic Heritage Month presented by Bank of The West with support from Meta at Universal Studios Backlot on Sept. 17 in Universal City, California.
Lopez will be a Grameen America's National Ambassador, advocating and mentoring the organization's network of over 150,000 small businesses run by women in predominantly Latinx communities across the U.S.
Lopez credits her mother, Guadalupe Rodríguez, and family for teaching her to embrace her differences early in her career despite Hollywood stereotypes.
"It's just who I was. And I think my mother and my family raised me to be proud of who I was. And so, when I went into these worlds, like Hollywood, where we were not represented at all, I almost felt like a unicorn," Lopez said. "And I was just like, 'You know what? I'm Latina. I'm Jennifer Lopez from the Bronx and my parents are Puerto Rican, I'm Puerto Rican.'
"I was just proud of that. And it was important to me because it did form everything of who I was," she continued. "It made me feel special ... Even the whole, kind of, body thing was such a thing. It was like, everybody was like size zero models, tall, blonde, you know, beautiful, a certain type of beauty, but there was other types of beauty that I grew up with."
Lopez added she doesn't have a "magic formula for success," but she wants to share her journey and what has worked for her.
"What I've learned, is that if you can follow your heart, if you can be true to yourself, and you can work really hard," Lopez said. "The difference between being successful and not being successful is not giving up. And I just didn't give up."