The Latino and Hispanic communities are invaluable, storied and here to stay.
That's why we've rounded up a symphony of diverse voices to celebrate Hispanic Heritage Month, which is celebrated annually from Sept. 15 to Oct. 15.
No two Latino or Hispanic experiences are the same. The layers of identity, cultural expression and history are as varied as the shades of skin tones of those with Latino or Hispanic roots.
Find inspiration in these Hispanic Heritage Month quotes from creators, activists, pioneers and other famous figures. May these words from the past and present roast slowly in your soul like pernil, shake you up like música tropical and remind you of what's true every day (not just during Hispanic Heritage Month):
"You cannot uneducate the person who has learned to read. You cannot humiliate the person who feels pride. You cannot oppress the people who are not afraid anymore." — Cesar Chavez
"The Latina in me is an ember that blazes forever." — Sonia Sotomayer
"If we could light up the room with pain, we'd be such a glorious fire." — Ada Limon, "Bright Dead Things"
"While our culture, traditions and religion may differ, we pride ourselves on working hard, educating ourselves as much as possible, striving for better lives for our children, loving our often large and blended families, and sharing as much of our history and customs as we can with anyone who chooses to really see us. We are not so different after all. People simply need to see us for who we are and not who they expect us to be." — Natalie Morales
"It's not about what you wear, but about how you live your life." — Oscar de la Renta
"There is so much fear and hate. We must negate it with active, courageous love." — Alexandra Ocasio-Cortez
"We must use our lives to make the world a better place to live, not just to acquire things. That is what we are put on the earth for." — Dolores Huerta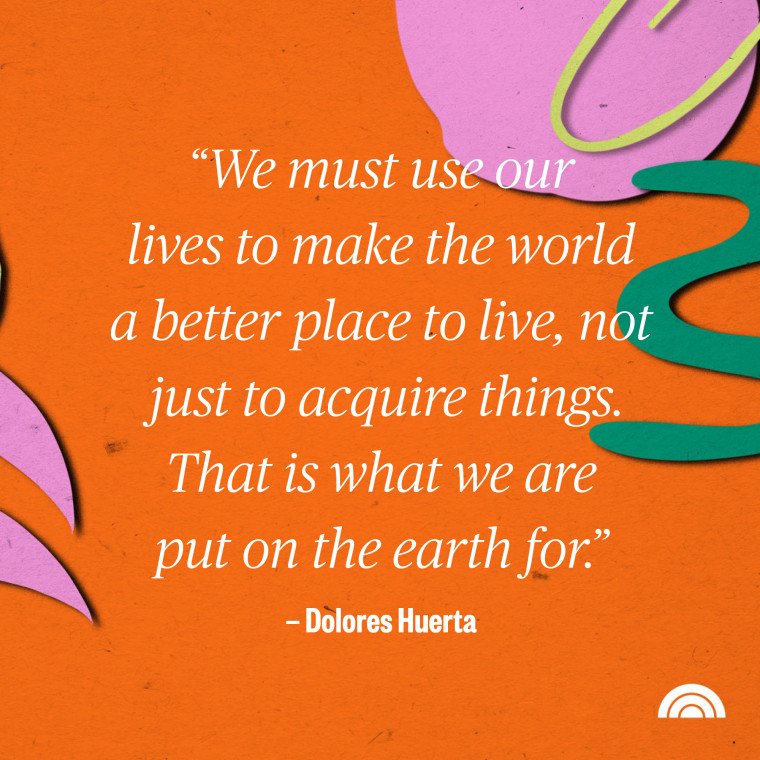 "If we want to live in love, we must recognize that we already exist in it." — Rich Villodas 
"At the end of the day, we can endure much more than we think we can." — Frida Kahlo
"You have to remember the value of your individuality — that you have something special and different to offer that nobody else can." — Jennifer Lopez
"You are perfectly cast in your life. I can't imagine anyone but you in the role. Go play." — Lin-Manuel Miranda
"I don't measure myself by others' expectations or let others define my worth." — Sonia Sotomayor
"It is through art that we will prevail and we will endure. It lives on after us and defines us as people." — Rita Moreno
"When Latino kids don't see themselves represented on stage or film or television or newspapers or history textbooks, what they're told is, 'You don't matter. But when they see themselves represented, then they are told ... 'You are important. You are authors. You are scientists. You are explorers. You are special. You are leaders. You are respected. You are the reason we are here.'" —John Leguizamo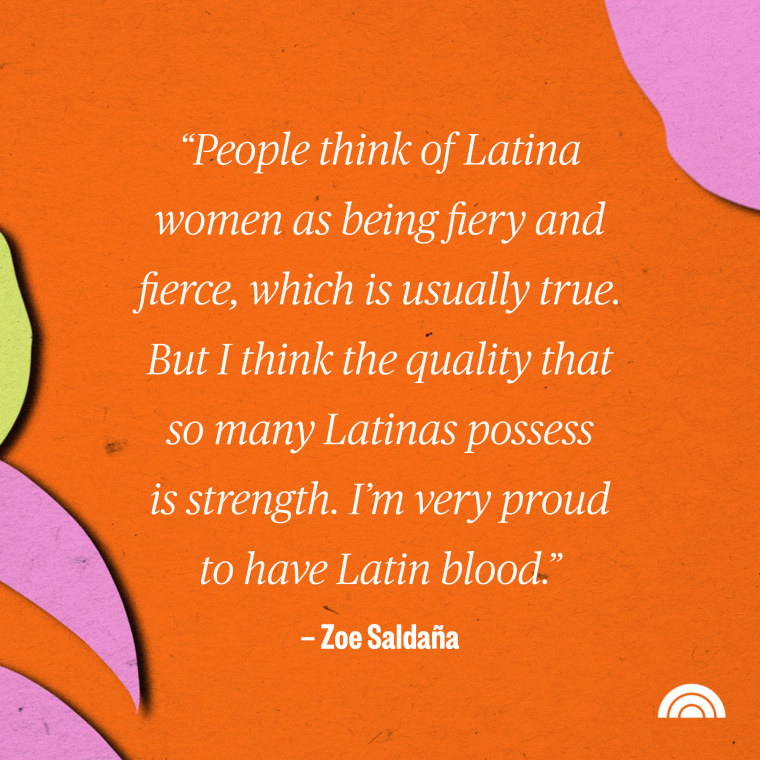 "People think of Latina women as being fiery and fierce, which is usually true. But I think the quality that so many Latinas possess is strength. I'm very proud to have Latin blood." — Zoe Saldaña
"If you have a chance to accomplish something that will make things better for people coming behind you, and you don't do that, you are wasting your time on this Earth." — Roberto Clemente
"I tell students that the opportunities I had were a result of having a good educational background. Education is what allows you to stand out."— Ellen Ochoa
"The point is not to pay back kindness, but to pass it on."— Julia Alvarez 
"Forgiving is not forgetting. Forgiving is remembering without pain." — Celia Cruz
"I've put up with too much, too long, and now I'm just too intelligent, too powerful, too beautiful, too sure of who I am finally to deserve anything less."— Sandra Cisneros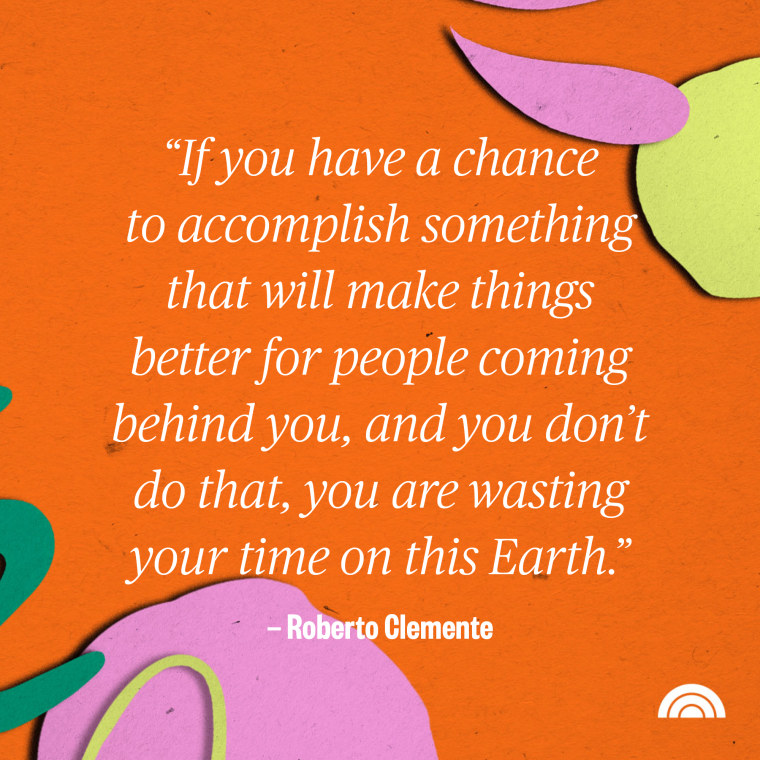 "As an immigrant, I appreciate far more than the average American, the liberties we have in this country. Silence is a big enemy of morality." — Gloria Esteban
"It is not true that people stop pursuing dreams because they grow old, they grow old because they stop pursuing dreams." —Gabriel García Márquez 
"I realized very early the power of food to evoke memory, to bring people together, to transport you to other places, and I wanted to be a part of that."— José Andrés 
"You are not lucky to be here. The world needs your perspective. They are lucky to have you."— Antonio Tijerino
"My weapon has always been language, and I've always used it, but it has changed. Instead of shaping the words like knives now, I think they're flowers or bridges." — Sandra Cisneros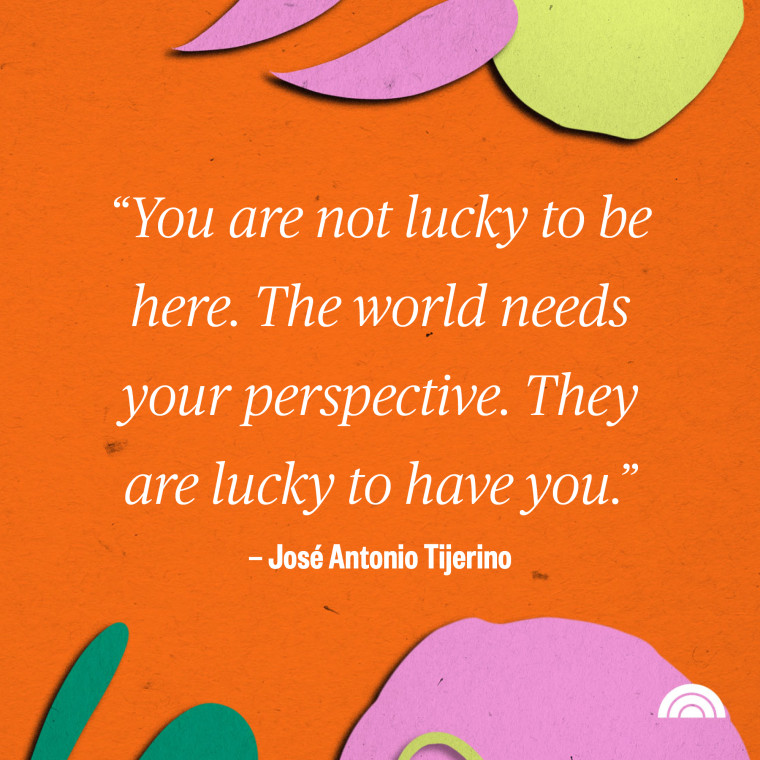 "No particular race is the enemy. Ignorance is the enemy." —George Lopez
"You cannot reap what you have not sown. How are we going to reap love in our community, if we only sow hate?" — Saint Óscar Arnulfo Romero y Galdámez
"My mother gave me one piece of advice that stuck with me. She said 'don't forget where you came from.'" — Eva Longoria
"They are afraid of us because we are not afraid of them." — Berta Cáceres
"I believe that fortitude is key. More than anything, be consistent. Go at it. Go at it. Go at it. When you succeed, don't forget the responsibility of making somebody else succeed with you."— Antonia Novello
Other ways to show your support