New parents Nikki Reed and Ian Somerhalder have apologized to fans after finding themselves in some hot water over women's reproductive rights after giving an interview together this week.
The actor spouses shared their pregnancy story with Dr. Elliot Berlin on an episode of his Informed Pregnancypodcast which aired Sept. 20. During the interview, Somerhalder, 38, claimed that he actually threw away Reed's birth control pills.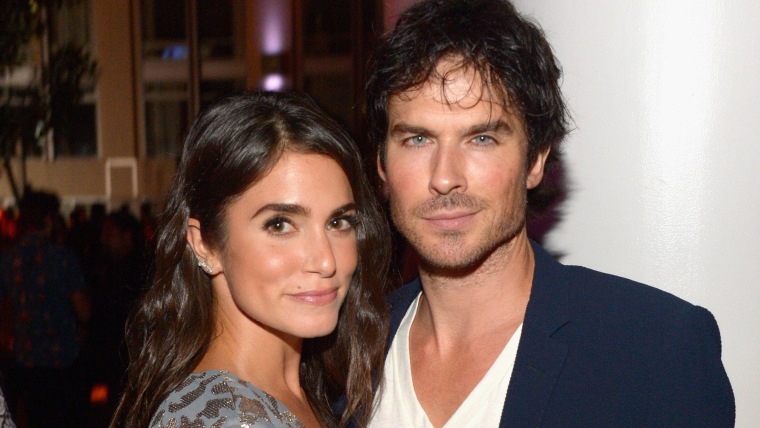 "We decided that we wanted to have children together and it was just time," Somerhalder said. "But unbeknownst to poor Nikki, she didn't realize that I was going to go in her purse and take out her birth control."
Somerhalder said he took a video of himself throwing out Reed's pills and that he even captured his wife "freaking out" about him messing around with her pills at the video's end. But Somerhalder's seemingly off-handed comments set off a social media tirade against the "Vampire Diaries" star across social media.
Outraged fans labeled Somerhalder's actions as "reproductive coercion" — a weighted term for unhealthy power dynamics in sexual relationships.
Reed, 29, initially snapped back at critics with equal force in a social media rant of her own, taking particular aim at the "irresponsible journalism" that she believed led to a twisting of her husband's words.
"WOMEN'S RIGHTS MATTER, so please don't use false narratives to highlight issues that are truly important!" the "Twilight" actress shared via Twitter Friday morning.
"We should be talking about these things, but using a funny interview between married ppl [sic] & twisting it to perpetuate gossip is irresponsible," Reed continued in a follow-up Tweet.
Though Reed was initially defensive of her husband's comments, on Saturday, she issued a statement via Twitter signed by herself and Somerhalder, apologizing to "anyone who has been affected by reproductive coercion."
The actress continued, "We never expected a lighthearted interview we did poking fun at EACH OTHER and how WE chose together to get pregnant ... and the anticipation of the start of our journey together as we went from two to three, to turn into something representing a very serious matter."
"We are two happily married people who chose TOGETHER to have a baby. The end," the post concludes.
Reed and Somerhalder welcomed their first child, a girl named Bodhi Soleil Reed Somerhalder, in July. Despite publicly discussing the start of their lives as parents, the couple has yet to share a photo of their newborn baby girl.
Somerhalder did, however, take to Instagram this past week with a sweet note to his wife, accompanied by a picture of her on the cover of Fit Pregnancy.
"Just a quick note to you my beautiful wife. You are briefly napping on the other side of the room after being an amazing mom all night so you'll read this when you wake... seeing these images reminds me of those amazing 9 months that you sacrificed your whole being to grow our little one," said Somerhalder.
"The kindness, the beauty and organic nature of these photos makes me so very proud."