Since 2000, model and TV host Heidi Klum has thrown an elaborate annual Halloween bash, and 2023 is no different.
Klum's star-studded spooky season event kicked off at Marquee, a nightclub in New York City, on Oct. 31.
As always, plenty of A-listers showed up in their scariest looks. This year also featured a DJ set by Questlove.
Klum's party has happened every year since the turn of the millennium, with the exception of 2020 and 2021 due to the COVID-19 pandemic.
Ahead of the party, Klum explained to TODAY.com that her look this year is "very, very big and very colorful." She added that she tries to find "unusual costumes" that are different from anything she's ever done — a tall order for someone who has been making headlines for her unusual spooky season looks for more than two decades.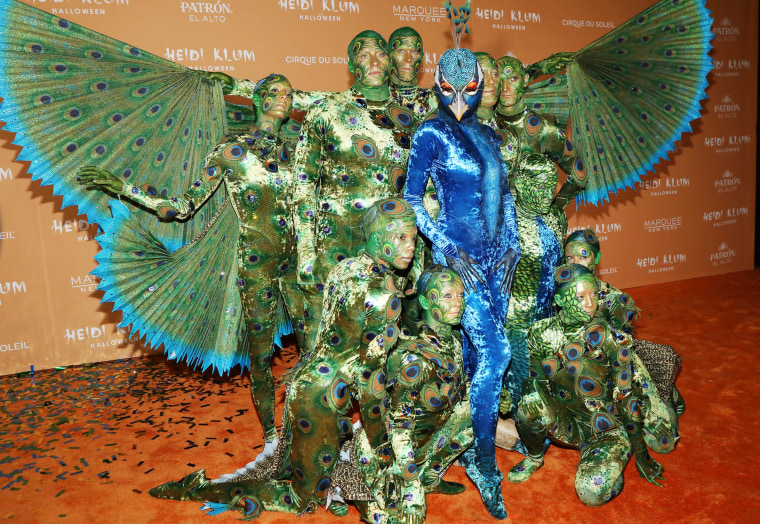 Tuesday night, Klum revealed that "very big" and "very colorful" costume to be ... a peacock.
Catch up below for more about this year's looks and news from the red carpet of Klum's annual boo-tastic bash! 👻
Camila Cabello, Becky G and more celebs show off their costumes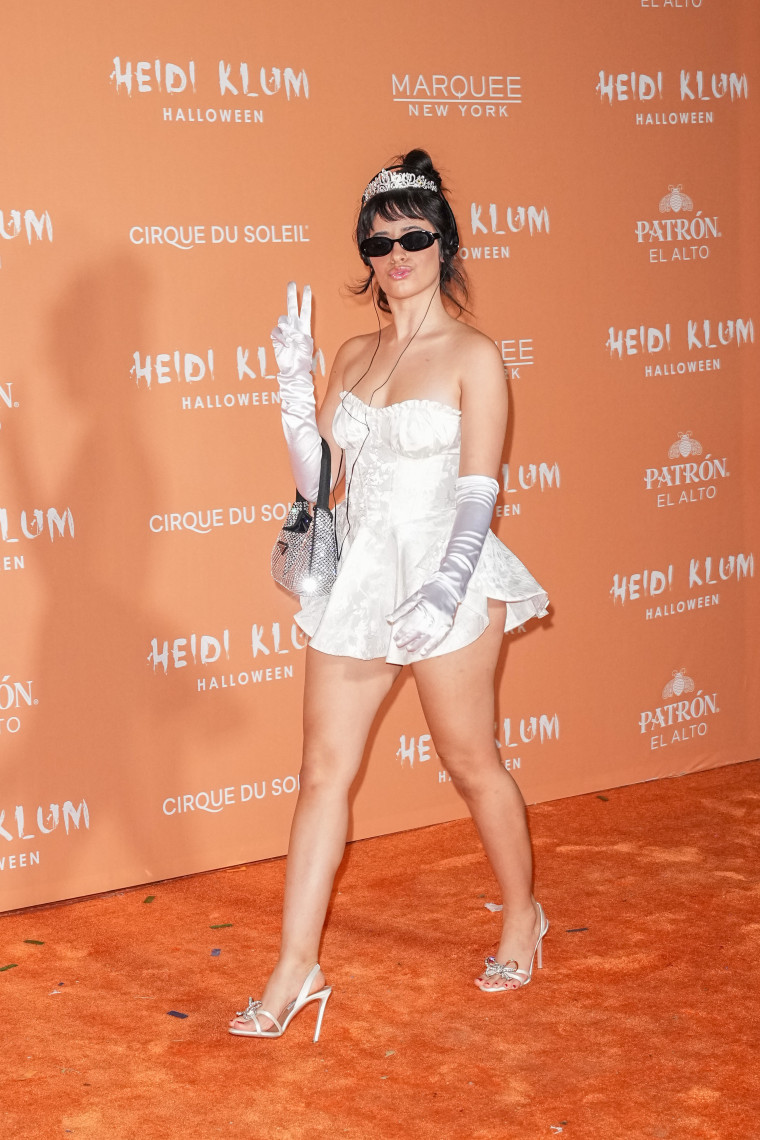 Camila Cabello gave a peace sign as she walked the orange carpet. The singer appeared to dress up as Anne Hathaway's character Mia Thermopolis from "The Princess Diaries."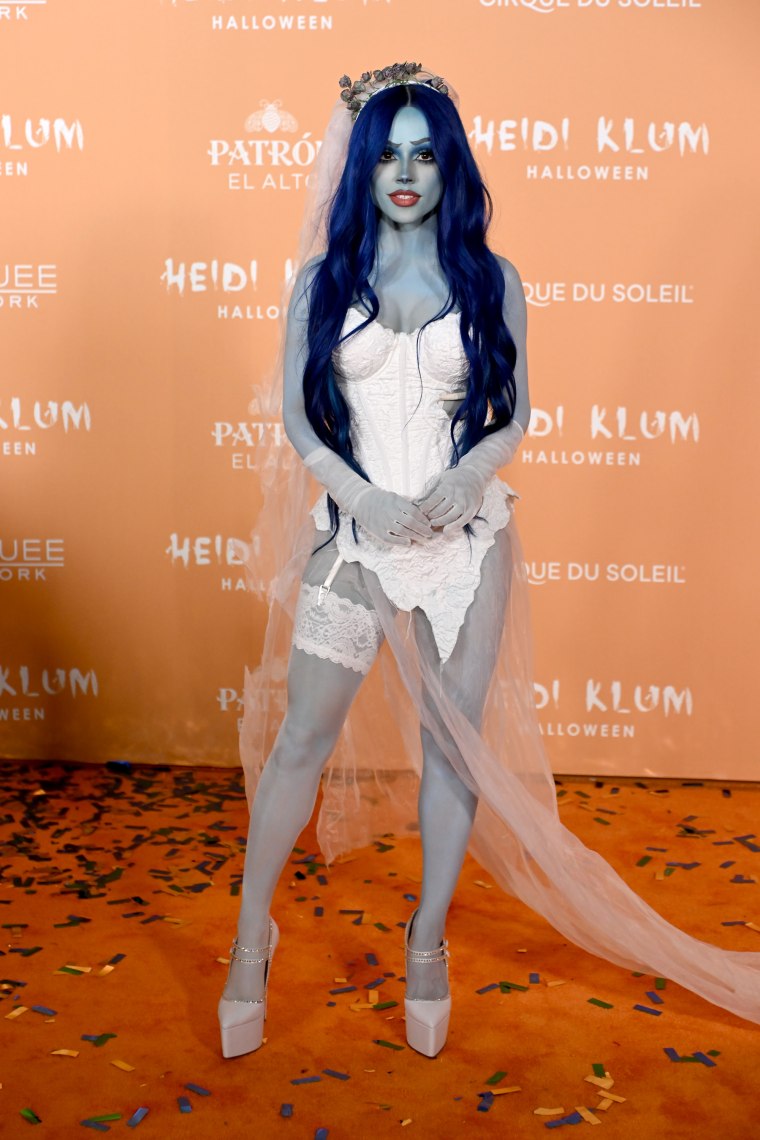 Becky G also stepped out for the night, dressing as the titular character from the 2005 film "Corpse Bride."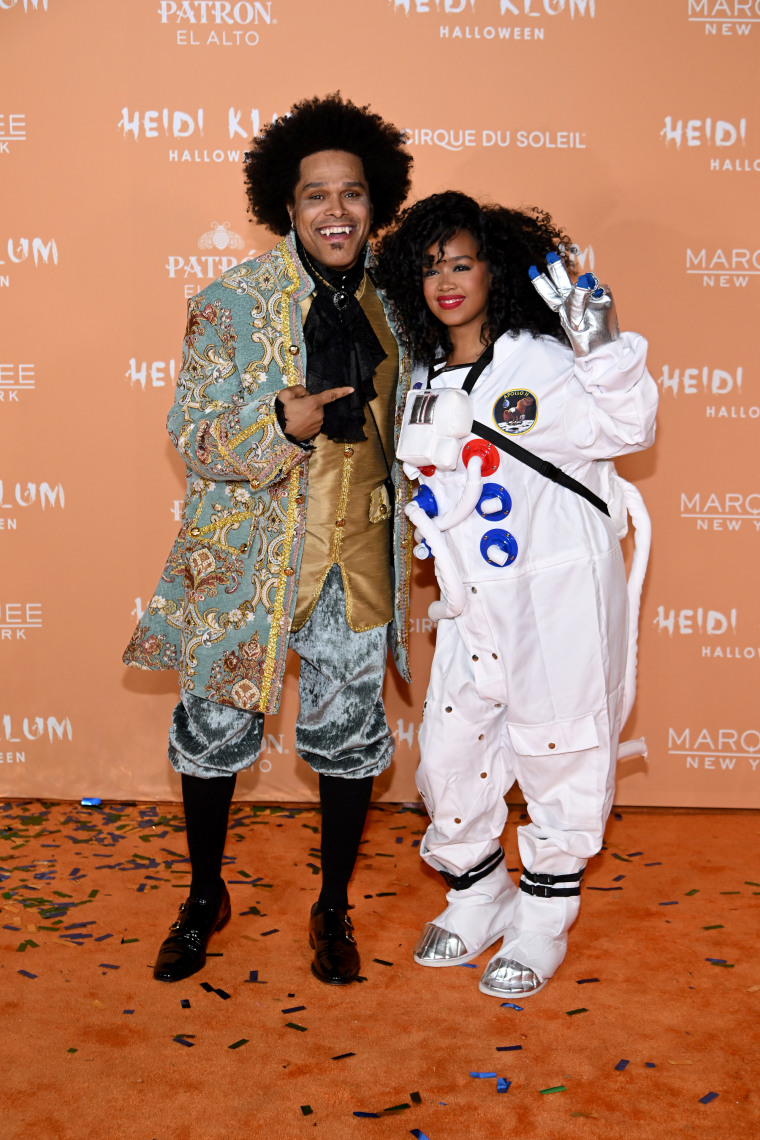 Then there was Maxwell dressed up as a vampire and H.E.R. as an astronaut. The duo posed for photos together before making their way inside the party.
Heidi Klum unveils her full Halloween costume
Drum roll please! The time has come — after an entire day of teasing her spooky look, Heidi Klum has finally fully revealed her Halloween costume: a peacock!
She's not just any peacock. Klum seems to have hired dancers to pose behind her for her avian look to give the illusion of a peacock's train.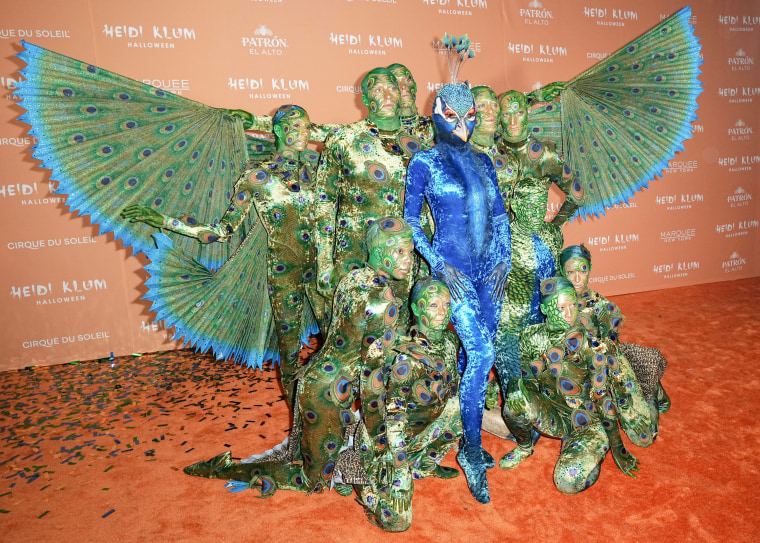 She wore a blue velvet bodysuit and a mask that completely covered her face. Her husband, Tom Kaulitz, went as a giant, human-sized egg.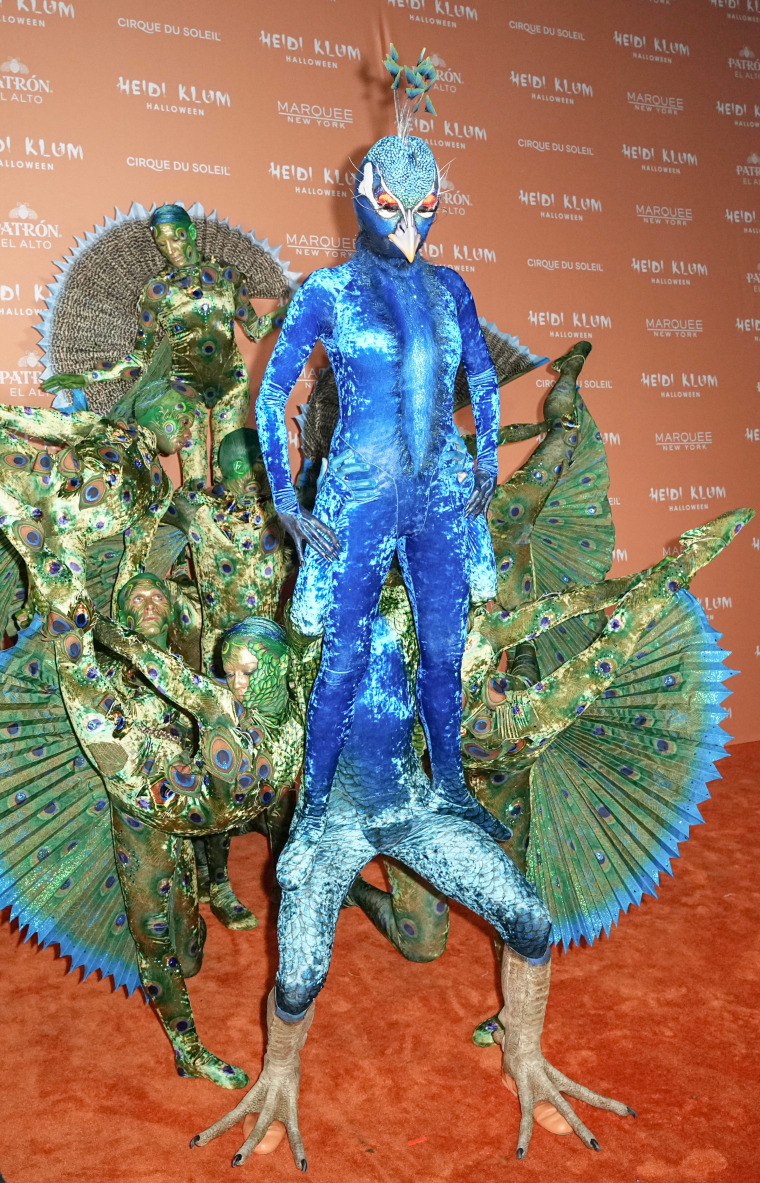 Earlier in the day, she had posted snippets and parts of her costume, including her face makeup, to tease her full look for her fans.
Klum has been throwing an annual Halloween bash and creating increasingly elaborate costumes for the holiday every year since 2000, with the exception of two during the COVID-19 pandemic.
She previously revealed to TODAY.com that she tries to make sure her costumes are very different year to year and that this time around, she was going for "very colorful."
To see every costume Klum's ever worn to her Halloween party, click here.
Some other fun Halloween looks we loved
There are so many it's hard to choose which are our favorite looks from this evening's Halloween bash.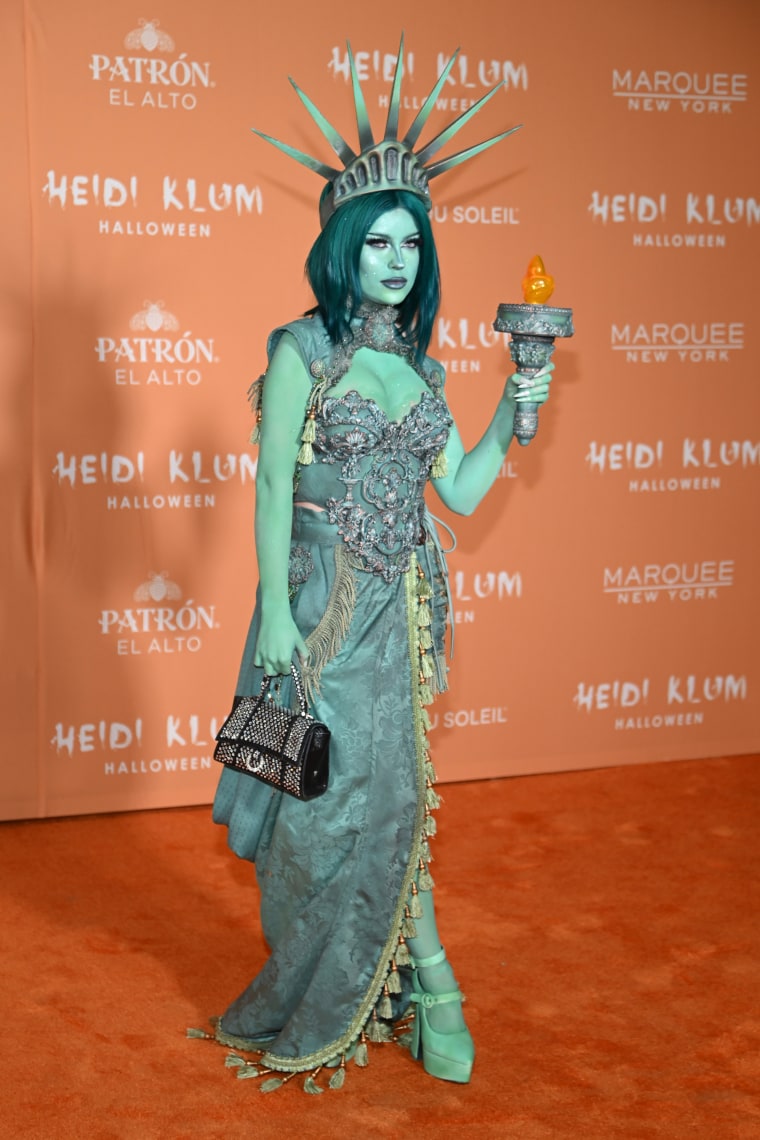 TikTok star Emma Norton, who goes by @emmanortss online, donned this incredible Statue of Liberty look.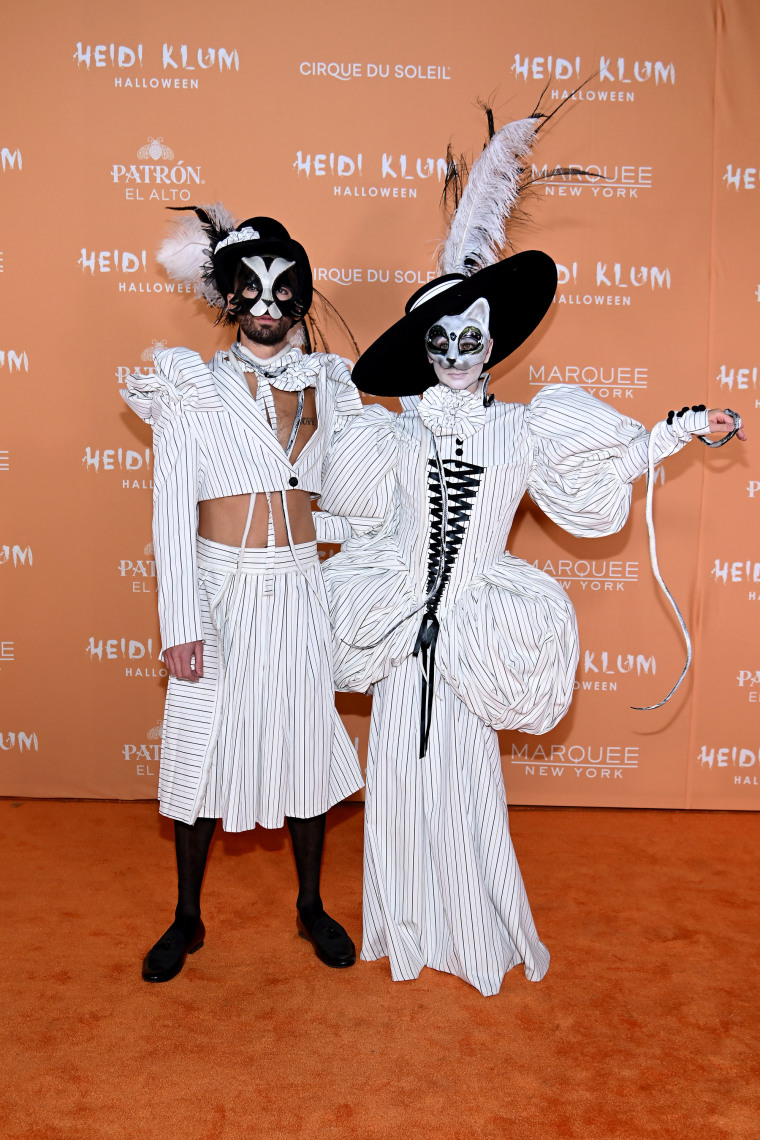 Designer Christian Siriano and his guest wore elaborate pinstriped looks for the party and animal masks.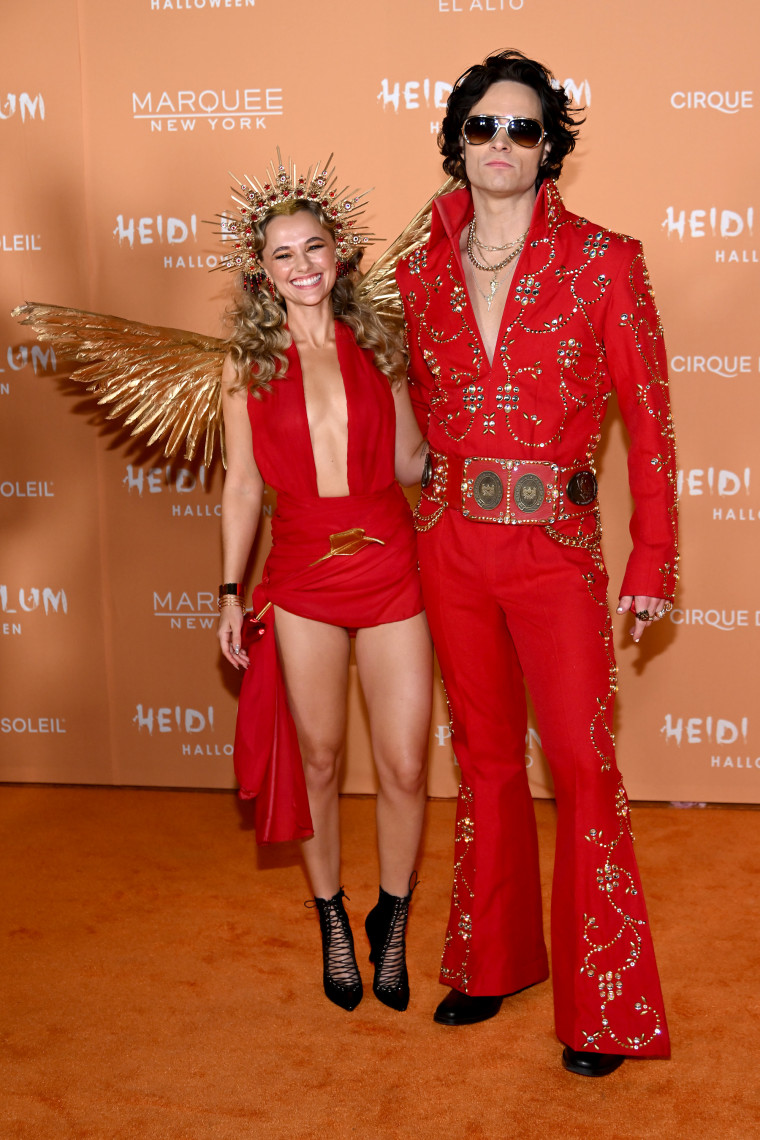 We're not entirely sure what actor Madison Iseman is supposed to be but the outfit is definitely stunning. She attended the party with musician Spencer Sutherland, who dressed as Elvis Presley.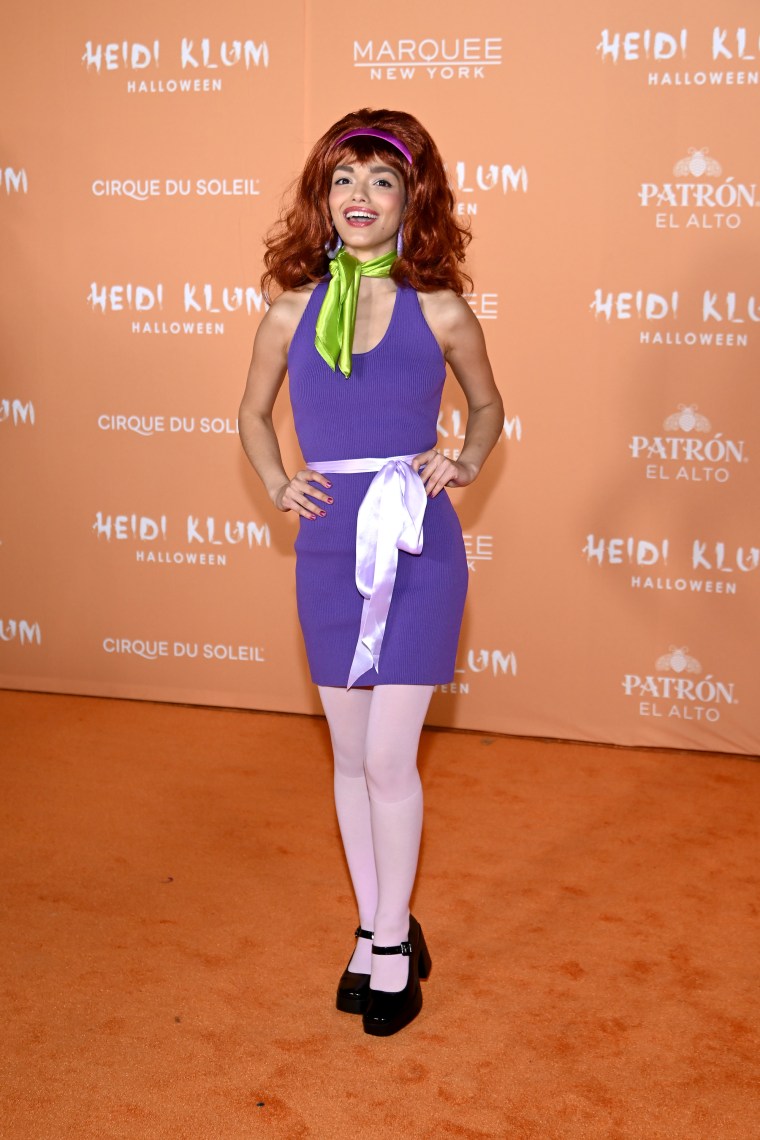 "West Side Story" actor Rachel Zegler went as Daphne from "Scooby Doo."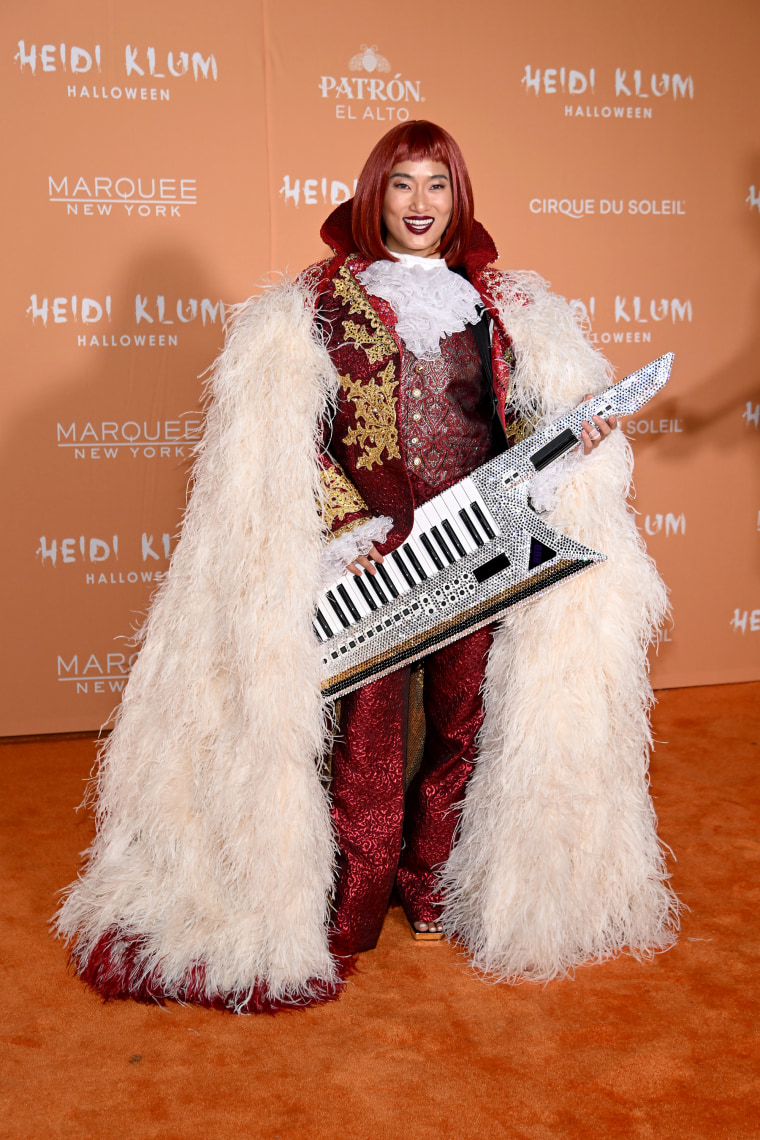 Musician Chloe Flower rocked this regal look.
We also just love seeing Questlove anytime! He's slated to DJ a set once the festivities are underway.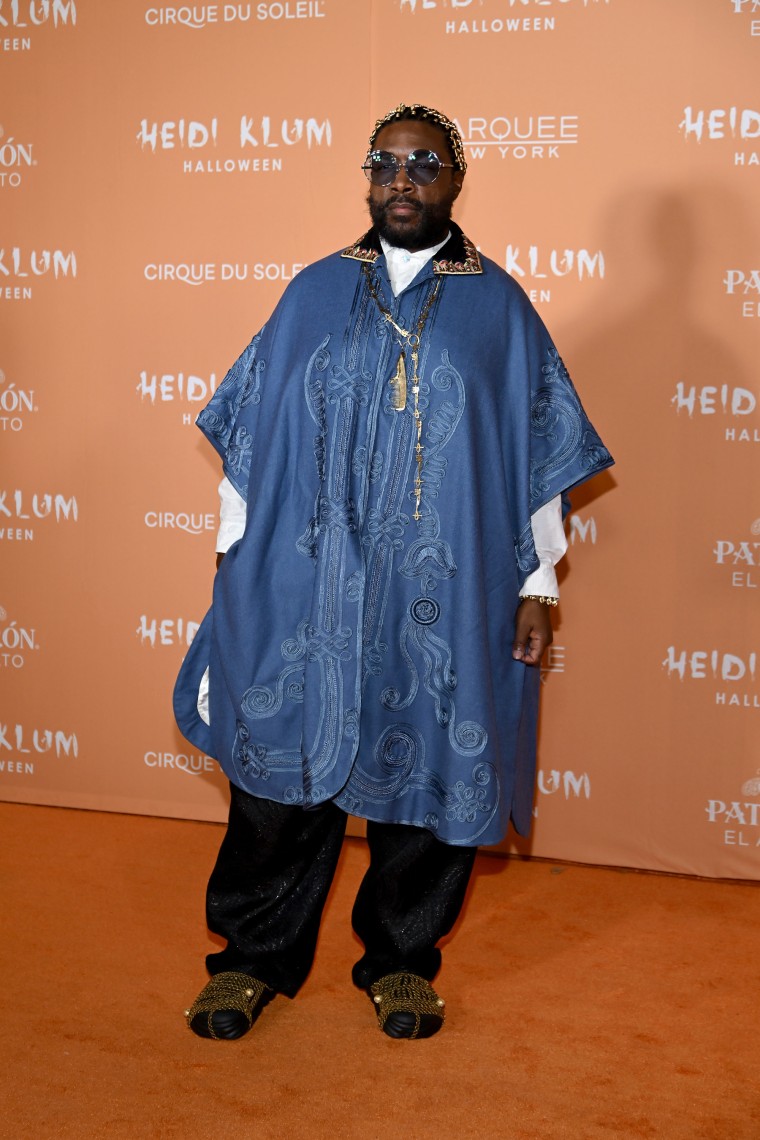 Alix Earle dresses as an ice queen for Halloween
Influencer Alix Earle donned an icy look for her walk down the orange carpet this evening. She told TODAY.com staff that it took her "three to four hours" to get ready.
"It was a process and there was many people involved but we pulled it together," she laughed, adding she's looking forward to see what Heidi Klum's outfit will be.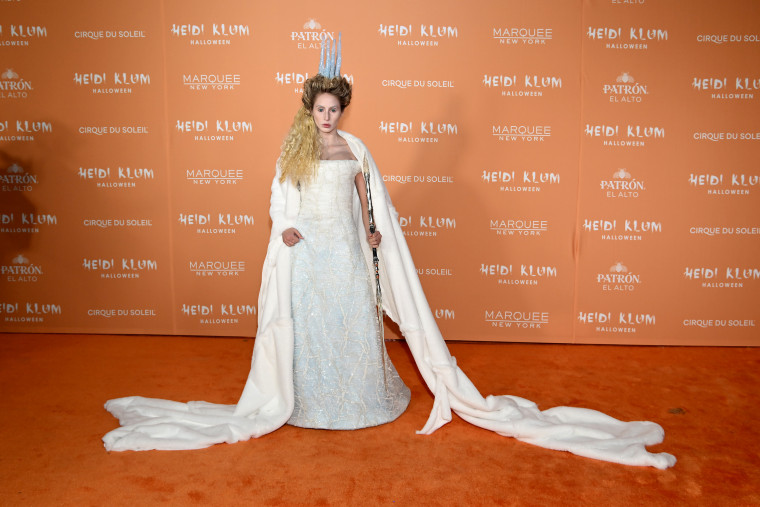 "I mean, she's the queen of Halloween and I'm just like, sitting here patiently waiting," she told TODAY.com.
More stars showcase their elaborate Halloween costumes
We're back with more of the celebrities' looks from this evening's event!
TikTok star Chris Olsen walked the orange carpet with his boyfriend, Patrick Johnson.
Olsen dressed as Ken and Johnson dressed as Allan from the recent "Barbie" film.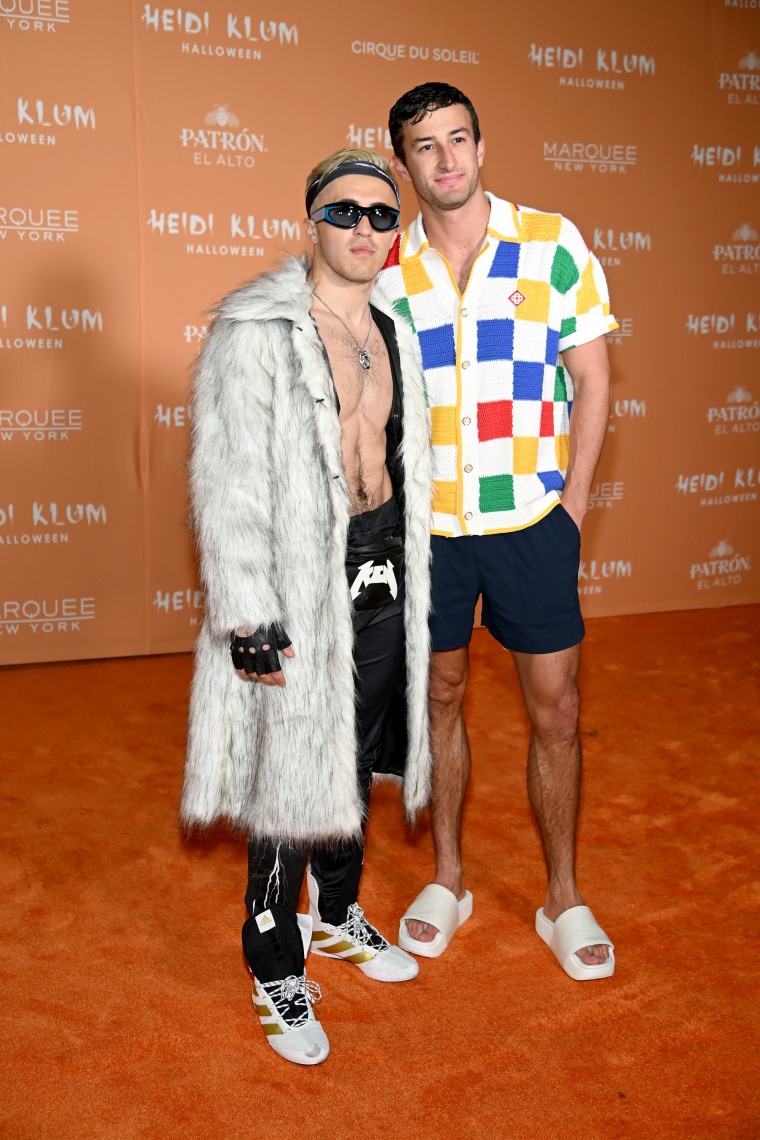 Olsen stopped to talk to TODAY.com and said that he's never attended Klum's Halloween bash before when asked what he's excited about tonight.
"I've never been to this thing so just seeing what it's like, seeing what Heidi's outfit is, all of the above," he said, adding he didn't know what Klum's outfit would be but "it's going to be incredible, whatever it is."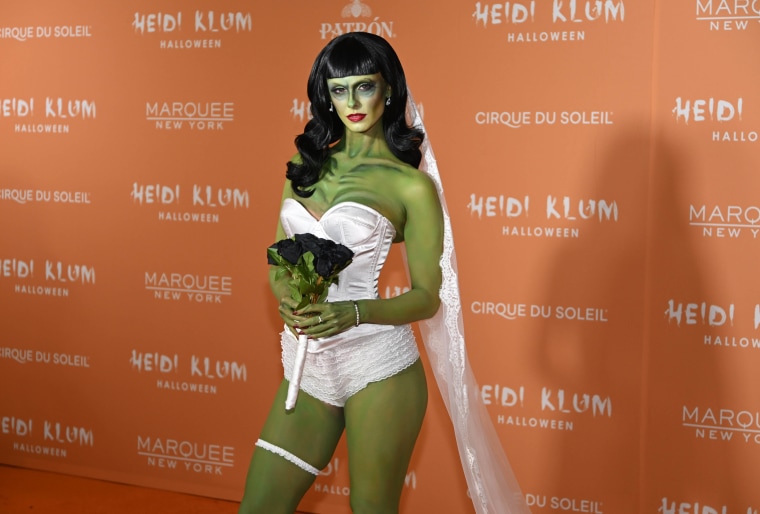 Both Carmella Rose and Amanda Salazar seemingly went as the bride of Frankenstein.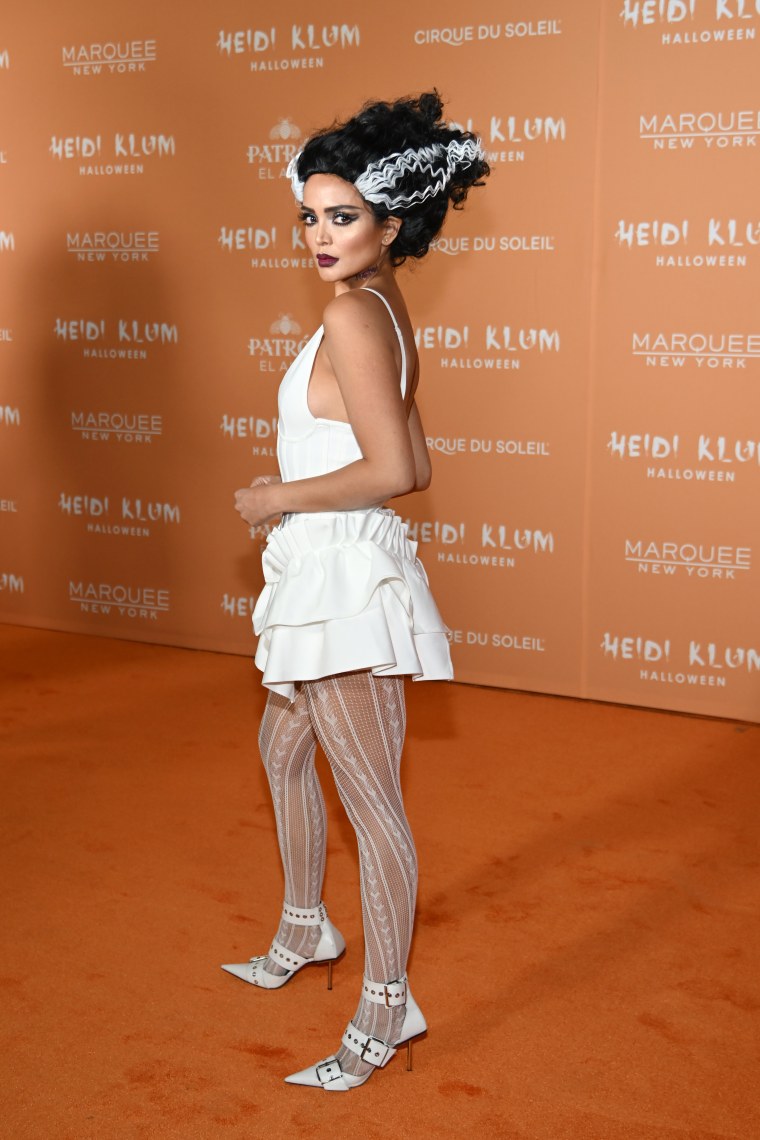 Taylor Lautner and his wife, Taylor Dome, also attended dressed as a "Saturday Night Live" sketch starring Pete Davidson and Timothée Chalamet.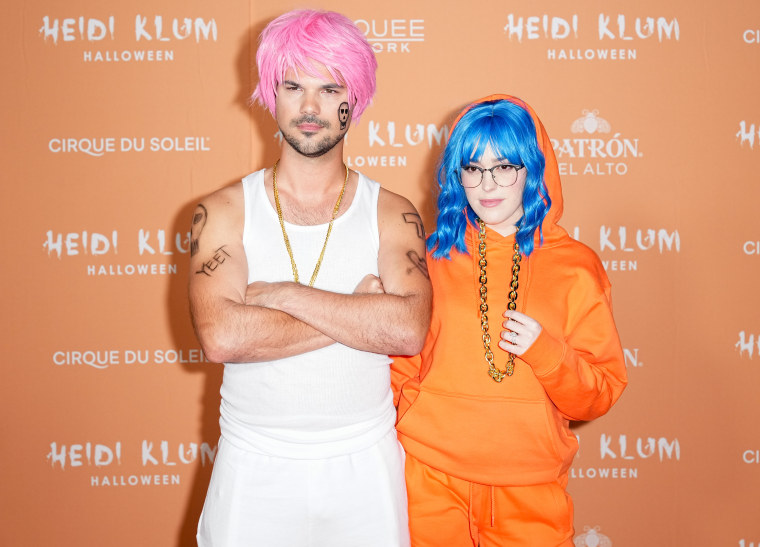 First looks at some of the celebrities attending Heidi Klum's Halloween bash
The red — well, orange — carpet is underway and we're getting our first looks at some of the celebrities in their required costumes.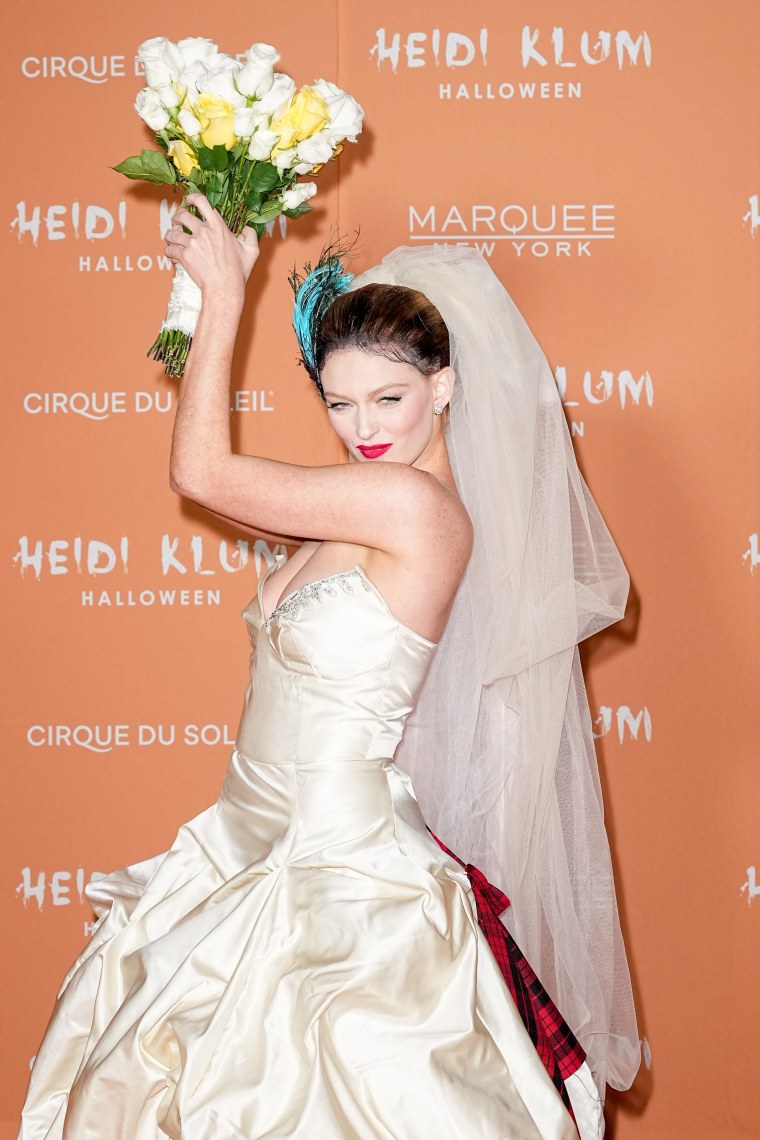 We love a "Sex and the City" throwback and model/actor Larsen Thompson didn't disappoint with her bridal look. Fans will recognize the feathers in her veil as an homage to Carrie's wedding day style when she didn't marry Mr. Big in the 2008 film.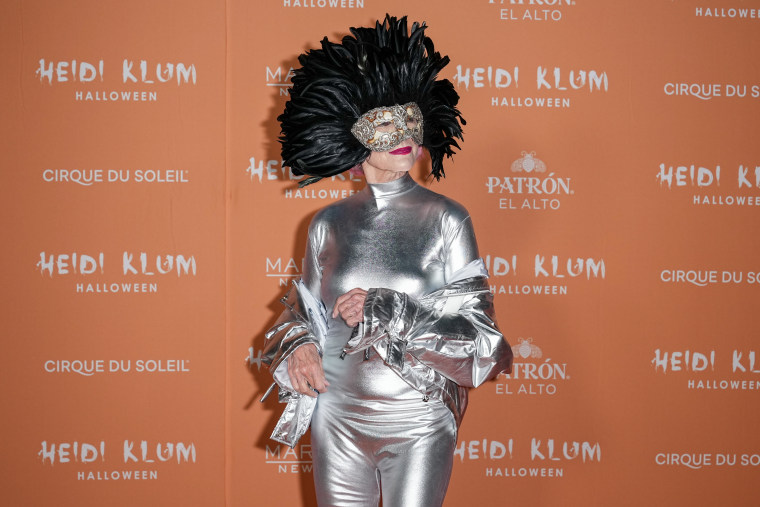 Maye Musk went with this silver number and a black feathered mask, while Brazilian model, Lucas Castellani seems to have gotten inspired by the movie "Avatar."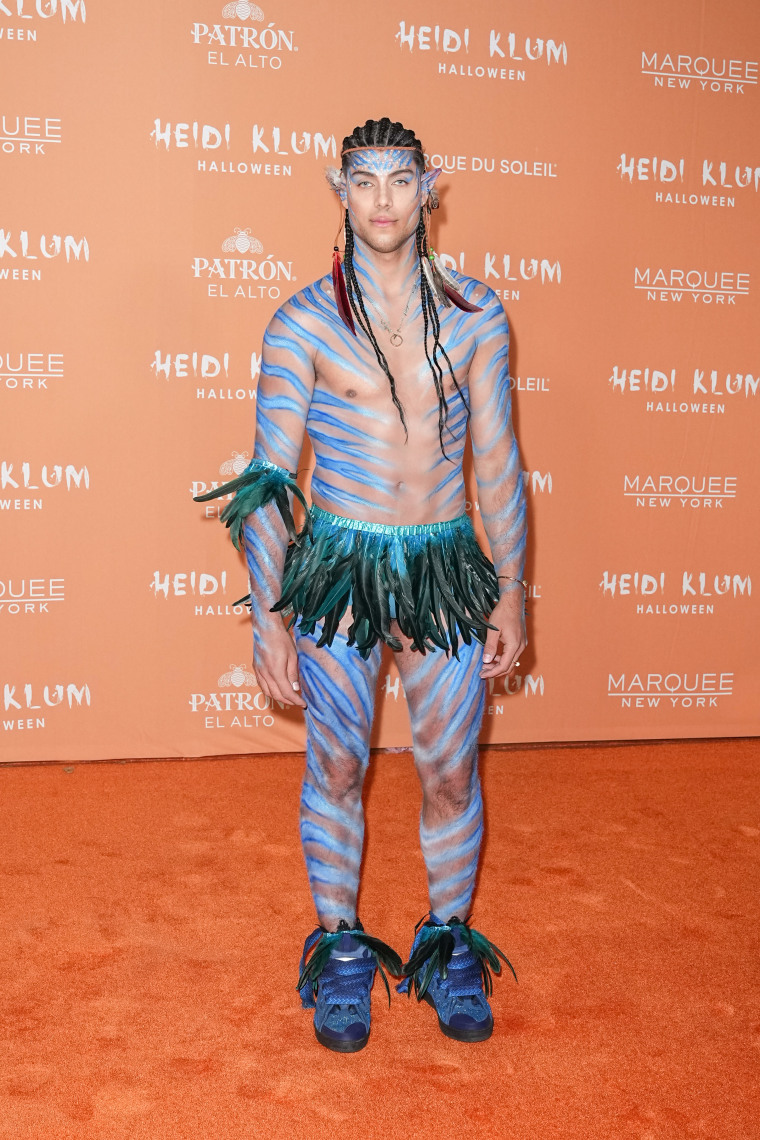 Red carpet opens at 'Heidi-ween'
Outside the Marquee Night Club in New York City, press is lined up at the red carpet for "America's Got Talent" judge Heidi Klum's annual Halloween party.
In the marquee above the red carpet, the sign reads "HAPPY HEIDI-WEEN."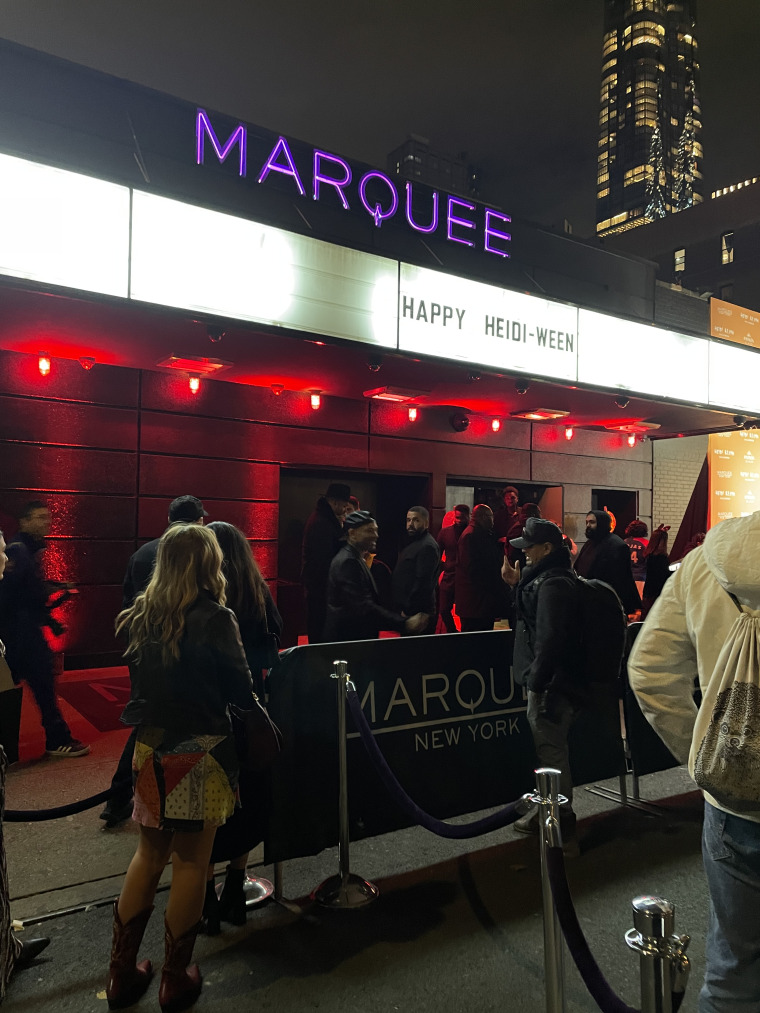 The TODAY.com team at the red carpet says the actual carpet is orange, fitting with the Halloween theme.
Heidi Klum reveals her 2023 Halloween costume
Heidi Klum has revealed her 2023 Halloween costume on social media. The model/television host posted a video showcasing her look.
She's wearing a red cape and facial prosthetics, giving her a spooky alien vibe.
Truthfully, we're not entirely sure what she's supposed to be but we've reached out to her team and also have TODAY.com staff heading to the red carpet tonight.
Her caption didn't give anything away either — Klum captioned her video post just with a ghost, a red heart and a black heart alongside a partying emoji.
Heidi Klum starts previewing her elaborate 2023 Halloween costume
It's that time of the year again and supermodel/host Heidi Klum is getting ready for Halloween.
She started her day with a spooky breakfast, which she shared on social media.
"Happy Halloween everyone!" she said into the camera with a worm filter on her face — seemingly a reference to her costume last year as a giant worm.
She followed up her post showing her partially-applied prosthetic look, captioned simply with a black heart and ghost emoji.
Any guesses as to what she will be?
A look back at Heidi Klum's most wild Halloween costumes
Heidi Klum has been donning increasingly elaborate Halloween costumes every year since 2000.
She told TODAY.com that her favorite look was in 2013 when she dressed as an elderly woman.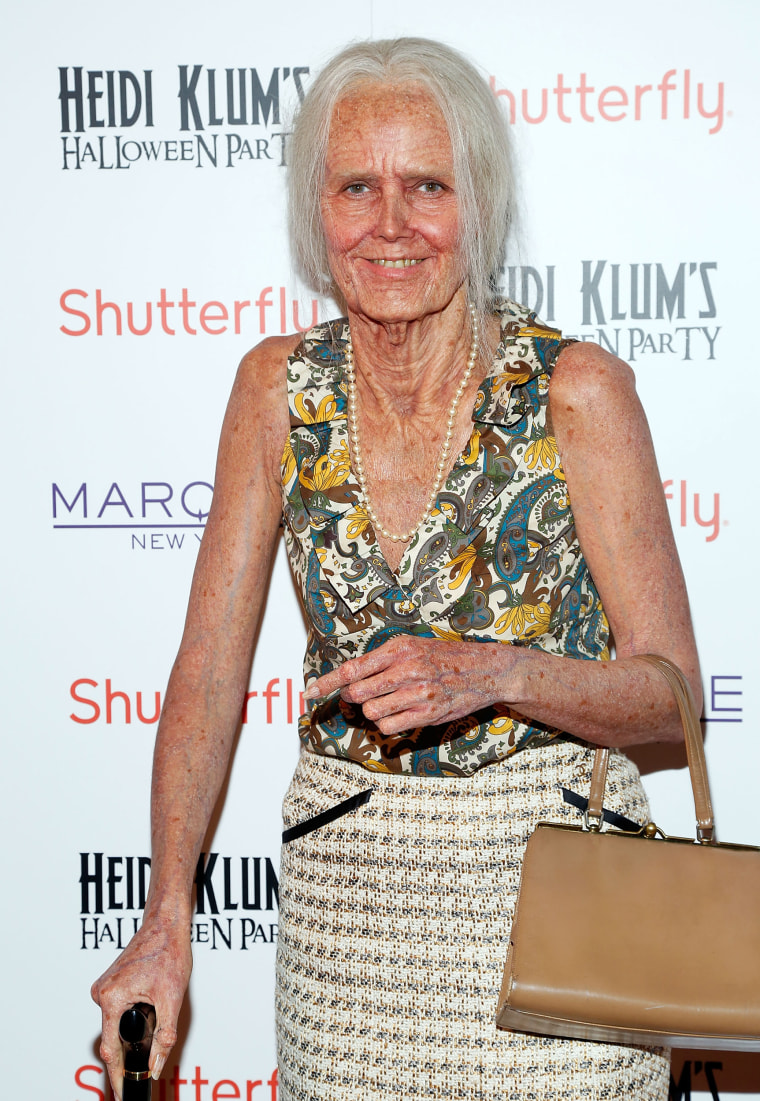 We also looked at which of Klum's Halloween looks are the most-searched. Fans often look up her 2018 costume with husband Tom Kaulitz where they dressed at Princess Fiona and Shrek, respectively.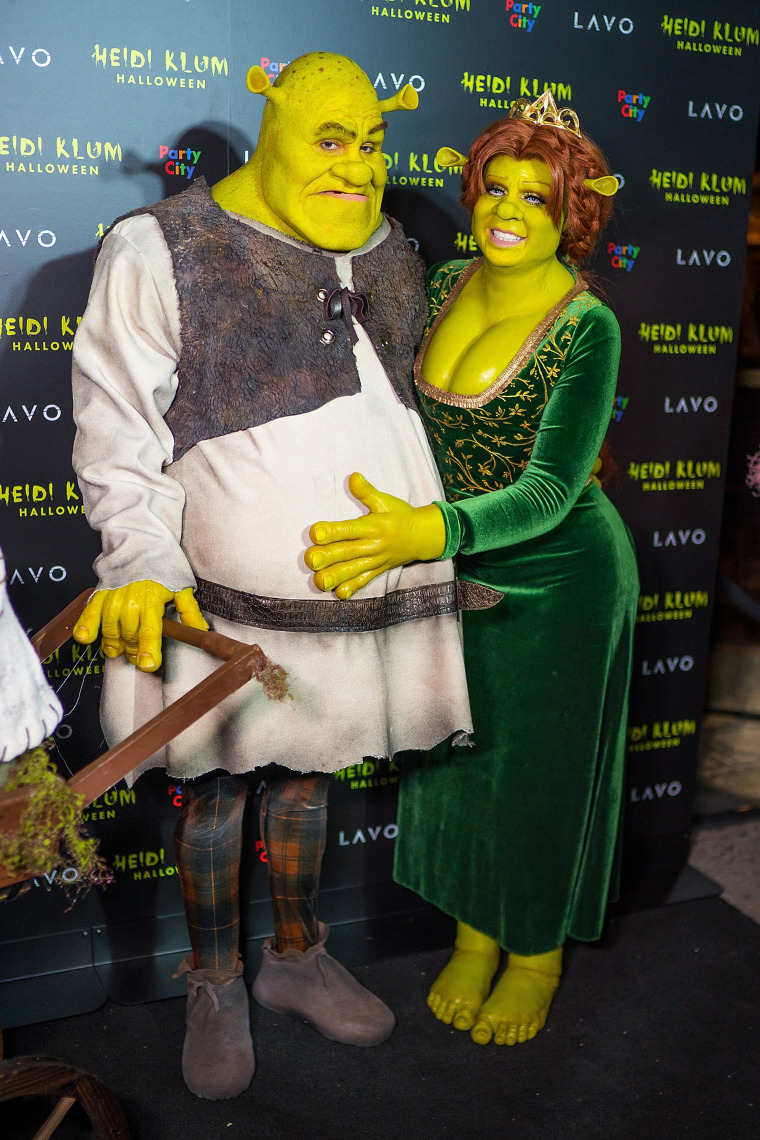 People also often search for her Jessica Rabbit outfit from 2015.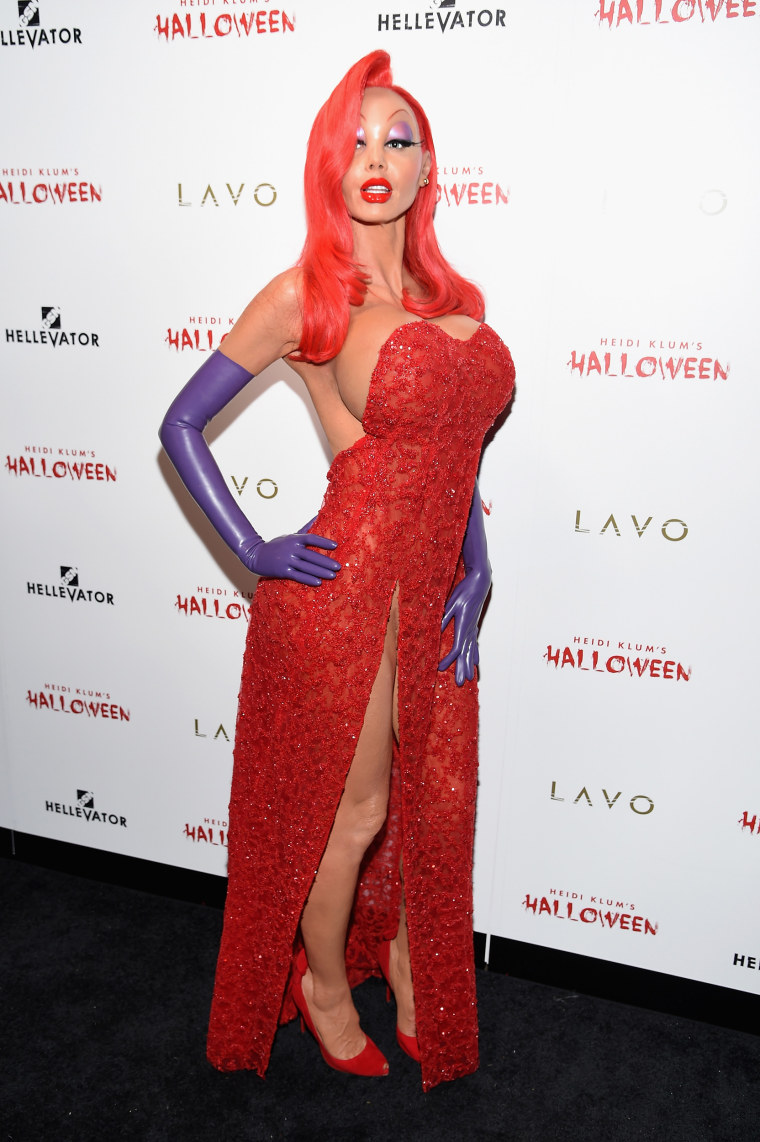 To see every costume Klum's ever worn to her iconic spooky season bash, click here.
Everything we know so far about Heidi Klum's 2023 Halloween costume
Every year, Heidi Klum tries to outdo herself with her latest and greatest Halloween costume. She has not yet walked the red carpet at her annual New York City bash, but she did chat with TODAY.com ahead of the party to drop a few hints about what her look this year will be.
"It's going to be very, very big and very colorful," Klum told TODAY.com, and added that she tries to find "unusual costumes" to change things up every spooky season.
Klum also revealed that she always thinks of her own costume ideas each year and has a team of professionals — who specialize in makeup and costume design — on hand to help. But this year, she said, she's switching things up.
"I have a different team this time helping me because it's a very different kind of costume, so needed a different kind of team," she revealed.
For more of our interview with Klum — including how she used to dress up as a child in Germany — click here.