These three legends are back together!
Timbaland just released a new song featuring Nelly Furtado and Justin Timberlake, marking the first time the trio has collaborated since 2007's "Give It To Me."
The new song, "Keep Going Up," is serving up plenty of nostalgia.
"How you been, young lady? Does the feeling still drive you crazy?" Timbaland raps at the beginning, a callback to his and Furtado's 2006 hit, "Promiscuous."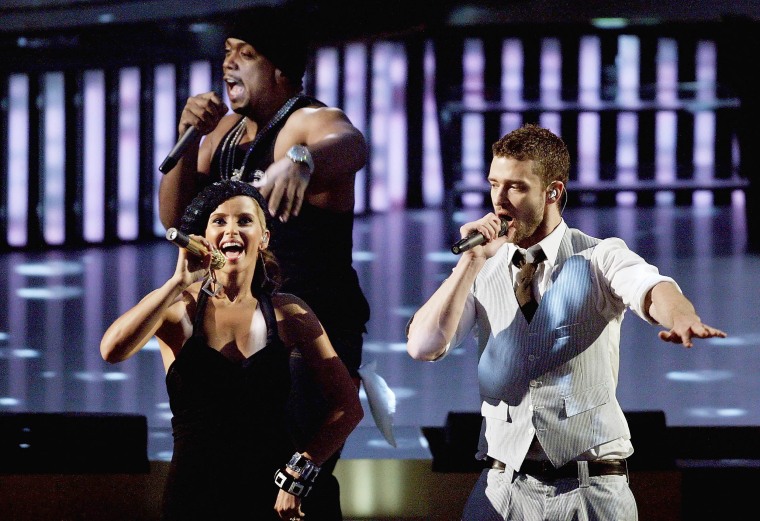 "I've been working on my gains lately/ I've been loving myself on the daily," Furtado responds. "Had to cut some people off, they were draining/ I'm no longer settling, I'm upgrading."
Timberlake's lyrics are just as uplifting.
"I been on new energy, it's contagious," he sings later on the track. "Still got the belt, don't buckle under pressure/ Champ, I'm still reigning." 
Fans have been praising the song since it dropped Sept. 1, with one commenter on YouTube calling the track "what my inner teen needed."
"Finally! I've been waiting so long for these three to team up again," another fan wrote. "I'm loving it!"
"This is so 2000 yet so fresh! I love these three!!" another person commented.
For Timbaland, it sounds like creating something fresh, but with early-aughts energy, was part of the plan.
"I don't know what it was, but this song is special," the producer told "Entertainment Tonight." "I hope it stays up to everything that the people want. If people want the 2006 back, I think we did it justice."
He added that "everything flowed" when he, Timberlake and Furtado reunited.
"The energy was transferable," he told "ET." "Justin, he didn't know his schedule. This is last minute. This is all like happening in real time, like he's like on a plane listening to it. He's like 'Whoa, this is it.'"
Furtado shared a few behind-the-scenes TikTok videos of her and Timbaland working on the song.
"We wanted to, like, let you guys in on the action," Furtado says in one video. "People don't understand how you and I work together."
"That, what you're doing, that tone, Nelly," Timbaland says. "Sophisticated, Nelly. Exactly."
Speaking to "ET," Timbaland also teased an upcoming album from the trio.
"This ('Keep Going Up') sets you up for everything JT and Nelly about to do," he said. "I went to Justin doing a rehearsal, I said, 'A fan said we should do album.' He's like, 'You know what, we should.' And that's in the works." 
He also mentioned that an album could happen "ASAP."