As we celebrate hip-hop's 50th anniversary this August, some people might wonder, what exactly is hip-hop?
Merriam-Webster defines hip-hop as a "a cultural movement associated especially with rap music." But if you ask Chuck "Jigsaw" Creekmur, CEO of AllHipHop.com, he'll say hip-hop is "not just about rap music."
"It's giving a voice to the voiceless," he tells TODAY.com.
The start of a cultural revolution
On August 11, 1973, the first elements of hip-hop emerged when Clive Campbell, also known as DJ Kool Herc, played music at his sister's back-to-school party in the Bronx, showcasing his innovative turntable skills.
The Jamaican American would go back and forth between two copies of the same record, creating a fresh new sound with the short drum break, according to History.com. He called his turntable trick the Merry-Go-Round. Years later, it became known as the "break beat," one of the first elements of hip-hop, which also includes emceeing, deejaying, graffiti writing and beatboxing.
DJ Kool Herc's innovate style of record playing was refreshing amongst partygoers who craved something new. In fact, it gained so much attention that poets started lending their voices to the break of different songs, launching rap music as we know it today.
"Hip-hop is so special because it comes from a very personal place," Lenny Santiago, the Senior Vice President of Roc Nation, tells TODAY.com.
"For men and women who participate in hip-hop, they're telling these stories that so many people can relate to. They're telling stories of struggle, stories of heartache, coming up, accomplishments, success and even hitting rock bottom and then getting back up," he adds.
The impact of hip-hop's first song
This insightful way of telling stories enticed a young LL Cool J who broke out into the music scene in 1984 with his hit single "I Need A Beat."
Hip hop is not just about rap music. It gives a voice to the voiceless.
Chuck "Jigsaw" Creekmur
While speaking  with TODAY Show anchors Hoda Kotb and Jenna Bush Hager on August 4, the "Mama Said Knock You Out" rapper said he's always been a fan of hip-hop and believes it should be recognized.
In fact, he told Hoda and Jenna that in his younger years, he loved hearing The Sugarhill Gang's song "Rappers Delight," which was released in 1979 and has been noted as hip-hop's first major song. The Kennedy Center even referred to it as "rap's first hit" song.
"Hip-hop culture to me is not disposable," LL Cool J said on TODAY. "And it deserves to be elevated and celebrated in the same way that people celebrate the Mick Jaggers of the world, the Bob Dylans, the Paul McCartneys. I believe these artists — these amazing artists —who have really changed American culture, pop culture in general, deserve to be celebrated."
Ja Rule, arguably one of the biggest hip-hop artists to come out of the early aughts, tells TODAY.com that he too believes the music genre and culture should be celebrated and honored.
"Growing up, I was a fan of artists like Big Daddy Kane, Rakim, Run DMC and LL Cool J," says the rapper and entrepreneur, who recently launched his own premium wine, Rose Cabernet Sauvignon.
"In my era, when we were kids, we would go outside to play basketball. We would beat on the lunch tables and rap to each other. Even if you were terrible, we all just did it," he explains. "Certain guys would stand out and you would say, 'Oh, he's kind of good.' And before you know it, you're making rap records and you're trying to become an artist."
As for T.I., who helped to create the hip-hop subgenre trap music, he says he was also inspired by LL Cool J and what he brought to the music scene.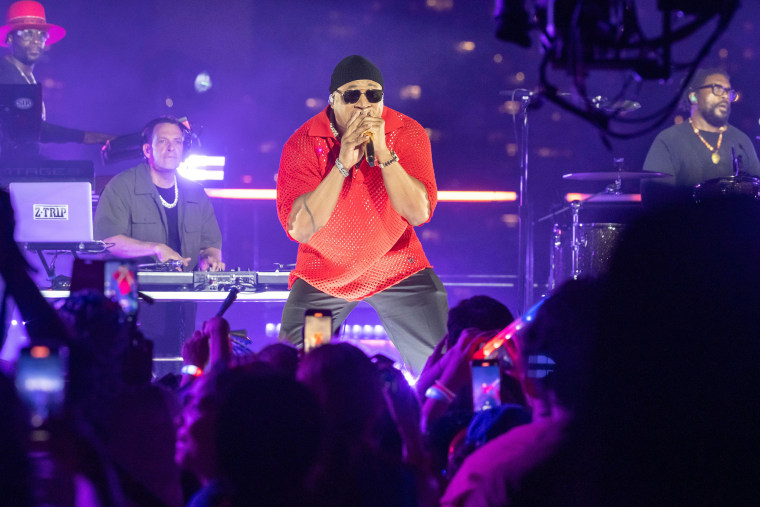 "My memory takes me back to around 1985 when I was 5 years old. The first rap song I could remember memorizing was LL Cool J's 'I'm Bad,'" T.I says. "I used to perform it in the mirror with a brush, trying to mimic his mannerisms."
If history has taught us anything, it's to bet with us and not against us.
T.I.
During the aughts, it was hard for anyone to listen to the radio without hearing Ja Rule and T.I. in heavy rotation. With hit songs like Ja Rule's "Always On Time" and T.I.'s "Whatever You Like," the two quickly became hip-hop celebrities and helped to cultivate the genre.
Though it took some time, hip-hop eventually became a staple in pop culture. While the genre of music and its movement helped to ignite a cultural revolution, T.I. recalls a time when some doubted its lasting power.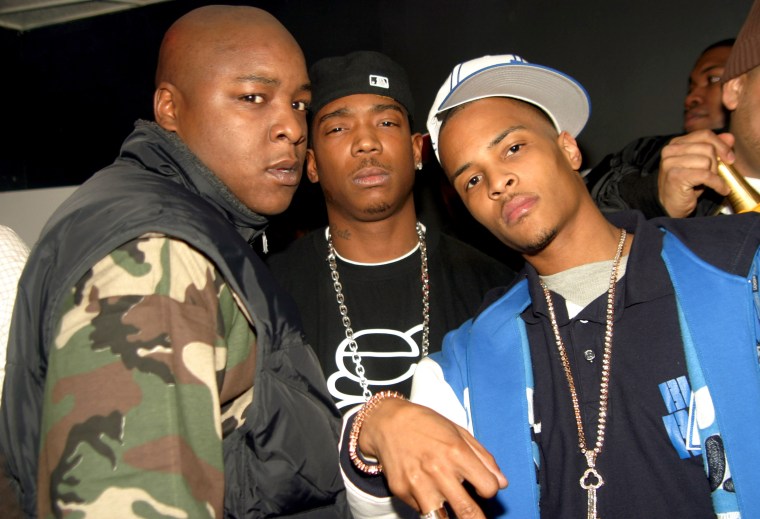 Taking a moment to reflect on his childhood, the rapper-actor remembers his father telling him that rap music would only be around for "five more years."
"50 years later, here we are," he says with a laugh. "So if history has taught us anything, it's to bet with us and not against us."
Aside from the 50th anniversary of hip-hop, this year is an important one for the Atlanta, Georgia native. T.I. is also celebrating the 20th anniversary of his second studio album Trap Muzik, which came out on August 19. He says that hip-hop, which he acknowledges has received a bad rap over the years, has always been a form of "expression" and is "reflective of the environment' from which is comes.
"If you think the music is harsh, you should spend some time in the environment that inspired the music," he quips, noting that hip-hop also serves as a form or escapism that allows its creators to "endure these extreme conditions and these harsh environments."
Female rappers take the mic
While hip-hop may be considered a male-dominated field, there are women who have been right there from the beginning. One of hip-hop's first female emcees was Roxanne Shanté, who recorded "Roxanne's Revenge" at the tender age of 14. The song, which was a response record to UTFO's hit song "Roxanne, Roxanne," landed on the Billboard's Hot R&B/Hip-Hop songs chart for 12 weeks in 1985. 
Now the host of "Have A Nice Day" on LL Cool J's Rock The Bells Radio on SiriusXM, Shanté tells TODAY.com that she loves the way rap music has progressed, especially for women who continue to dominate the charts.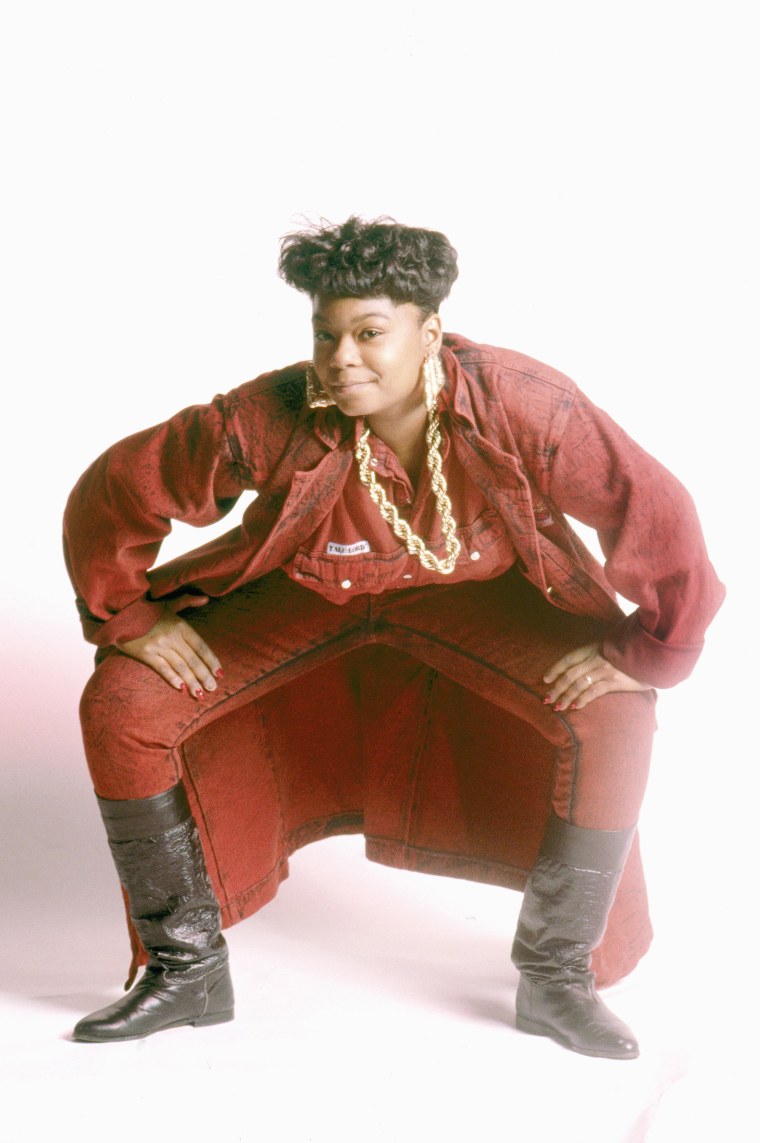 "I think it's definitely wonderful to see where we are as women in this great thing that we call hip-hop," she says. "It lets me know that all of those days when I went to the park and snatched microphones and ran to get up on stage and bullied my way through, even sometimes having to fight in order to just get a place on the microphone was definitely worth it."
"I would like to say that I'm a proud grandmother, but I don't want to age myself," Shanté continues, laughing. "So, I'm more like a proud big sister or maybe that favorite aunt."
As fans across the globe celebrate hip-hop's 50th anniversary this month, it's become clear that hip-hop has evolved into something more beautiful and complex since its early days.
Though the definition of hip-hop may be different depending on who you ask, those who have helped to cultivate the art form may offer the best answer.
"Hip-hop is your lifeline," Ja Rule says. "If hip-hop didn't exist, a lot of people that you know and love today probably wouldn't be here."
"It saved my life," T.I. adds. "It allowed me to transition into a businessman and change the standard of living for my family for generations. And it's done that for so many people."