Harry Styles helped out his old tourmate Jenny Lewis by making an adorable cameo as a puppy dog in the new video for Lewis' previously released song "Puppy and a Truck."
The video, released March 6, features footage of Lewis — who's seen at the video's onset wearing a pink bunny costume — performing onstage as Styles' opening act during 2021 dates of his still ongoing "Love On Tour." (Warning: Lewis' song contains profanity.)
It also shows the former Rilo Kiley frontwoman hanging out with a fluffy black dog — by which we mean an actual canine — while someone else wearing a cartoony dog costume keeps reappearing throughout the video.
The person in the dog costume is seen driving Lewis' tour bus, prancing with the singer along a beach shore, strumming a guitar at a bonfire jam session and skateboarding in a parking lot.
Just as the video ends, the person in the dog costume enters a tour dressing room where he lifts off his costume head to reveal himself to be Styles, 29.
The "As It Was" singer then grins at the camera while flashing two peace signs.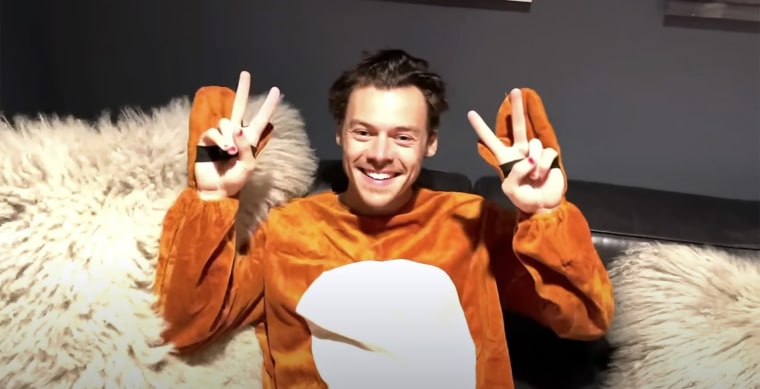 Lewis introduced the video on Twitter, writing, "Watch the new 'Puppy and a Truck' official video made with the help of some very special friends!"
Styles' fans responded to say they loved seeing the former One Direction singer's special appearance. "Well that's the best cameo ever," wrote one.
Lewis, who also announced her own headlining tour on March 6, told Rolling Stone in a statement that she was grateful for the chance to return to the stage as Styles' opening act after taking time off during the COVID-19 pandemic.
"To be on a giant stage in front of thousands of people after such a long period of isolation, those 45 minutes meeting Harry's fans brought me back to life," said Lewis.
Related: