Becky G stopped by the TODAY plaza in the rain not only to perform several of her hit songs — between tracks on Friday, she also shared exclusive details about her upcoming album and tour.
"The announcement is my next album, and I'm so proud to share that my album is called 'Esquinas,'" she said, adding the English translation is "Corners."
The 26-year-old singer also spoke about her "Mi Casa, Tu Casa" tour, which are her first set of headline tour dates scheduled to begin in September.
"I'm inviting everyone to Casa Gomez, which is my last name, and it's going to be a beautiful experience to get to sing all of my songs live with my friends," she said with a smile.
Read on to learn more about Becky G's third studio album.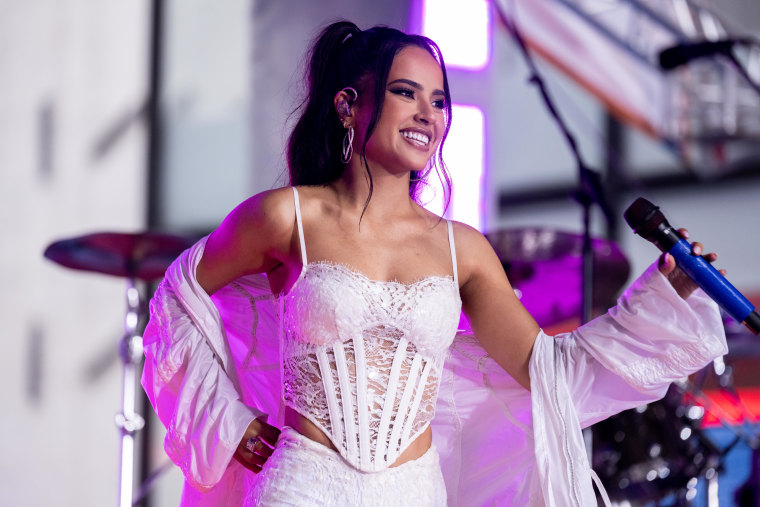 What is the story behind the album?
The "Mayores" singer told TODAY's Craig Melvin, Sheinelle Jones and Jacob Soboroff about the meaning behind the name of the album.
"I have always identified not this side or that side of the streets that raised me, but the corner, where two flags, two cultures, two languages meet," she said. "I'm the 200 percent. I'm proud to be Latina and I'm proud to be from Inglewood."
Becky G, who also performed on the TODAY plaza nearly 10 years ago, added much of her journey to where she's been today has been about her family.
I think that's a lot to do with our culture. You know, I always say, 'juntos somos más,' (or) together we are more," she said, leading to a huge applause from the crowd. "And that goes to everyone, even who's not blood related — we look out for each other in our community. And so yeah, family is everything to me."
Where did she announce the album?
Becky G gave all the details about "Esquinas" while the rain drizzled on fans eagerly awaiting the singer's performance on the TODAY plaza.
As she looked out at her fans, decked out in orange TODAY ponchos, she shared how it feels to know her fans will support her in any kind of weather.
"Hasta que veo la bandera de México, (or) I see Mexico's flag everywhere," she said. "It makes me proud and it's just so amazing to have so much support."