Tom Hanks has added yet another accomplishment to his already illustrious career by starring alongside son Truman in his new comedy "A Man Called Otto" in Truman's acting debut.
In the film, Truman, 27, plays a younger version of his dad's title character. Hanks says it wasn't even his idea to cast him for the role.
"Truman, who is either burdened or blessed by resembling myself at the same age as him, and Marc Forster, our fabulous director, just says, 'You know what? It's always so fake to get somebody else to come in and play you, 'cause they never look right. Could maybe Truman do this?'" he told Savannah Guthrie on TODAY in an interview that aired Jan. 10.
The two-time Oscar winner, 66, says he didn't watch his son in action, but he understood the passage of time working with his son on the movie.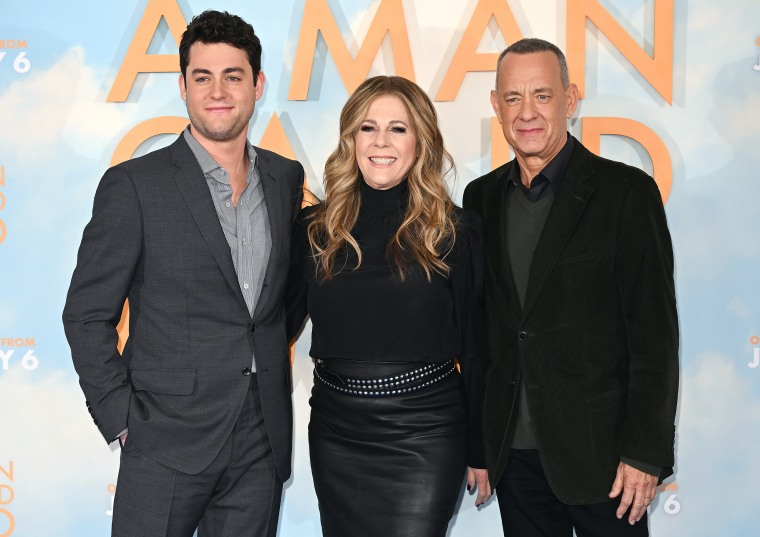 "I have to be occupied only with what I'm doing as old Otto, but then young Otto was there," he said. "But at the same time, I remember driving him in the carpool when he was 7 years old. So, you know, that crosses your mind."
Truman, who, according to IMDb, has a credit as "German rider" in his dad's 2020 film "News of the World," is Hanks' son with wife Rita Wilson. They are also parents of Chet, 32. Hanks is also father to Colin, 45, and Elizabeth, 40, from his first marriage to Samantha Lewes.
Hanks said he was nervous for Truman taking the part, but knew he had to confront the task at hand on his own.
"There's only one way to do it and that is to wrestle the beast," he said. "The good thing about a movie is hey, if it's no good, it's not going to be in the movie."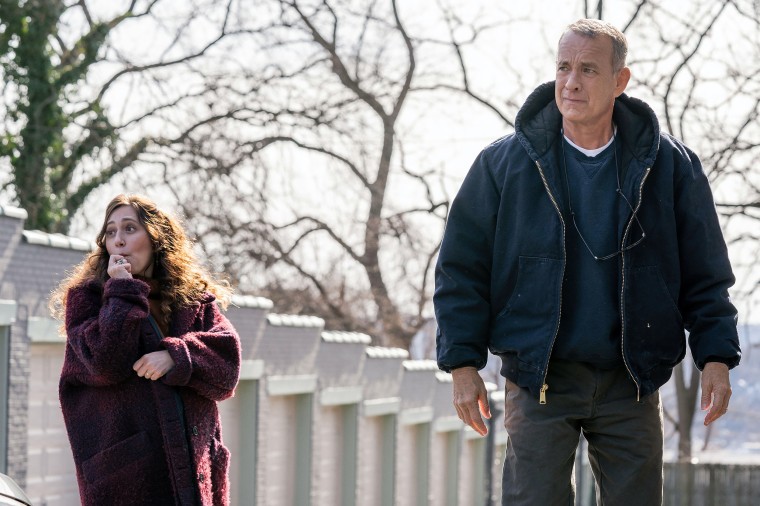 In the film, which opens Jan. 13, Hanks plays a real grumpy puss named Otto Anderson whose life is changed when a young family moves in next door to him. It's a part that may seem like a stretch for Hanks, who has a reputation for being an all-around nice guy.
"My brat kids will probably tell you, 'When is Dad not in charge with his inner crank?'" he said.
And while it may be a shock to think of Hanks as a sourpuss, he says he's no different than anyone else.
"Well, I like to use the word 'fascinating,' as opposed to nice," he said. "But, listen, we have all been stuck in traffic, right? So when that stuff happens I do, in fact, go absolutely berserk."
"Listen, I wish I had lived a life where people would truly fear me. But I've tried to come in, like, angry. I don't know, I just make everybody laugh," he added.
And while Hanks may sometimes find himself teetering on the brink like so many others, he said he's found balance through meditation, which he learned about from Jerry Seinfeld when he told the comedian that he was taking a year off after working so much.
"He goes, 'No, you've got to. I've been doing it since college,'" he said while doing his Seinfeld impression. "He put me together with his teacher, and it's an odd, easy, life-changing thing. And should everybody do it? Sure, why not?"