In the battle of the bomb vs. the bombshell… why not both?
Plenty of moviegoers are making the decision to watch Christopher Nolan's atomic drama "Oppenheimer" and Greta Gerwig's colorful romp "Barbie" on the same day when the two tentpoles hit theaters on July 21.
With two weeks to go until the big day, AMC Theatres, the world's largest cinema chain, is reporting that more than 20,000 AMC Stubs members have purchased tickets to see "Barbie" and "Oppenheimer" on the same day.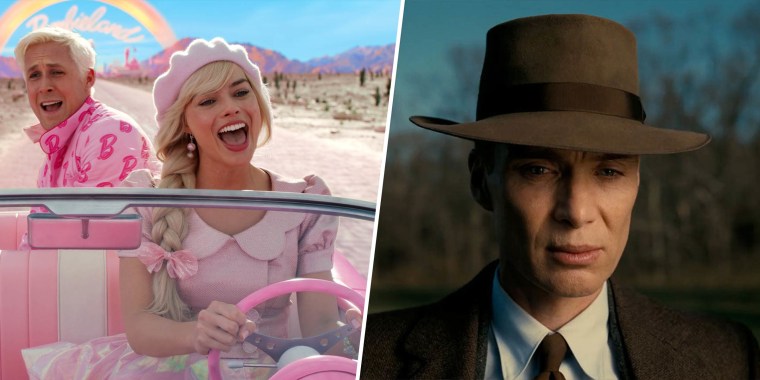 Though it was apparently significant enough for AMC to issue a press release, it's hard to contextualize the statistic because there aren't a lot of comparable data points for guests purchasing tickets to see multiple movies on the same day — at least not ones that are publicly available. Moreover, the total number of AMC Stubs members, which includes A-List, AMC Stubs Premiere and AMC Stubs Insider, is unclear. Adam Aron, the CEO of AMC, said in early 2020 there were between 900,000 and 1 million A-List subscribers, which starts at $19.95 per month.
"That more than 20,000 moviegoers have already made plans and purchased tickets to see Barbie and Oppenheimer on the same day is a great sign that the growing online conversation around seeing both of these incredible films is turning into ticket sales," says Elizabeth Frank, executive VP of worldwide programming and chief content officer at AMC Theatres. "Just as exciting, with 10 days to go until these movies open, this may only be the beginning. From Friday to today, we saw a 33% increase in the number of guests who decided to create their own double feature by purchasing tickets to see both movies on the same day. We are thrilled to see this momentum."
On paper, it may not seem like these films are catering to similar audiences. "Oppenheimer," starring Cillian Murphy, Robert Downey Jr. and Emily Blunt, is a dark and gritty three-hour-long story about the American theoretical physicist who led the efforts to build the weapons of mass destruction that ended World War II. Meanwhile, "Barbie," led by Margot Robbie and Ryan Gosling, is a neon-hued fantasy comedy about Barbie-Land expats Barbie and Ken, who go on a quest of self-discovery in the real world.
But the clash of the blockbuster-hopefuls, which hail from two beloved filmmakers and happen to be scheduled on the same day, has become a full-fledged phenomenon known as "Barbenheimer." The seemingly stark contrast between the $100 million-budgeted films has inspired countless memes, fan art and apparel.
According to early tracking, "Barbie" is expected to outpace "Oppenheimer" in terms of inaugural ticket sales. But there's a chance that Tom Cruise's big-budget sequel "Mission: Impossible — Dead Reckoning Part One," which opens a week prior on July 12, could end up again in the top spot on domestic box office charts over the weekend.