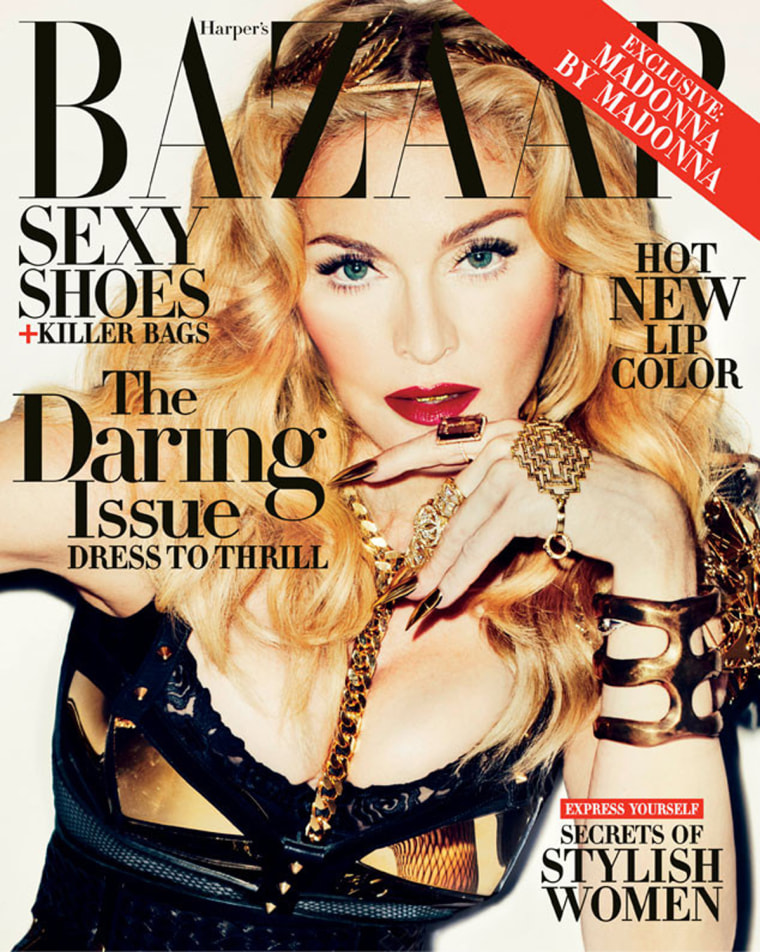 In a poignant essay for Harper's Bazaar's November issue, Madonna shares many of her own personal challenges, including the time she was raped at knifepoint when she was an aspiring performer.
The superstar doesn't dwell on those incidents, but uses them to illustrate how her childhood struggles to fit in in the Midwest culminated in a dream move to New York -- only to find that Manhattan wasn't everything she was hoping it would be.
"(The city) did not welcome me with open arms," she wrote. "The first year, I was held up at gunpoint. Raped on the roof of a building I was dragged up to with a knife in my back, and had my apartment broken into three times. I don't know why; I had nothing of value after they took my radio the first time."
It's not the first time the pop star has opened up about being sexually assaulted. She first revealed it in the 1990s when she was promoting her controversial "Sex" book, discussing how the assault helped make her a survivor. In the new essay, Madonna follows that same theme.

"The tall buildings and the massive scale of New York took my breath away," she wrote. "The sizzling-hot sidewalks and the noise of the traffic and the electricity of the people rushing by me on the streets was a shock to my neurotransmitters. I felt like I had plugged into another universe. I felt like a warrior plunging my way through the crowds to survive. Blood pumping through my veins, I was poised for survival. I felt alive.
And all the homeless people on the street. This wasn't anything I prepared for in Rochester, Michigan. Trying to be a professional dancer, paying my rent by posing nude for art classes, staring at people staring at me naked. Daring them to think of me as anything but a form they were trying to capture with their pencils and charcoal. I was defiant. Hell-bent on surviving. On making it. But it was hard and it was lonely, and I had to dare myself every day to keep going. Sometimes I would play the victim and cry in my shoe box of a bedroom with a window that faced a wall, watching the pigeons (expletive) on my windowsill. And I wondered if it was all worth it, but then I would pull myself together and look at a postcard of Frida Kahlo taped to my wall, and the sight of her mustache consoled me. Because she was an artist who didn't care what people thought. I admired her. She was daring. People gave her a hard time. Life gave her a hard time. If she could do it, then so could I."
Madonna, who recently turned 55, reviews her journey to live a daring life decade by decade, including the births of two of her children and her controversial adoptions of two more. After the singer turned 35, she "began to search for meaning and a real sense of purpose in life. I wanted to be a mother, but I realized that just because I was a freedom fighter didn't mean I was qualified to raise a child. I decided I needed to have a spiritual life."
Living again in New York as a single mother with her four children, Madonna writes about how she is making films, building schools for girls in Islamic countries, studying the Qur'an, and fighting for what she believes in.
"As life goes on (and thank goodness it has), the idea of being daring has become the norm for me," she concluded. "Of course, this is all about perception because asking questions, challenging people's ideas and belief systems, and defending those who don't have a voice have become a part of my everyday life. In my book, it is normal."