Keke Palmer is opening up about "accepting and loving all parts" of herself.
The "Nope" star, 29, talked about publicly embracing her sexuality in a recent interview with Raven-Symoné and her wife, Miranda Maday, in a recent episode of "The Best Podcast Ever with Raven and Miranda."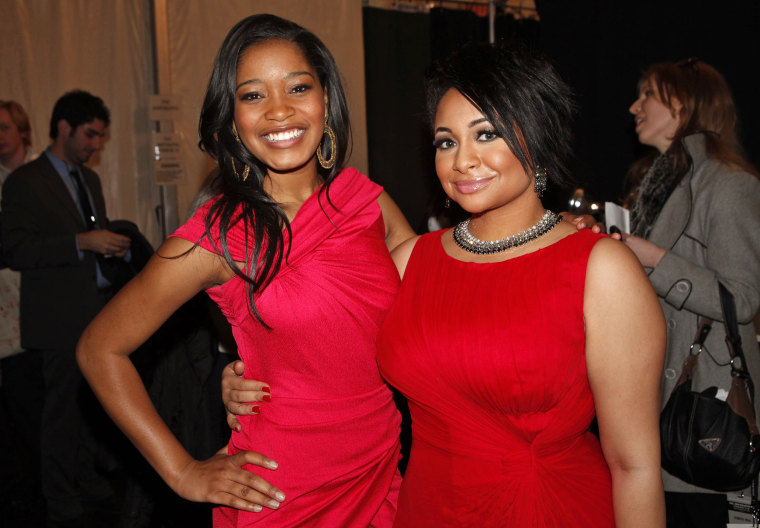 "There was a moment in my life where I was just like, you know, can I be myself?" Palmer said.
"You just get to the point where you're just like, 'Well, I just want to have my own life be my own life,'" she added.
The "Waiting" singer has long been open about her sexuality, describing herself last year as "in the middle of the scale" during a podcast interview.
During her recent interview with Raven-Symoné, who publicly came out in 2013, Palmer said she began forming an awareness about her sexuality from a young age.
"I felt that way or had those thoughts I think very young, right, as a kid, when you first start thinking about liking," she said. "And then I think at like 12 or 13, they started coming back as a teenager, when you really start kind of getting into your groove."
With that growing awareness came a fear of judgment or ostracization.
Palmer recalled being deeply affected when Ellen DeGeneres' sitcom, "Ellen", was canceled not long after DeGeneres publicly came out as gay in 1997. 
"I never forgot that," Palmer said. "I never forgot that as a kid, and that kind of stuff just stings in your brain, like, 'Oh, you'll be outcasted,' or you know, something's quote-on-quote wrong with you."
Palmer said that as she grew up, her parents did not disparage gay people, or tell her that she would "go to hell for being gay."
Still, Palmer said she sensed something "unsaid" that made her hesitate to speak openly about her sexuality. 
Because she was attracted to men as well, she tried to push aside her attraction to women. 
"Because I like guys too, it was like, 'That's another little extra thing that no one really has to know about, I don't really have to live out,'" she said.
When she did start opening up more about her sexuality, Palmer says her parents supported whoever she wanted to date. 
"Sexuality and stuff like that ... my parents never really cared about stuff like that or talked about that," she said. "And I know that by the time they saw how free of a spirit I was, and whoever I wanted to date, they were kind of like, 'Whoever cares.' It was never anything that was in their mind."
Palmer said her desire to find love helped her more openly embrace her sexuality.
"I didn't want anything to hold me back from it," she said.
"I ultimately just feel like the acceptance of that part of myself, in general, was a part of my process of being able to actually have love in my life," she added. "Accepting and loving all parts of me."
Palmer welcomed her first child, Leodis, in February with fitness instructor Darius Jackson.
Jackson faced backlash earlier this month after he criticized Palmer's recent clothing choices online.