Justin Trudeau and Sophie Grégoire Trudeau's love story has come to an end.
On Aug. 2, the Canadian prime minister announced that he and his wife were separating via a statement on Instagram.
"Hi everyone, Sophie and I would like to share the fact that after many meaningful and difficult conversations, we have made the decision to separate," he said in a statement.
"As always, we remain a close family with deep love and respect for each other and for everything we have built and will continue to build," Justin Trudeau continued. "For the well-being of our children, we ask that you respect our and their privacy. Thank you."
Sophie Trudeau also shared the same statement on her Instagram account.
The couple's decision to separate comes after Justin Trudeau celebrated their 18th wedding anniversary in May.
Read on to learn more about the parents of three, and how their own love story started in childhood.
They meet as childhood friends
In Canada, Justin Trudeau is part of a political dynasty: His father, Pierre Elliott Trudeau, was prime minister for 15 years; his mother, Margaret Trudeau, was the daughter of an MP.
But Sophie Trudeau met him in the context of being childhood friends.
According to a profile in the publication Maclean's published at the time of their wedding, Sophie Trudeau said that she was introduced to Justin Trudeau's family through a friendship with his youngest brother, Michel, who died in an avalanche in 1998 at the age of 23.
Justin Trudeau and Sophie Trudeau run into each other as adults
After losing touch, the two reconnected in 2003 to co-host the Mercedes-Benz Grand Prix ball fundraiser. At the time, Sophie Trudeau was a television and radio reporter.
"We laughed, we joked and there was a definite chemistry between us," Justin Trudeau told Maclean's. "And I sort of realized, OK, this is someone I have to take seriously."
Justin Trudeau, according to the story, evaded reaching out — but then they ran into each other, which led to a date and a moment of connection.
"I looked at her," he recalled, "and I just felt this strength and peace come over me."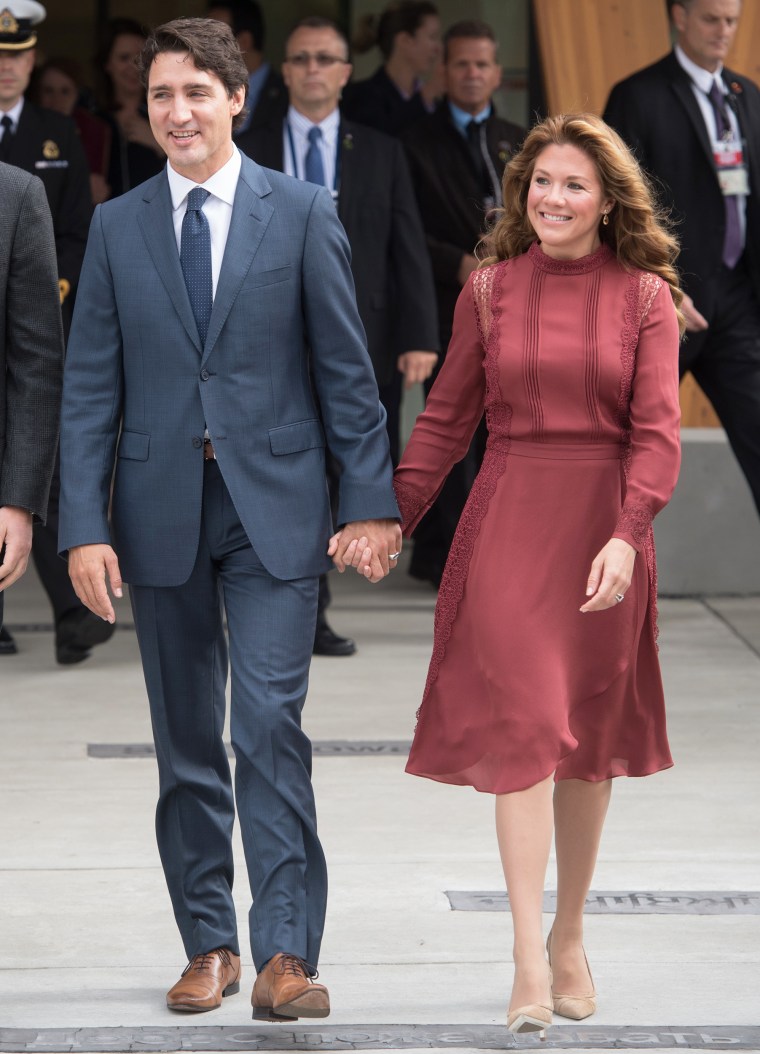 "And I said, 'Well, it's about time you arrived. It's been 32 years and I was beginning to think you would never show up. I've been waiting for you all my life. You're it!'" he recalled himself saying. "I knew it right then and I announced to her that we would be spending the rest of our lives together."
They get engaged in 2004 and married a year later
According to Maclean's, the former couple got engaged on Oct. 18, 2004, the same day Justin Trudeau's father was born.
After Justin Trudeau told Sophie Trudeau that he wanted to spend the rest of his life with her, he told Maclean's that they both "burst into tears" because they have "big tender hearts."
In 2005, they got married in front of about 180 guests at the Sainte-Madeleine d'Outremont church in Montreal, according to Maclean's.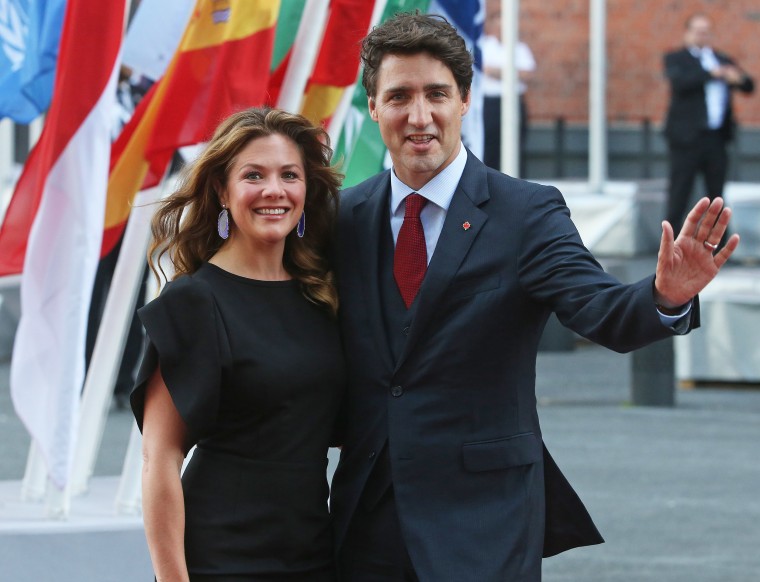 Justin Trudeau and Sophie Trudeau start their family in 2007
Prior to their having kids, Justin Trudeau told Maclean's he wanted three children, and Sophie wanted fewer. "I'm very confident that once we get into it, I'll be able to convince her that three is fine," he said at the time.
Indeed, as the prime minister predicted, they went on to have three children. In 2007, the pair welcomed their first child, Xavier, on the same day as Justin Trudeau's father's birthday. Their daughter, Ella-Grace, was born in 2009. Their youngest, son Hadrien, arrived in 2014.
When Hadrien was born, Justin Trudeau shared a photo of him holding his son's hand. He captioned it, "Welcome to the world, little Hadrian. 8lbs 3oz, Sophie is wonderful, Xavier and Ella-Grace couldn't be prouder."
Justin Trudeau opens up about 'difficult ups and downs' in 2014In an October 2014 interview with the Canadian Broadcasting Corporation, Justin Trudeau talked about his marriage with Sophie Trudeau.
At the time, he was not yet the prime minister of Canada, but he was working in politics as the Liberal party's leader.
"I have a very difficult, high-pressured job," Justin Trudeau said at the time. "Everyone knows how challenging it is to balance family responsibilities with a job that takes me across the country and working extremely hard."
"There are times when she hates my job and she hates me for loving my job," he added. "There are times ... when she understands how much of an opportunity and a responsibility it is for us to actually serve this country that has given us so much."
In the interview, Justin Trudeau said his marriage "isn't perfect" and he and his wife have their fair share of "difficult ups and downs." But no matter what, he said, "Sophie remains my best friend, my partner, my love. We are honest with each other, even when it hurts."
When host Evan Solomon asked if that was "coded language for extramarital affairs," Trudeau responded, "No."
"This is a conversation about the kinds of challenges that any real marriage goes through," he said. "Tremendous ups and downs, but as I say we are deeply in love and committed to each other and we continue to be."
Justin Trudeau celebrates his 18th wedding anniversary with Sophie Trudeau in 2023
On Instagram, Justin Trudeau shared a cute photo of him and Sophie Trudeau holding hands in a car.
He captioned it, "Every mile of this journey together is an adventure. I love you, Soph. Happy anniversary!"
Justin Trudeau and Sophie Trudeau announce they're separating in 2023
On August 2, Justin and Sophie Trudeau announced that they were separating in a joint statement they released on Instagram.
"Hi everyone, Sophie and I would like to share the fact that after many meaningful and difficult conversations, we have made the decision to separate," the statement read on Justin Trudeau's account.
"As always, we remain a close family with deep love and respect for each other and for everything we have built and will continue to build," he continued. "For the well-being of our children, we ask that you respect our and their privacy. Thank you."