Days before "Chrisley Knows Best" star Julie Chrisley was set to report to prison to serve a seven year sentence, she celebrated her 50th birthday with her family.
Her daughter Savannah Chrisley posted several pictures to commemorate her mother's birthday, writing, "I know this isn't the birthday we had imagined but I'll make it up to you."
"Unfortunately, we are one of many that the system has failed and I will continue to fight the good fight until we're all home together," Savannah said in the caption. "Thank you for being the mom that every girl dreams of having. For a lot of people … you only exist in fairytales but for me … YOU'RE my real life angel."
Chrisley and her husband, Todd Chrisley, were found guilty in June of fraud, tax evasion, and conspiracy to defraud the United States in connection with a scheme to defraud Atlanta-area community banks out of more than $30 million in fraudulent loans, according to the U.S. Attorney's Office for the Northern District of Georgia.
Todd was sentenced to 12 years in prison, while Julie received a seven-year sentence. The pair have been ordered to report to prisons in Florida on Jan. 17 to begin their sentences, according to documents obtained by NBC News, part of NBCUniversal, TODAY's parent company.
In a November podcast released days before their sentencing, Savannah, 25, said she was "grieving the loss of parents who are still alive." Savannah shared she would take custody of her younger brother, Grayson, 16, and 10-year-old niece Chloe, in the event of a prison sentence.
Julie Chrisley said the case had "taken a very big toll" on her during the Nov. 29 episode of Savannah's podcast, "Unlocked with Savannah Chrisley," also recorded before the sentencing.
"I think about the situation that we're dealing with right now, and I'm thinking about (how) I've never gone out here and hurt a soul," she said. "I have never gone out here and intentionally tried to do anything that I wasn't supposed to do and look where I'm standing right now."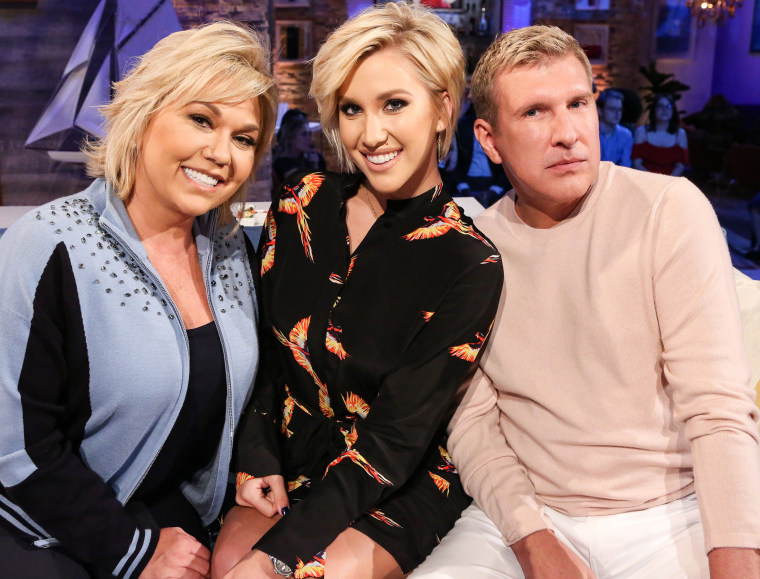 "Like, how's that?" she continued. "I have to believe that God — and your dad said this in our podcast — I believe his exact words were, 'God will break you down just so he can bless you.' And I have to believe that that's what's happening because if not, it just makes me so, like, why?"
In the birthday tribute, Savannah went on to thank her mom for showing her what a "woman of faith looks like," and for fostering the "incredible respect" she has for her father.
"Thank you for teaching me love, kindness, grace, and understanding," Savannah wrote. "Oh … and I haven't quite mastered those things haha I'll never be you … But I'll always try to be!"
Julie's stepdaughter, Lindsie Chrisley, also posted on her Instagram story for her birthday, writing, "We love you Mimi."
Todd and Julie Chrisley rose to fame on the USA show "Chrisley Knows Best." The USA Network is owned by NBCUniversal, TODAY's parent company. On the show, they raise their blnded family,
Todd and Julie Chrisley appealed their sentences after they were sentenced in November, and were denied bail on Jan. 10, according to court documents obtained by NBC News.
In the latest episode of their podcast, "Chrisley Confessions, released Jan. 11, Todd said the couple's legal struggles have drawn the family "closer," and said his relationship to Julie is "much deeper."
"Our enemies, certainly when they set out to do this they did not count on it drawing our family closer together. They didn't count on it driving my children closer to the lord," he said.