In your face, Julia Roberts! The Oscar-winning actress, who stars in the Emmy-nominated HBO film "The Normal Heart," visited "The Tonight Show Starring Jimmy Fallon" Thursday night, and ended up having beach balls thrown at her famous face.
Fallon introduced Roberts to "Face Balls," a game in which players toss large clear plastic beach balls directly at each other's faces. 

"Throw it at my face as hard as you can," encouraged Fallon, while telling Roberts he'd toss the ball more softly at her.
When the tosses were rerun in hi-def, super slow-motion, viewers were treated to images of Roberts' and Fallon's faces wobbling and being smooshed from side to side, to hilarious freeze-framed results.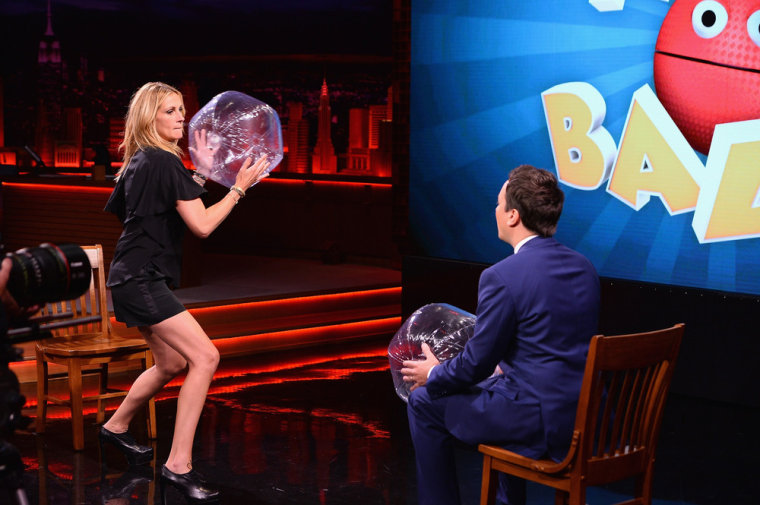 "This is like the comedy version of 'Fifty Shades of Grey,'" said Roberts while laughing. She found a slow-motion shot of her nose being pushed out especially funny, and reminiscent of a certain late comedian with a notable nose. "I'm Bob Hope's daughter!"

Fallon also showed Roberts a viral video where a dog, Achmed, cowers and runs away when shown the actress' face in a perfume ad in Bride's magazine. Fallon then asked her to look into the camera and say something friendly to win Achmed back, but instead Roberts curled her fingers like claws and snarled, "RAAAAWR!"
"You're making it worse!" Fallon said with a laugh. "That is brilliant!"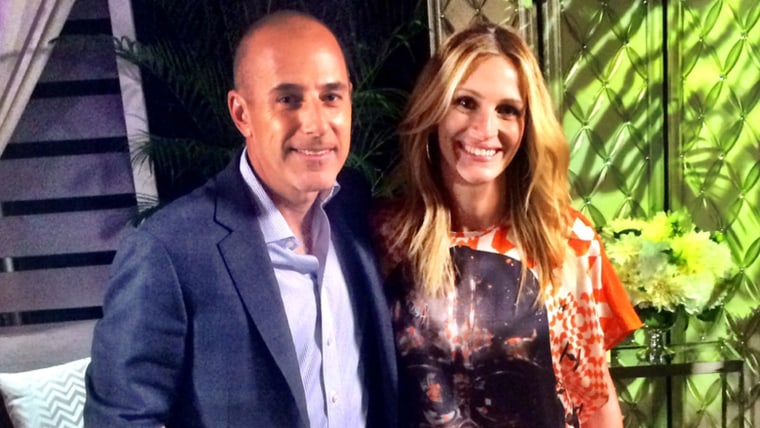 On Friday, Roberts talked to Matt Lauer on TODAY. She expressed her pride in the Emmy nominations for "The Normal Heart," and also reflected on the intensified level of social-media-driven scrutiny today's up-and-coming celebrities must face.
"I don't think I'd survive," Roberts told Lauer. "It's just too nasty. ... I'd pull out of (the business). I wouldn't have the stomach for it."

Check out seven things we learned, seven years after her last visit to TODAY.